A New Road Ahead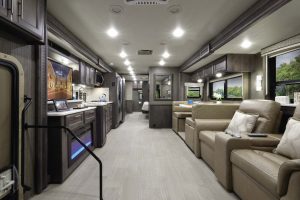 Whether looking to purchase or rent, Giant Recreation World offers wide selection of top-of-the-line RVs—and even a VIP club to help you embrace a new lifestyle and community.
At Giant Recreation World, it's not just about the destination.
The journey is an equally important part of the adventure.
Don McNamara started the business in 1976, and now his six children—including CEO and president Larry McNamara—run the show at its three locations in Winter Garden, Ormond Beach and Palm Bay. Additionally, many members of the sales staff have been with Giant Recreation World for 30-plus years, so customers can rest assured that they're dealing with RV experts when they buy or rent from the Florida dealer, no matter which location they're visiting.
"We are heavily focused on our attention to detail and customer service," says Dwayne Adams, marketing manager. "We are not just selling somebody an RV, they are entering into a lifestyle with us."
At some RV dealerships, there is a limited selection of products. What sets Giant Recreation World apart, however, is that customers can expect to find a wide range of RV options to choose from, in both brand and class.
Another thing that differentiates them from the competition? A lifetime warranty for customers who buy a new RV, covering things that are not covered by the manufacturer, such as suspension, brake and water system components. This includes discounts on the parts, too.
"It really does set us apart from other people as we are Central Florida's only dealership to offer a lifetime warranty where all needs are taken care of by certified technicians," Adams says. "It's peace of mind."
The benefits of renting
Of course, not everyone is looking to purchase an RV—at least, not right away. And for them, Giant Recreation World offers an expert rental division.
Rentals also set the company apart from most others. That reason is because many people have to dive right in when entering the RV world, which is not always ideal for newcomers. With a rental, they can test the waters before making a big splash. The rental fleet is also brand-new, with Giant Recreation World currently renting 2025 models so folks can get an understanding of what the features are, how they drive, etc. 
The professionals at Giant Recreation World will deliver an RV and have it ready to go for renters. When their vacation is finished, the team will pick it up, too. Fort Wilderness Camping at Walt Disney World is a popular rental location, but they offer this service across the state.
And a bonus, the company also offers a Try Before You Buy program. If customers choose to make a purchase, the rental fee is applied to the cost.
The VIP experience
For only $50 a year (which includes parts and service discounts, too), customers who purchase an RV from Giant Recreation World can join the VIP Camping Club. There are monthly campouts—sometimes two—and it's an opportunity to hang out, learn from other RV owners and make friends.
"Whether you're a new or experienced Rver, it allows you to pull into a campground and the next thing you know, you're having shrimp with new friends that turn into lifelong friends," says McNamara. "The essence of the RV lifestyle lies in its community. It's fun, stress-free and gives you freedom."
Grab a golf cart too
Of course, if you're talking RVs, then a golf cart conversation is not far behind. "It's an integral part of the RV lifestyle. Once you park your RV, everyone likes to ride around the RV park in their golf cart," Adams says. 
Giant Recreation World's golf cart division is located at Winter Garden across the street from one of its RV dealerships. It has its own showroom and sales department, and the location also offers parts, repair and maintenance.
The company features a rental division for golf carts, too, much in the same way it rents its RVs. 
Tune in
The VIP Camping Club isn't the only way Giant Recreation World tries to familiarize its customers with the world of RVs. They can listen to Larry McNamara's The RV Hour podcast, too, which Adams cohosts and is downloaded roughly 800 times a month. 
Available on a variety of streaming platforms, the show also airs every Saturday from 10 to 11 a.m. on Florida Man Radio. The show includes RV specifics, brand representatives, tips, tricks and more.
"We cover a wide array of topics, tips, tricks and advice. The show packs a lot of punch in an hour," offers McNamara.
For those considering the RV life, stopping in at one of Giant Recreation World's three locations is the first step. The experienced sales team won't put pressure on customers, but they will ensure customers feel comfortable while introducing them to all the RV world has to offer.
It's just another example of the company's focus on making lasting connections.
"We often hear from our customers that the RV lifestyle is all about reconnecting with family and revisiting a time where wholesome fun is at the forefront of their agendas," McNamara explains. "And as a local business, we are proud to help support families create those memories and build strong family values."
Giant Recreation World
Winter Garden: (407) 573-1305
Ormond Beach: (386) 239-1110
Palm Bay: (321) 541-2205
GiantRecreationWorld.com