Building a Solid Foundation
As Foundation Academy continues to grow physically, the Christian school is geared toward helping its students grow spiritually and academically to prepare them for the future.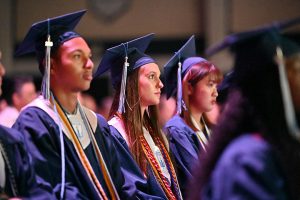 As a top Christian school in Central Florida, Foundation Academy is no stranger to spiritual and mental growth. And thanks to a $17 million expansion project, the school is getting used to quite a bit of physical growth, too.
"There is such a demand for a private Christian school education at this point," says Joseph Cioffi, director of marketing and communications at Foundation Academy. "We're determined to accommodate families and students who want a top-rate education that is grounded in Christ."
Education and worship
The expansion project is all taking place at Tilden, Foundation Academy's upper school, which is nestled on 67 acres in Winter Garden and approved to serve up to 1,200 students. Currently the campus is home to about 550 students in seventh through 12th grades. Foundation's two lower school campuses—Plant Street and Lakeside—are for students in kindergarten through sixth grade, with Plant also offering pre-kindergarten. The Tilden expansion project will move sixth grade students from Plant Street and Lakeside to the upper school. Overall, it will accommodate over 300 additional students at Tilden.
The expansion project stems from a master plan developed in 2016. A 17,000-square-foot classroom addition and a new athletic annex were completed in 2020. Underway now is a cafeteria and worship center, slated to be finished in August or September of 2024. Following will be a 40,000-square-foot classroom build finished in time for the 2025-2026 school year.
As the largest ministry for Winter Garden's First Baptist Church, Foundation Academy will be able to further the church's mission once the new buildings open. The facility will be a shared space, used primarily by the school during the week. The church will utilize the space on the weekends and during special occasions and events.
"Being a Christ-centered school, our worship having a place of its very own is pretty important," Cioffi says. "Currently, our gymnasium serves everything from drama to sporting events to chapel. Having a multipurpose gymnasium in an environment that is experiencing unprecedented growth is a challenge for our operations team and our overall culture. Having something central that's dedicated to worship is needed for our school and our church is paramount."
From a curriculum standpoint, Foundation Academy President Dave Buckles, Vice President of Education Carol Grosshans and Tilden Principal Sarah Reynolds are always taking a comprehensive look at where there's a need to expand educational offerings. This planning came into play with the new classroom spaces being built on the Tilden Campus, too.
"It's not just an educational space, but a specialized educational space," Cioffi says.
This includes a full television production studio, giving students the chance to learn how to use a green screen and the latest technologies in content creation, edit applications in post-production and use sound production. Additionally, there will be space for coding and gaming courses. "It's built specifically for certain disciplines to address the professions that are becoming prevalent today, but also to engage students' passions," Cioffi explains.
Love, learn and lead
Offering further specialized educational opportunities to its students is just another way Foundation Academy builds upon its portrait of a graduate, instilling in them the three traits of love, learn and lead. The hope is students will love by God's example, foster a continual desire to learn, and lead their generation in a positive direction that reflects the love of Christ.
"Those traits of love, learn and lead are something that are going to serve them well today, but also for the rest of their lives," Cioffi says.
While Plant Street and Lakeside are the introductory part of a Christ-centered education, according to Cioffi, Foundation Academy views itself as an educational experience that is built year after year, from one campus to the next, to ultimately build a foundation for life.
"What are you going to come away with besides a great education?" Cioffi asks. "This is really the capstone of an educational experience that won't only last you for this lifetime, but the lifetime beyond."
Foundation Academy
Plant Street Campus
125 E. Plant St., Winter Garden
(407) 656-3677
Lakeside Campus
8464 Winter Garden Vineland Road, Orlando
(407) 614-1780
Tilden Campus
15304 Tilden Road, Winter Garden
(407) 877-2744