Exercise with Purpose
Nexxt Body Fitness and Aesthetics provides an exclusive, private fitness studio that showcases the numerous benefits of EMS workouts.
At NexxtBody Fitness and Aesthetics, members can expect an ultra-private one-on-one personal training experience with a 21st-century workout.
The exclusive private fitness studio located at Dellagio Town Center on Sand Lake Road in Orlando specializes in Electric Muscle Stimulation (EMS) training, which stimulates muscle activation through the use of electrodes. The whole-body training method reaps the benefits of an intense strength and cardio workout without putting pressure on the joints.
"It's a passive workout. It has the benefit of muscle growth and the benefit of strengthening bones without injury," NexxtBody founder Melinda McCann says. "EMS is using electrical stimulation to move your muscles for you instead of weights to resist it."
McCann and business partner George Scott are the faces members can expect to see at NexxtBody Fitness and Aesthetics. The exclusivity of the studio leads to strong relationships with members, some of whom started the first day the fitness studio opened in 2019.
"There's a comfort level that you're dealing with," Scott says. "Some people find exercise a vulnerability, and our studio provides a safe, caring and warm environment for people of all shapes and sizes to get a hold of their health and increase their fitness capacities."
Those who come to NexxtBody do so for a variety of reasons, according to Scott. Some members are working toward building strength and stamina for an overall healthier lifestyle. Because it doesn't put pressure on joints, the EMS technology is a safe choice for individuals dealing with rehabilitation from medical or cosmetic surgery, too. And for elite athletes, such as Scott himself, EMS training helps bring him through physical fitness plateaus.
"There's a huge time-saving element as well," Scott says.
One 20-minute session reaps the same benefits as a 90-minute traditional weight training exercise in a safe way that is protective of joints and bones.
How EMS works
An EMS workout at NexxtBody involves wearing a special suit that stimulates muscle contraction by using electric impulses, placing electrodes on all major muscle groups. In training muscles deeply in this way, members experience better muscle balance and core stability.
Plus, EMS training comes with the added bonuses of supporting cardiovascular health and, because of the electrodes along the spinal column stimulating rarely used back muscles, relieving back pain.
Because the workout is carried out individually, it allows trainers to adjust the training to one's physical abilities and continue to gradually increase its intensity as progress is made and goals are met. The 25-minute sessions are broken down to include 12 minutes of high-intensity training, eight minutes of cardio work, and then a five-minute massage and relaxation period.
And while an EMS workout is faster than traditional strength training, there's no concern about it being any less effective. In fact, according to McCann and Scott, it is undeniably more effective.
"The feedback we receive is always tremendous," Scott says.
Meanwhile, McCann cites a German study that found traditional gym training does not engage the body's total muscle group. It may only engage 50 or 60%—or even less.
"Muscle groups we use less have fewer connections. With EMS, we engage 100% of the muscle," she says. "It's really, really effective. It really stimulates your muscles to the point that you see very fast results."
In fact, those results can be felt after only one session, and they will be noticeable with increased muscle formation and improved tone in as few as six sessions. Depending on one's diet, the training can also be an effective tool for weight loss.
NexxtBody, however, is more than EMS training, as Scott stresses that this is only one component of the big picture. The one-on-one attention means workouts and programs are all individually tailored to best fit a particular member's lifestyle and goals.
"With a prescribed exercise regimen that's coupled with dietary improvements and nutritional advances," Scott says, "we can put a whole package together to almost guarantee weight loss and an increased level of physical fitness."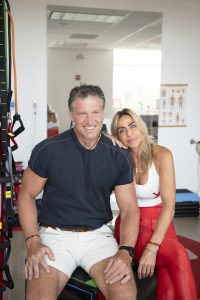 What's more, NexxtBody offers other enticing amenities such as cellulite reduction using red light band therapy and a cold plunge suite for a speedier recovery and rehabilitation for high-end athletes. And for those clients heading south, the studio also offers top-of-the-line spray tanning utilizing the most cutting-edge technology available. And when a client needs to get their workout in during off-hours, there is an advanced package available that offers private access to the studio through a provided key fob.
It's all part of the all-encompassing approach to health and wellness that you'll find at NexxtBody where individuals are treated like family and not dollar signs.
"We are not a franchise that pushes clients against a clock with a revolving door of trainers," says Scott. "We are an ultra-private studio where lasting relationships are built and nurtured."
Nexxt Body Fitness and Aesthetics
Orlando
(407) 701-6145
NexxtBody.Fit