Individualized Education in a Christ-Centered Environment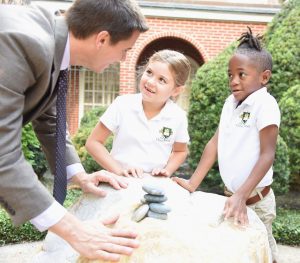 Christ-centered education is at the heart of The Christ School.
"It's the core of who we are," Dr. Aaron Farrant, head of school, says. "Obviously a great academic education is important, but so is the person you are and the person who you are growing into."
Every day starts with chapel, where an annual theme—this year it's "Love God and Love Others"—helps guide students in developing a strong moral compass and understanding the importance of living out God's Word. Students build a solid Biblical literacy with a daily Bible class in addition to participating in days of service where The Christ School families go out into the community to help others.
"We are a place that loves God. The Christ School is a family-friendly environment that 'exudes joy,' where teachers and staff work to cultivate a heart of gratitude in their students. Even on the hardest days there are things to be grateful for," Dr. Farrant says.
Founded in 1996, The Christ School is an independent, interdenominational Christian school for students in transitional kindergarten through eighth grade. It serves 500 students from its downtown location on the campus of First Presbyterian Church of Orlando.
The goal is to cultivate exceptional learners with a strong growth mindset. At The Christ School, children learn to persevere, think critically, problem solve creatively and collaborate with one another. They also learn that mistakes are a natural part of life and how we grow from them is what truly counts.
Continuous growth
The past four years have seen a 52% increase in student growth at The Christ School. The 2023-2024 school year marks the school's highest enrollment thanks to significant campus expansion. The new space, which includes 10 classrooms, large meeting areas, offices, a testing center and some amenities, afforded the school the opportunity to welcome over 100 more students.
"To be able to expand our space at this time is a huge blessing," Director of Admissions Joanne Fleming says. When working through the application process for new students, Mrs. Fleming says it's more than scores on an assessment. There is an interview process, review of a child's academic portfolio, shadow day observations, and understanding the needs of each child to determine if the school is the right fit for the student and family.
Individualized education
Another thing that sets The Christ School apart, according to Dr. Farrant, is recognizing that no two students are the same.
"Our approach enables students to go as fast and as far as they can while providing them the necessary support to succeed," Dr. Farrant says. The Christ School offers a range of specialized classes and programs in addition to its core curriculum. STEAM labs integrate science, technology, engineering, art and mathematics into lessons. An accelerated math program gives students the opportunity to move forward at a faster pace according to their abilities. Eighth grade students take advantage of high school credit classes and academic advisors who help students and their families prepare for the high school journey.
The Christ School uses the Orton-Gillingham approach to teach the science of reading. Originally designed for students with dyslexia, the program has been adapted to help all learners excel. There are only 19 programs nationwide certified with the Orton-Gillingham Academy, and The Christ School is the only one in Florida with this distinction.
"We understand how important it is to teach the science of reading as opposed to just the memorization of words," Mrs. Fleming says.
Spreading the word
There are many things Dr. Farrant and Mrs. Fleming attribute to The Christ School's steady growth and stellar reputation, but one thing stands out above the rest: the school's families.
When asked about promoting the school in end-of-year surveys, more than 90% of families say they have, and even more say they would. In addition to its Christ-centered approach and programming that caters to the individual child, the school's tuition covers school supplies, daily lunch, field trips, and many other items that families are often charged for at other schools. There are no additional fees or costs, and this helps to make it the right choice for many families.
"The Christ School is changing lives. The testimonials we consistently receive from families are proof," Dr. Farrant says. "We are thankful that our community continues to grow and honored to serve Central Florida families."
The Christ School
Orlando
(407) 849-1665
TheChristSchool.org