Let the Good Times Roll
Orlando is known as the "Theme Park Capital of the World" to the millions of visitors who flock to Central Florida each year to enjoy the many entertaining attractions the area has to offer. Local residents, too, love to take advantage of living so close to these destinations, but they also long for new and exciting adventures that the whole family can partake in for an affordable price. Fortunately, the team behind Funtastic Depot is happy to fill that need. 
Orlando's largest indoor amusement park officially welcomed guests to its grand opening in mid-October and has been greeted with rave reviews. The 30,000-square-foot facility has an activity for just about every age group, so kids from 2 and up, and even parents and grandparents, are sure to find something right up their alley. What's more, with such an array of offerings, families are encouraged to return for future visits to have a completely unique experience.
"There are so many different activities that people can engage in, either with the group they came with or people they don't know who are at the venue at the same time," says Beth Cocchiarella, who handles public relations for Funtastic Depot. "It's very interactive and has lots of lights, music, and is super colorful.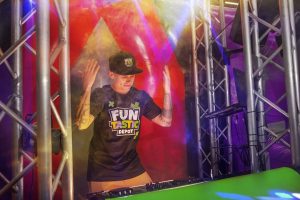 "Younger families can definitely come and enjoy it, and it's also so much fun for older kids. There's just enough freedom for them to run around and do their thing, but at the same time it's a family experience."
A family could spend an entire afternoon just in the inflatable concept park, which takes the idea of bounce houses and trampoline zones to another level. The innovative space has everything from a ball pit slide, a free-fall platform and an obstacle course to a bouncing area, multi-sport arenas and more.
At the ninja warrior course, both beginners and experts can test their skills on challenging obstacles that get progressively more difficult. Completing the course makes for an amazing sense of accomplishment, but even failure is met with a smile since it involves falling into an ocean of plastic balls.
Adults and kids alike can push themselves to new heights on Funtastic Depot's multiple climbing walls, and for younger children there is a playground, as well as a toddler zone with dozens of activities to keep them engaged. The park also has an arcade filled with classic and modern video games, basketball hoops and hockey tables.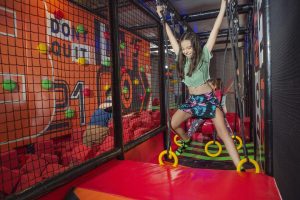 When they are exhausted from all of that physical activity, guests can head to the karaoke booth and channel their inner pop star in rooms that are available to walk-in guests or by reservation. Music is very much at the heart of Funtastic Depot, which also has live DJs on weekends and during special events to liven up the facility.
"That really elevates the level of energy and engagement inside," Cocchiarella says. "It's fun and there's a ton of lighting to bring that vibe to it. It's a very inviting space."
Funtastic Depot is open from 3-9 p.m. Tuesday-Thursday; from 3-10 p.m. Friday; from 10 a.m.-10 p.m. Saturday; and from 10 a.m.-9 p.m. Sunday. There are various pricing options starting as low as $5.95.
The park is already a popular spot for birthday parties and is taking reservations for the coming months in its three private rooms, which can also be configured into one large room for bigger gatherings. It is also perfect for other events, like family reunions or even corporate outings, and offers a full menu including pizza, sandwiches and other items.
"It's great for groups because it gets people off their phones and engages them in something that is active and fun and brings them together," Cocchiarella says.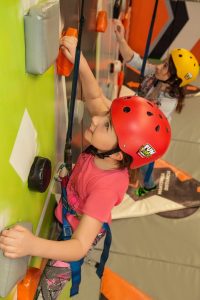 The facility, which is centrally located in Orlando, is available for buyouts as well, and unique programming will be offered at certain points of the year, including holidays and spring break. But once families visit Funtastic Depot once, they will find they won't necessarily need a special occasion to come back.
"People are always looking for new things to do in Orlando," Cocchiarella says. "This is a great activity that's not a theme-park ticket, and being inside in the warmer months with air conditioning is nice. Best of all, every guest can expect that with each visit, they'll have something new to experience."
Funtastic Depot
6828 Hoffner Ave. | Orlando
(407) 488-4378
FuntasticDepot.com