Dare to Dream
More than 30 years after helping deliver the NBA to Orlando, Pat Williams is looking to recreate the magic by bringing Major League Baseball to Central Florida.
Pat Williams does not include his own name while making a list of the great dreamers to leave their footprint in Central Florida. Walt Disney is the logical person to start with, of course, and Williams goes on to add golf legend Arnold Palmer and astronaut John Young. Perhaps he is too humble to mention himself, but there is little debate in these parts that Williams belongs right up there with the rest.
His place in that esteemed company is already secure thanks to the instrumental role he played in bringing the NBA to the area. But more than 30 years after the debut of the Orlando Magic, Williams is not content to simply enjoy retired life like so many other people his age. In fact, the 78-year-old is undertaking his grandest challenge yet—convincing Major League Baseball (MLB) that Orlando deserves a team.
"I know this is a big statement," Williams says, "but this would probably be the biggest thing to come to Orlando since Disney. I don't mean to minimize Universal; you would probably have to include that too. But this is at that level."
Although Williams is a basketball Hall-of-Famer known for co-founding the Magic and leading the Philadelphia 76ers to a championship as their general manager, baseball was actually his first love. He was a minor-league catcher in the Philadelphia Phillies organization and spent five seasons running minor-league teams for the club before shifting to the NBA 51 years ago.
But his passion for baseball never left, and around a year ago at this time he announced his current mission. He even held a press conference and unveiled the name for his proposed team—the Orlando Dreamers—along with a logo, the same two strategies he used with the Magic all those years ago.
This time will be different, to be sure, for the astronomical financial numbers involved alone. But Orlando has also changed in the years since, emerging as one of the hottest tourist destinations in the world and growing from the 24th-largest media market in the country to now setting its sights on 17th.
"Before the pandemic there were 2,000 people a week moving to Orlando or Central Florida," Williams says. "That's about 8,000 a month and about 100,000 a year; carry that out over 10 years and you're talking about another million people. It's just an amazing place to be if you like growth.
"All you have to do is drive around Orange County or other counties close by and everywhere you look there's construction going on; new neighborhoods and all the stuff that goes with new neighborhoods. It's very exciting. We have come to the point where to truly be a major-league city, we've got to have a Major League Baseball team. That's the earmark of being a big-league city so that's what's driving us right now."
There are two clear options for Orlando to welcome a baseball team. One is through expansion, as MLB has made it known it is interested in adding two teams in the near future. Orlando and Nashville would surely be two of the leading destinations for one of those teams, with Las Vegas and Portland looking like the top candidates out west.
The other alternative is through relocation, with the Tampa Bay Rays looming as the most sensible choice. Orlando has tried to lure an MLB team twice previously, losing out to Miami in the early 1990s and to Tampa/St. Petersburg a few years later. The Rays have enjoyed success on the field since then—they reached the World Series for the second time this past season before losing to the Los Angeles Dodgers—but have not always received the strongest fan support and play in an outdated ballpark, Tropicana Field in St. Pete.
The area of Downtown St. Petersburg where the park is located is poised for major redevelopment, and Tropicana Field is not part of the plan. When the Rays' current lease there is up in seven years they will be moving on, with a new ballpark in that region still a possibility. They have even floated the idea playing half of their games in Tampa and the other half in Montreal.
But instead of moving to a completely new area of North America, Williams is urging them to look to their neighbors to the east, with its rising population and millions of visitors.
"We think this is the perfect spot to land," he says. "Our argument is, slide over here and you can draw from a base of 11 million people within a two-hour drive. Last year we had 78 million visitors from around the world that came to Orlando. That number, if it were not for the pandemic, would continue to rise.
"Within the next 10 years, in my opinion, it will get to 100 million. If 2% of those visitors decide to go to a Major League ballgame, which is not really a stretch, those numbers are powerful—2% of 100 million is 2 million people and that's just from out of state. So I think we have a compelling argument."
Expansion has still not officially been announced by MLB, and some predict the pandemic may actually speed up the process since owners need the revenue that expansion fees would bring. As for the Rays, the clock is already ticking.
"We're staying in touch with the Rays," Williams says. "They've got to make decisions here pretty soon because it takes time for any city to craft a 30-year agreement and clear land [for a stadium], and the funding process has been really hurt by the pandemic so that's another issue. It's going to take every bit of six years for any city to get all of this organized."
Williams and his group are currently looking at locations throughout Orange County for a ballpark to be built. He cites recent stadiums for the Texas Rangers and Atlanta Braves as the blueprint, and adds that it would require a retractable roof due to the Florida heat.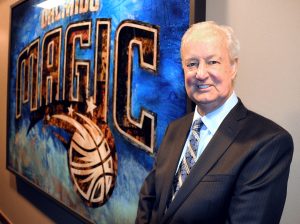 "Here in this community where everything is the highest level of quality it would have to be the same with a ballpark," he says. "It would have to be state of the art. Every new facility should have the latest and greatest and that will certainly be the case here. We're working fervently, intensely on trying to get all of that organized.
"Building a ballpark [requires] a lot more land than building an arena downtown. Downtown Orlando is packed; there's no real land left, so this would have to be a facility in Orange County. To do it right, you need every bit of 30 acres, and if you want to go beyond [just a ballpark] you need more. The most recent example is the Braves' facility in Atlanta. They went outside of the city and got enough land because around the ballpark they have condos and hotels, restaurants, entertainment. When you go to a ballgame at the Braves' new facility you're in a whole new neighborhood."
Williams has met with Orange County Mayor Jerry Demings, and says he prefers a ballpark that would also serve as a tourist destination, even during baseball's offseason. Orlando Mayor Buddy Dyer also supports Williams' endeavor.
"No one has contributed more to Orlando's thriving sports scene than Pat Williams and we're grateful that he's continuing to work to add to our community's quality of life," Dyer says. "Like Pat, we are always looking to add to our city's sports and entertainment offerings for residents and having a professional baseball team to call our own would be an exciting development for Central Florida. In the event that scenario becomes a reality, we would make every effort to welcome them as our new hometown baseball team."
Williams says public feedback has also been positive, with more than 8,000 people visiting OrlandoDreamers.com within a month of its launching last fall to express interest in season tickets. That response has pushed him to see this mission out to the end, just like he did with the Magic, and has reinforced what he loves about his adopted hometown.
"Everybody who comes here comes with big dreams and they want to see those dreams fulfilled," he says. "Orlando is a city of dreamers and will continue to be that. Now we've got big baseball dreams. That's why we thought that name was appropriate; it fits with what this community is all about."
This article originally appeared in Orlando Family Magazine's December 2020 issue.