Getting Personal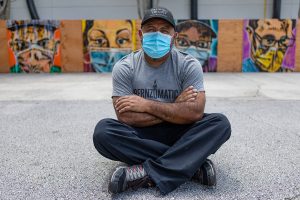 Local artist Nelson Cardenas on painting with fire, reading classic novels and his most recent art series honoring health care workers.
1. I am a self-taught artist. When I discovered the television shows of Bob Ross, I was hooked on art. As a child, I would watch his show and as soon as it ended, I would run to my bedroom and replicate, from memory, his paintings on paper using tempera paint.
2. I have been living in Central Florida since 2005. I was born in Medellín, Colombia, and moved to Central Falls, Rhode Island, at the age of 13. I then moved to Central Florida with my family to escape the harsh winters of the North.
3. I recently completed a series of paintings—now on display at Orlando Health Dr. P. Phillips Hospital—depicting local health care workers. I started this project after being approached by Bernzomatic, the makers of blowtorches. The company had seen some of my artwork on social media and wanted to pay tribute to health care workers though art. Since I am a health care worker, Bernzomatic gave me this opportunity and allowed me to expand on it by creating a series of six paintings of real people who are on the front lines of the pandemic. For this project, I used the Bernzomatic blowtorches as a paint brush. I used fire on plywood panels to start my underpainting process and then I used oil paint to bring out the details and light tones. I then went back and forth with fire and paint until I achieved the desired effect.
4. I thoroughly enjoy painting with fire and I love to experiment with many materials and tools such as leather, glass, alabaster stone and metal sheets. My most current art experiments involve using a welder as a drawing tool on metal. To create large scale paintings, I also combine wood.
5. I am a prep cook at Orlando Health Dr. P. Phillips Hospital. I think cooking is also a form of art. You have to be spontaneous and creative in the kitchen just like creating a painting.
6. A perfect day in Central Florida for me is taking a walk at Kissimmee Lakefront Park and then a night out at one of my favorite local restaurants like Menagerie Eatery & Bar in Orlando.
7. Someone I admire is philosopher Noam Chomsky. I really gravitate towards people who create philanthropic movements for the betterment of humanity.
8. I love reading classic novels and one of my favorite books is The Catcher in the Rye. Currently, I am reading One Flew Over the Cuckoo's Nest.
9. I have two children, a 20-year-old daughter who is studying journalism at the University of Central Florida and a 14-year-old son who is starting high school in the fall. Being a father was what I expected and so much more.
10. I am currently in the process of creating a new art installation. I was inspired by an artist who goes around the country raising awareness about homelessness and he sets up installations with signs that were made by homeless people. I am currently buying signs from homeless persons and would like to create my own installation in the near future to benefit a charity that supports the homeless.
This article originally appeared in Orlando Family Magazine's September 2020 issue.