Just Getting Started
Reese Witherspoon has had an accomplished Hollywood career that spans decades, earned her an Academy Award and led to her becoming a successful producer. Despite all that, the doting mother of three firmly believes her best days are still ahead of her.

Reese Witherspoon feels more enlightened, empowered and emboldened today than at any other time in her life. She's rebooted her career, basking in the success of Big Little Lies, the hit HBO series she developed, produced and starred in last year. The female-driven show, which also stars Nicole Kidman, Shailene Woodley, Laura Dern and Zoë Kravitz, was such a smash hit that despite originally slated to only be a seven-part miniseries, it has begun shooting a second season that will bring Meryl Streep on board.
More recently, the former Oscar winner found herself starring in the Disney film, A Wrinkle in Time, a fantasy epic about Meg, a teenage girl (played by newcomer Storm Reid) on a cosmic journey to locate her missing dad (Chris Pine). Helping her navigate the universe are three celestial beings able to "wrinkle" time and space: Mrs. Which (Oprah Winfrey),  Mrs. Who (Mindy Kaling) and the inquisitive Mrs. Whatsit, played by Witherspoon with abundant verve and humor. Witherspoon believes that the film carries a timely message for young people and adults alike.
"It's a really interesting time. Like with people being [on such] incredibly different sides of political opinions or ideology," Witherspoon says. "And I think this is a great message in this film about what's inside of you. And truth. You know what's truly good. You know that. And all children have that and all people have that. It's about sourcing that inside yourself."
A Wrinkle in Time is directed by award-winning filmmaker Ava DuVernay (Selma) who was delighted to bring Witherspoon on board the project because of her ability to bring a light-hearted enthusiasm as well as a sense of determination to the role.
"I was looking for that innocence, that thing Reese plays so well, but also that great power and precision, and [someone] funny," DuVernay says. "The character has so much [humor] going on, you really need someone who's proven and who's done a bit of it all, and that's Reese. It was so lucky that she was a fan of the book and wanted to come play with me."
Witherspoon's connection to Disney and the Orlando area is nothing new either. She starred in the 1993 Disney film, A Far Off Place, and a couple years back she helped open up the Planet Hollywood Observatory at Disney Springs. She spent her free time in Orlando during the trip taking her kids to the parks and documenting their enjoyment on social media.
Witherspoon lives in Los Angeles with her husband, Hollywood agent Jim Toth; their 5-year-old boy, Tennessee; and her two teenage children, 18-year-old daughter Ava and 14-year-old son, Deacon, from her previous marriage to actor Ryan Phillippe.
Q&A
You seem to be entering a whole new chapter in your career as both actress and producer. How does it feel?
It's an amazing time for me. If you work hard, you can change so many things in your life. It's easy to become complacent over the years, to sit back and wait for the phone to ring with a new job offer and simply accept it. But that's not good enough for me. I love being active, and even more so, working with people who are working in the same direction as I am.
Do you see yourself as a leader among women in Hollywood who want to bring change to the industry?
I feel like I'm on a mission. It's my main goal to create more female-driven projects and give more opportunities to women at every level. I started producing five years ago because I was so frustrated and infuriated by the lack of good roles for women and watching so many talented women playing wives or girlfriends or stupid women. That's what motivated me to get Big Little Lies made. That series showed how we can create powerful dramas where women are presented as complex and intelligent and active individuals.
A Wrinkle in Time also features you and three other women in the key roles in the film.
Yes, and we also have a female director. I was so proud to be part of this story because I feel it's a very empowering story for young women in particular. I first fell in love with the novel when I read it in the sixth grade and I saw myself as Meg (the teenage girl in the story) because I was confused about my place in the world. 
These kinds of movies will also inspire more women to get involved in film as writers and di- rectors and not just as actors. I'm also inspired by working with a wonderful director like Ava (DuVernay) who projects such strength and confidence in the way she knew how to bring this story to life.
How did you get involved in the project?
My agent called and said that Ava DuVernay  wants me to be in the movie and I said, "Yes," immediately. It was very flattering to be in the movie with her. She creates an experience and everyone feels that they are special and valued and honored in the film. It was like a master class to be working with her. It was a privilege and an honor and a delight to be part of this film and work with these extraordinary women and a beautiful experience.
You're now 42. Do you think your best years are still ahead of you?
I think so! I think the 40s are the best years for women. When you hit 40 you have a much clearer idea of who you are and you know exactly what you want. So you surround yourself with the best people, you have a much better idea of what you want in a relationship, and you're much bolder and less afraid. It's a time of great personal growth where you have much greater self-awareness.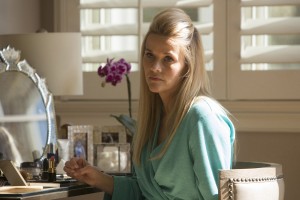 Do you think getting older will also open up a much wider range of roles for you?
Yes. When I saw the first version of Big Little Lies in the editing room I immediately noticed the little lines on my face and I said to myself: "I like them, I got them one by one (laughs). I worked hard to get these wrinkles!" I can play women who have lived more and gone through a lot of changes not simply because I'm in my 40s now but also because I've gone through that kind of evolution myself.
One of the things that struck me about Big Little Lies was how I saw my own life reflected in each of the characters because I was a divorced woman, I had been a single mother, a married mother, and I had another child in a second marriage.
You must be proud of what you've accomplished as a producer with your company Pacific Standard and the enormous success of Big Little Lies.
It's been very satisfying. I always believed that the novel would make for an incredible story that we were able to tell over the course of seven episodes on TV. We wouldn't have been able to have that kind of depth and character development had it been done as a film.
Were you in a way making a statement by creating a series that was driven by women and where life was explored from a female perspective?
I have spent over 20 years in this business and often I'm the only woman on the set apart from the makeup artist or maybe the set decorator and one or two female crew members. There has been a lack not only of women's stories but also simply a lack of interesting female characters for women to play.
That's why it was such a privilege to work with so many outstanding women like Nicole, Shailene and everyone else. For the first time in my career I was surrounded by so many powerful female actors and we all felt a sense of solidarity.
Your co-star in A Wrinkle in Time, Oprah Winfrey, has been a leader for women in the industry. Did you speak to her a lot about the issue of women in Hollywood and in society as a whole?
I've looked up to Oprah ever since I started watching her show. She's inspired me not just with her own accomplishments but also through her book club and the way she's conducted herself and spoken out on behalf of women over the years. Oprah encourages you to be the best version of yourself.
Several years ago you admitted to being in a bad place in terms of feeling unsatisfied with the work you were doing and the kinds of roles that were available to you. Was that what it took to get you to shake up your world and get more actively involved in producing?
I still draw a lot of inspiration from my mom and what she accomplished in her life as a surgical nurse who also earned her doctorate while raising a family. She always told me that if you're not happy with things, then you need to stop complaining and do something about it.
I've also had a lot of encouragement from my husband who has supported me every step of the way and told me not to back down when it comes to asserting myself and fighting to get a project made. For years he's been telling me that I would make a good producer because I'm always reading books and that I would know how to find great material for a movie or a series. And I finally did it.
This article originally appeared in Orlando Family Magazine's July 2018 issue.