Modern Family
In some ways parenting in the 21st century looks a lot like how our mothers and fathers did it.
Their parenting advice has stood the test of time and the guidance offered by them and our parents' parents is so often the most valuable; it's the stuff that you didn't read in the baby book. But in many other ways being a parent in this modern world of cellphones, evolving education and high-stakes health decisions is a whole new frontier of challenges to deal with when trying to raise a happy and healthy child. One that maybe no one could have prepared us for. Luckily in the information age, there's a lot of knowledge out there on how to raise a well-adjusted child. We spoke to some experts around town who gave us their advice on navigating some of the issues you may face with your own children.
FAMILY FUN
Traveling as a Family
A vacation is a great way to gather everyone in the family together for some fun and it's a chance to really connect with your kids in a way that is sometimes not possible over the course of one busy day blending into the next.
"Travel puts you in that experience where you're spending more quality time together because you're around each other and not separated necessarily," Denise Spiegel, senior director of public relations for Visit Orlando, says. "But also you are trying new experiences together and when you try something new, you're creating those new memories and you're bonding."
But as much as it can be rewarding, toting young ones along can be exhausting when you're dealing with a long car ride, a flight or both. And if your kids are of varying ages, trying to find something everyone will enjoy—parents included—can become a bit tricky.
"The challenge is [families] don't know where to begin," says Rainer Jenss, founder and president of the Family Travel Association. Jenss adds that no matter what the family dynamic is, it's not about where you are going but rather what you would like to do.
"Don't pick a location first, pick an activity that you all want to do," he says. "What kind of experience do you want to have? If you pick a location first, it can limit your options."
Jenss recommends families consider economical options as well when traveling. That could mean considering a vacation rental a la Airbnb or HomeAway to all-inclusive resorts or cruises where events and activities for all ages are part of the package.
No matter where you end up on the map, it's best to get your kids involved in the decision-making process. "You have to," Jenss affirms. "Get their input because they'll be engaged and they are much less likely to complain. If they were involved in the whole process it's just better all around, particularly with kids of varying ages. If you have a 6-year-old that wants to go to a theme park and a 14-year-old that wants nothing to do with it, you have to find that out ahead of time."
Locally, taking the kids to the theme parks for the first time is a rite of passage, so if it's time to have the kids meet their favorite characters and discover new worlds then Spiegel says you need to plan ahead, not just in what you'll need to bring (water for the kids to stay hydrated, hats for the sun and, of course, sunscreen), but how you can make the most of your time.
For example, if heading to the Disney parks for the day, you can download the FastPass+ app, which will let you reserve access to select attractions and shows, limiting the time you'll spend waiting in line and in turn keeping the fussy teenager in your group happy.
Spiegel says a plan can certainly help you see and do all that you want to do but it's also important to go with the flow.
"Going in to it, make sure you're flexible," she says. "Because the little ones will really drive the show. They may be too tired or too hot and so if you have it in your mind as a parent that you've got to get through these five things, the kids may only be able to get through three of them."
Taking a day to enjoy all the amenities of your resort is another way to get the most out of your family vacation.
"It's worth checking out some of those things that are offered," Spiegel says. "And take advantage of what you're getting or add-ons to your experience at the hotel."
Many hotels offer child care or activities for kids that are led by the staff. Both options allow for parents to get some downtime of their own, which is important for any family vacation.
If heading to your desired destination by automobile, keeping the kids cooped up in the car for hours on end isn't advisable according to Scott Bartle, field manager with AAA-The Auto Club Group's local office covering Central Florida.
"We always encourage parents to stop often and spend no more than three-four hours in the car," Bartle says. "Plan stops where there's something fun for the kids or where you can go sightseeing or visit some historical sites. It makes the trip a little longer, but you're much more able to interact that way."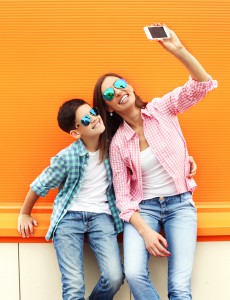 While traveling with infants and toddlers allows you to essentially go wherever you wish as long as you are sticking to the same routine of care you would at home, older children don't always buy into what their parents are selling. But finding activities they can enjoy on their own accord can go a long way to keeping them happy.
"The best family vacations are the ones where kids go off on their own and do some type of program and they don't miss their parents. They come back [feeling] fulfilled," says Bartle.
Overall, the important thing to focus on is sharing with the family all that traveling offers.
Spiegel says she cherishes the time she's spent on vacation with her kids.
"We've made so many memories and I just think back to all of those kind of firsthand experiences," she says. "A lot people think, 'Oh, they're too young to do something like that.' But they have that experience, and you keep talking about it and they share pictures and they still talk about it later."
Jenss also touts the benefits traveling can have for children and its lasting results.
"Traveling really benefits kids beyond the obvious exposure to new places, different cultures, trying new foods, etc. It also literally can help build their self-confidence and help them better understand themselves. It's a real personal growth opportunity and can help them discover new interests," he says, adding that his son became very interested in photography while taking pictures on a family getaway.
"If you win the hearts and minds of the children, the parents are going to be happy no matter what," says Bartle.
Traveling Trends
According to Virtuoso, a global network of luxury travel agents, the most popular family vacation ideas include everything from parent/child bonding to adventure and exploration. Below are the 10 most popular trends in family travel according to the group.
1. BEACH RESORT STAYS
2. ACTIVE OR ADVENTURE TRIPS
3. CELEBRATION TRAVEL
4. MOTHER/DAUGHTER OR FATHER/SON TRIPS
5. TOURING (GUIDED OR PRIVATE)
6. OCEAN CRUISING
7. CULTURAL IMMERSION
8. EDUCATIONAL TRIPS
9. RIVER CRUISES
10. EXCLUSIVE-USE TRAVEL
(PRIVATE VILLA/ISLAND/JET/YACHT)
EDUCATION
From Day Care to College, How to Find the Right School
Having dedicated much of her life to early childhood education, Suzette Turner, director of the University of Florida's Creative School for Children, knows what to look for in a day care.
"You definitely want to look for an open door policy where parents can come in and visit," she says.
Turner has a master's in early child care education and holds a doctorate in curriculum and instruction. Before she came to the UCF's Creative School late last year, she spent 18 years as a director of a similar early child care center in Illinois.
Another sign Turner says parents looking for a top-notch day care should take notice of is the classroom environment.
"[Does it have] child-size materials that are available?" she says. "Does it look safe? And then are there displays of the children's artwork posted around so you can actually see that they are creating things and doing things either with their artwork posted or photos of them doing the activities?"
As far as recognition for excellence, there are two main national accreditations day cares can carry. One comes from the National Association for the Education of Young Children and the other is bestowed by the National Accreditation Commission for Early Care and Education Programs. Both are a good sign the center cares about its reputation, although, not having those accreditations is not necessarily the sign of a subpar center.
Ratios are of course something to take notice of as well.
"If there are a lot of children in one room or with one instructor, that could be a warning sign," Turner says.
The state of Florida provides standards that children should meet before starting kindergarten, so any day care claiming to prepare your child for starting elementary school should be invested in providing individualized lesson plans to help him or her meet these standards.
"That is a thing [parents] would definitely want to look out for," Turner says, "that they're tailoring the education experience for the child."
Start early is the advice Daron Gallina, the director of college counseling at Lake Mary Preparatory School, gives to parents and students who are concerned about getting into the best higher education schools.
"Once you plant the seeds early and are thinking about it earlier, it's not as daunting and the process is manageable," he says.
Eighth grade is when Gallina, who has been a school counselor for about 20 years, starts talking to kids about college and when he thinks most parents should, not because teenagers need to start obsessing over getting in but more to let them know that what happens in ninth grade goes on their record and will affect their overall GPA.
"Eighth grade is important because it gets you to high school," he says. "But once you get to ninth grade it becomes a permanent record. So if you're not academically conditioned or you're not doing things you should be doing in eighth grade, you might want to start thinking about making those adjustments because it becomes more important in ninth grade."
The other benefit of starting early is it removes some of the pressure that can hit students their junior year, which is traditionally the time when they start taking the SAT or ACT and applying to colleges.
As admissions for top colleges get competitive, Gallina says it's passion that can put a student over the top. Which is why he encourages students to pursue a few things they are interested in, instead of trying to do it all.
The number of schools students should apply to is also a question on students' and their parents' minds. While there is an urge to apply to as many colleges as possible, it is not an effective strategy.
"I'd rather them do two or three things and be all in rather than dip their toe in 25 different things," he says.
The college essay is another time-honored part of the application process that students sweat over. College admissions officers will often rely on the essay to discriminate between candidates who are similar academically.
"You don't want to write a college essay that everybody else is writing," Gallina says. "You don't want to write an essay about prom or how you were the starting quarterback of your school's football team when you were a sophomore. You want to write something where it's interesting and unique and different that gets the admissions person's attention."
Many students are also unclear on what courses they should take in high school to help them get into college.
Because students have no control over what their school offers, generally dual enrollment, advanced placement (AP) courses and classes through the International Baccalaureate program are viewed similarly.
"They just want to see you taking most rigorous [courses] and if it's through your school, whether it's dual enrollment, AP, or IB or both," he says.
Gallina notes that students should take the most rigorous classes that they can still succeed in and obtain good grades.
Additionally, he's often more comfortable with students pursuing AP classes over dual enrollment if the student is looking to bring those credits with them to college. This is because most colleges readily offer information on how AP credits will transfer, while dual enrollment can be much trickier to work out.
When it comes to the number of applications a student should submit, depending on the student's safety schools, target schools and reach choices, Gallina says a low number of applications would be between three and four, while a high number would be about 10 or 12.
He cautions that admissions officers are wary of students who don't have a significant interest in their school, so over applying to too many schools can actually backfire.
"Level of interest I think is a biggie right now," he says.
Ultimately a lot of the pressure that comes with getting into college during senior year of high school can be alleviated if the student and their parents have started the work early because it will allow them to set their expectations accordingly.
"When you go through a four-year process," Gallina says, "there's no shocks or surprises."
HEALTH AND WELLNESS
Finding the Right Doctor for Your Child
When seeking the right pediatrician for your child, it's crucial to find someone who will listen to what is important to you.
"And you need to feel like you can relate to them," Dr. Bernadette Antonyrajah, a pediatric intensivist with Florida Pediatric Associates, says. "That they're not just talking to you in medical jargon."
Antonyrajah is double-board certified in general pediatrics and pediatric critical care. She says the best time to look for a pediatrician for your child is actually before the child is born in the mother's second or third trimester.
"This way it's not like she's walking in and feels like she has to settle for whoever is available at the time," Antonyrajah says. "She's already kind of built up a personal relationship with them."
Once your baby is born, it is paramount for your pediatrician to follow along with the child's growth to make sure he or she is hitting the appropriate developmental milestones. If there is an issue and you've been seeing your doctor regularly, he or she should be able to pick up on it quickly. "Because that's really what you need your pediatrician to be there for: to guide you through everything that is going well but also when there is something a little off, to be able to help you pick that up."
Antonyrajah, who is currently working to open a pediatric urgent care with her husband who is also a pediatrician, stresses that parents need to take children to a pediatric clinic, not just a generalized doctor, because pediatric and adult care are vastly different.
"Children are not just small adults," she says. "That's why pediatricians get extra training because the way [children] present with illnesses is different. And what you don't want is something to go missed."
Like most pediatricians, she sees patients up to 21 years old, although she says it's appropriate for a child to transition to the family doctor between the ages of 18 and 21. However, if your child has suffered complications from any pediatric illnesses, he or she may want to continue seeing their doctor past age 21 because his or her pediatrician will be well-versed in dealing with those issues. 
Dr. Gregory Gordon, a pediatrician with Orlando Health Physician Associates, says vaccines are another consideration to make before your child moves from his or her pediatrician to the family doctor.
"A lot of the adult doctors and internists don't carry some of the pre-college shots," he says. "I had a family who left to go to the adult doctor and then they ended up coming back because they needed vaccines before college."
Gordon received his medical degree at the University of Florida. He completed his pediatric residency at the University of Alabama at Birmingham and he's been practicing in Orlando since 1999.
Childhood obesity, a condition that is now three times more common than it was in the 1970s, is a major problem Gordon has seen proliferate over the past 20 years. Although there are several factors that contribute to a child having excess body fat, including genetics, diet and the body's metabolism, Gordon finds that often children are just not getting adequate exercise because they are spending too much time on their electronics.
"I get it," he says. "My kids like to play video games and watch YouTube videos, but they've got to do more outside time and physical time than they're doing on electronics. And I really think that is unfortunately a major component [of the childhood obesity crisis]."
Your pediatrician should measure your child's body mass index during each visit. Tracking this number will tell the doctor if the child is starting on the path to obesity. He or she may also inquire about the child's exercise and diet, to get a clearer picture of what is causing the weight gain.
Dental Health Tips
According to the American Academy of Pediatric Dentistry—the leading authority on children's dental health—the following quick tips are a great guide for any parent.
Brush Up on Tooth-Brushing
When choosing a manual toothbrush, look for round-ended (polished) bristles that clean while being gentle on the gums. Choose one specifically designed for children's smaller hands and mouths. Be sure to brush your preschooler's teeth and supervise the brushing and flossing of school-age children until they are 7 to 8 years of age. The AAPD recommends using only soft-bristled toothbrushes. Also, remember to throw out a toothbrush after 3 months or sooner if the bristles are fraying. Frayed bristles can harm the gums and are not as effective in cleaning teeth.
Teen Pediatric Dentistry                           
Just because your teenager isn't a child anymore, doesn't mean he or she should stop seeing their pediatric dentist. Dentistry to meet the special needs of teens and adolescents is an important part of the specialized training for pediatric dentists. Growing doesn't stop at childhood–teens experience important growth in their faces and jaws. Teens are also getting the last of their permanent teeth, and teeth that have just come through the gums are especially vulnerable to decay.
Start Off The School Year Right
Students miss more than 51 million school hours per year because of dental problems or related conditions. To start the school year off on the right tooth, and prevent oral-health-related absences, teach your student to floss once a day and brush twice a day with a fluoride toothpaste. Beware of frequent snacking, as repeated exposure to sugary or starchy snacks can increase the risk for cavities. And most important, visit your pediatric dentist twice a year.
SPECIAL NEEDS
Finding the Help and Resources You Need
Discovering that a child has a developmental delay or a physical disability can turn a family's life upside down. And it can be devastating to parents who were not expecting to go through this with a child.
"Their [child is] very young and they're really going through the grief process of 'What does this mean?'" Director of Education and Instruction at UCP of Central Florida, Anna O'Connor-Morin says. "'What do I do? Where do I go? How do I navigate medical appointments and school appointments and processes?'"
The UCP in UCP of Central Florida stands for United Cerebral Palsy, which is a national organization with affiliates around the country. However, in the 1980s there was a decrease in the number of incidences of cerebral palsy and an increase of children with other types of disabilities and delays, so UCP of Central Florida has tailored its organization to providing support, therapy and education to children with all types of disorders and disabilities.
O'Connor-Morin, who has been with UCP for eight years, says the best thing parents can do when their child is diagnosed is to keep digging for information and resources.
"Don't stop asking questions and don't stop networking," she says.
Parents may also want to consider joining a support group not just so they can network but also because being a caregiver can become overwhelming. "The hardest part about it is feeling isolated or like you're not able to get answers," O'Connor-Morin says. "So counseling support groups really provide that outlet for our families."
While parents can feel lonely in their roles as caregivers, at the same time they're worrying about their children feeling the same way because, unfortunately, in many education systems children with disabilities are secluded from children who do not have disabilities, which can be stigmatizing.
Organizations like UCP of Central Florida know that there are limited academic options for children with and without disabilities to truly learn together and that is why the nonprofit's charter schools do not just educate students with disabilities but all children of all abilities side by side in the same classrooms.
"The inclusion aspect of what we do is still such a kept secret," O'Connor-Morin says.
This model of individualized education is beneficial for all the children, not just those with disabilities.
"All kids have special and unique abilities," she says. "And how we personalize for the education is really becoming more and more critical for education systems to understand."
It is vital to identify if a child has a developmental delay or disability as soon as possible because early intervention can help a child be more successful overcoming his or her specific obstacles.
"The earlier you act, the easier it is for kids to absorb the therapies and the services that they are provided," Gretchen Smithwick, manager of Central Florida's Help Me Grow program, says.
Help Me Grow identifies children who are at risk for developmental or behavioral disabilities and helps refer them to local groups that can help. The program is national and expanded to Central Florida in 2016. The local affiliate is run by the nonprofit Heart of Florida United Way.
Smithwick says many parents call Heart of Florida United Way's 2-1-1 Help Line, where people can access Help Me Grow, before they have an official diagnosis.
"Many parents are just concerned that they're not heeding those developmental milestones," Smithwick says. "Also they compare those children to older siblings and they realize that they may not be at the same level as their siblings were at that age." Help Me Grow is a free program that is available in Orange, Osceola and Seminole counties.
When Marie Kuck's son, Nathaniel, was first born and she was told he would have special needs, it was hard to accept.
"I remember for me I was in denial for a long time," she says. "'Like OK, when is he going to catch up with everyone else?' Even though he was very medically fragile and, you know, he was 4-and-a-half and functioned at a 9-months level."
Sadly, Kuck's son only made it to 4-and-a-half before "he had an unexpected change of address to heaven," as she says.
After the death of their son, Kuck and her husband started the nonprofit Nathaniel's Hope to share hope and encouragement with special needs children and their families, provide resources and educate the community. The organization works closely with many churches and ministries.
Buddy Break is one of the nonprofit's main programs. It was created to give caregivers a break from their overwhelming responsibilities and allow special needs children and their siblings a safe place to have fun and establish meaningful friendships with other kids and adults.
With this program, adults and children ages 14 years and older are trained on how to interact and care for special needs children. At the Buddy Break events, these volunteers take over for the caregivers who can then take a few hours to themselves.
Kuck's advice for parents who have found out their children will need special care is to embrace the journey and understand that their child is going to have different milestones than everybody else, so they shouldn't try to compare but really celebrate their child's victories.
"I think sometimes when you have a child with a disability and you recognize that you're going to be on
a different path, you could almost feel like your child is less than," she says. "But there is purpose and value in every life. Our little boy who never walked or talked or ate with his mouth is literally impacting thousands today because of his life's journey. There was purpose for his life."
This article originally appeared in Orlando Family Magazine's July 2018 issue.