Orlando Family Stars
Each month, Stars features exceptional students, student athletes, educators and all-around boons to the Greater Orlando area. Know a Star? Submit your nominees to Nate@OrlandoFamilyMagazine.com.
Star Student: Nicole Goldin
A multifaceted star at Lake Highland Preparatory School (LHPS), Nicole Goldin isn't just the captain of the school's varsity softball team and a leading student in LHPS' art programs—she also uses her time and talent to help others. Those efforts include being a counselor at Special Olympics summer camps, internships with an art therapist and an autistic children's educational program, participation in the school's Best Buddies program (which pairs high-school students with special-needs children for mentoring), and co-creating the mentor program for the school's Student Art Leadership Team.
Star Student: Sophia Vitello
In March, Sophia Vitello, who attends Orlando's The First Academy, was the only freshman student to place in the top 10 in Florida's Poetry Out Loud competition. Vitello, who's also participated in The First Academy's theater productions, was actually the school's runner-up, but when the first-place winner was unable to attend the statewide competition, Vitello got called up and did herself proud.
Star Student: Janeth Jimenez
A 2012 South Lake High School graduate and current Jacksonville University (JU) student, Navy Midshipman Janeth Jimenez participated in February's Navy Reserve Officer Training Corps (NROTC) ship-selection draft as a future member of the U.S. Navy's Surface Warfare Officer (SWO) community. Jimenez, who's majoring in computer science at JU, selected to serve as an SWO aboard the USS Hue City (CG 66), which she'll do after she graduates and becomes a commissioned ensign.
Star Athlete: Luke Rosser
In February, 13-year-old Luke Rosser, a type 1 diabetic athlete and advocate, was named the American Diabetes Association's Orlando Chapter's Youth Ambassador for 2016's Tour de Cure event in Lake Nona. Rosser, whose doctors have credited his active lifestyle with saving his life, previously competed at the USA Triathlon Youth and Junior 2015 Championship event last August. In January, the Rosser family hosted a Fine Wine for a Fine Cause fundraiser, raising more than $16,000 for Tour de Cure.
Star Educator: Dr. Angela Murphy-Osborne
In February, Orange County Public School's (OCPS') 2015 Principal of the Year, Dr. Angela Murphy-Osborne, was named the winner of the Florida Department of Education's Principal of Achievement Award for Outstanding Leadership for the 2014-2015 school year. She became OCPS' nominee for the annual honor after leading Palmetto Elementary School from an "F" letter grade to an "A" based on the state's grading system.
Star Educator: Rhonda Hunt
The Florida Department of Education named Rhonda Hunt, principal of Lake County's Eustis Heights Elementary School, as the state's 2016 Principal of the Year in February. The honor comes after Hunt, a principal for 10 years, improved Eustis Heights Elementary School from an "F" to a "C" letter grade based on 2014-15 simulated school grades.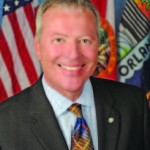 Star Politician: Buddy Dyer
At January's United States Conference of Mayors, Americans for the Arts presented Orlando Mayor Buddy Dyer with the National Award for Local Arts Leadership for cities with a population of 100,000 or more. During his tenure, Dyer has been a frequent champion of the arts, culminating with last year's opening of the new Dr. Phillips Center for the Performing Arts, and he commits more than $1.8 million of the city's annual budget to local arts organizations.
Star Business: Walt Disney World Resort
In March, Walt Disney World Resort awarded $5.6 million in Disney Grants to support Central Florida organizations that have positively impacted the lives of more than 300,000 local children and families. More than 120 organizations in Orange, Osceola, Seminole, Lake and Polk counties will receive Disney Grants throughout 2016, with the first round including: Boys & Girls Club of Lake and Sumter Counties, Boys Town Central Florida, Children's Home Society of Florida, Collegiate Pathways, Community Food & Outreach Center, Enzian Theater, Girls Inc. of Lakeland, Mad Cow Theatre, The Mustard Seed of Central Florida, Orlando Monarchs Inc., Orlando Neighborhood Improvement Corporation, Polk Museum of Art and Urban Think Foundation.