Playing it Forward
At age 70, Steven Van Zandt continues to make a difference with his music, acting and activism.
For the first 20 minutes of a lengthy interview, Steven Van Zandt, aka Little Steven, comes across as a very sweet and considerate man, willing to talk about a wide variety of subjects ranging from his music to his acting to his political causes.
But then one question in particular sends him into a rage, and suddenly it seems like Silvio Dante—the New Jersey gangster he played for six seasons on The Sopranos—is about to jump through the phone and rough somebody up.
"What do you mean getting older? Who's getting older?" he snaps when asked about a recent milestone birthday. "Maybe you're getting older but I'm not getting older."
Luckily, just as quickly Van Zandt is laughing again and it becomes clear—we hope—that he's just joking. Humorous moments like these have made him a fan favorite over the last five decades, not only as Tony Soprano's consigliere, but in the same role to longtime friend Bruce Springsteen as a guitarist and confidante in the E Street Band.
And by the way, Van Zandt does have a point. He may have just turned 70, but if the last few months are any indication, he shows no signs of taking it easy or fading into retirement.
On the music side, Springsteen and the E Street Band released their latest album, the critically acclaimed Letter To You, in October and are hoping to support it with a tour in 2022 after the pandemic ends. Van Zandt's band The Disciples of Soul, meanwhile, saw the wide release of Macca To Mecca, their tribute to The Beatles, on CD and DVD in January, and that same month unleashed Soulfire Live!, a four CD collection of the best performances from their recent tours in North America and Europe.
Van Zandt, who penned the classic holiday song "All Alone on Christmas" for the movie Home Alone 2, also collaborated with filmmaker Chris Columbus and singer Darlene Love again last year on the song "The Spirit of Christmas" from The Christmas Chronicles 2.
After getting "discovered" as an actor by David Chase, the creator of The Sopranos, Van Zandt went on to co-write and star in Lillyhammer, the first Netflix original series, for three seasons. Both shows remain popular and continue to draw new viewers.
Van Zandt also hosts a syndicated radio show, and finally there are his many charitable endeavors, such as TeachRock, a foundation he launched to help keep the arts in education, using popular music in curriculum.
The New Jersey native spoke to us about his various projects and the proudest moments of his distinguished career, including the album Sun City in the 1980s and his fight to end apartheid in South Africa and get Nelson Mandela freed from prison.
Q&A

TeachRock, the organization you started to provide free lesson plans to schools, held a special virtual event in December called Stand With Teachers. Aside from health care workers, I'm not sure there was a more deserving group to be recognized in 2020 than educators.
I agree, obviously. Right behind those front-line workers, the teachers are really the next in line. A lot of my good friends really came through [to help]. It's really our only fundraiser all year. We do some little things but this one we need because we give the curriculum away; it's free for all the teachers. Some of the songs were done uniquely for us. Bruce did a song, Jackson Browne did a song, Eddie Vedder did a song, Margo Price. They were all unique performances that debuted for our show.
TeachRock is an interesting concept that uses popular music in curriculum. What inspired you to go down that path?
I hadn't thought about it at first. The music teachers of America came to me about 15 years ago and said the No Child Left Behind legislation had the unintended consequence of canceling all the arts classes in public schools, and I thought that was appalling. They asked me to go to Washington to see what was up and I happened to have a friend down there who hooked me up with Ted Kennedy—that's how long ago it was—and Mitch McConnell. … They were both very apologetic and said that was not what they intended. I asked if they were going to fix it and they were both very honest and said, 'No, it's not going to get fixed for a long time.' So I came back to the teachers and said, 'We're not going to put instruments in kids' hands for a while, so we're going to have to find other ways to do that.' And we have, through Little Kids Rock and some other things we do. But I had an idea to do a music history curriculum instead just to keep the arts in the system. I thought we could sneak it in across curriculum—music class, history class, social studies class—and we could do it at every grade level. And it didn't just have to be for musicians but for every kid.
They endorsed the idea so I went home and wrote an outline of 200 lessons and we are now over 250 lessons online. We're in all 50 states, we're in 100 countries and 40,000 teachers are registered, so it's really catching on. We only went public about a year and a half ago even though we've been working on it for 15 years. It took a while to get it right because I knew we'd only have one chance at this. You're wandering into this very complicated world of education and it had to be an obvious winner right away or we weren't going to get anywhere with it. The teachers love it.
What are you trying to accomplish with TeachRock?
We decided on three basic goals. First of all, to integrate the arts into the education system because it works on a different part of the brain and not all kids are comfortable with the precision required for that core curriculum, which is called STEM (science, technology, engineering and math). One of our goals is to turn STEM into STEAM and add the a of arts into the core curriculum. If you're not comfortable with the precision of science and math, the arts work off imagination, instincts and emotions, which are things kids are already qualified for. When it comes to the arts, of course, there are no wrong answers, so kids can relax and suddenly they're able to learn all the precision stuff much easier.
The second goal was to create a methodology that held the kids' attention. This generation is faster than us, smarter than us and they have no patience. You have to give them a reason why they shouldn't be looking at their device and getting an answer in 30 seconds. We found a way to do that by simply asking them who their favorite artist is and tracing them back. If they say Beyoncé, we say that Beyoncé comes from a woman named Aretha Franklin, who comes from Detroit and the Gospel church, so we talk about those things, and she also got involved in Civil Rights, so we talk about that. The kids stay interested because you're in their comfort zone. They relate to what you're saying because it has to do with something they're already interested in. That's a very important part of the education process.
The third part is once we have enough distribution we're certainly hoping to affect the dropout rate which is just an absolute scandal. It's incredible that we tolerate close to 50 percent of students from the poor neighborhoods dropping out of school, and half of them end up in the criminal justice system. That's intolerable. What kind of society are we to put up with that?
In January your band The Disciples of Soul has some big releases, including Macca To Mecca, a tribute to The Beatles. It's a CD/DVD of your surprise set in Liverpool outside of the Cavern Club in 2017. Is it true that your introduction to The Beatles as a young boy changed your life?
Yeah, that's true. That performance is one of the great moments of my life; Paul McCartney coming on my stage. He had come on stage with the E Street Band and he invited me and Bruce onto his stage at the Garden, but coming onto my stage with The Disciples of Soul was quite an endorsement of my own work and a thrill I'll never forget. We call it Macca To Mecca because that was the first show of the tour. Paul came on stage at The Roundhouse, this theater in London, and during the rest of the tour one of the stops was Liverpool. I remembered that The Beatles used to play these lunchtime shows, which is where they got discovered by their manager, Brian Epstein. They literally would play from 12-12:30 while people in the surrounding businesses were having their lunch. They would come into the Cavern and play. We were playing Liverpool that night anyway, so we said, 'Let's do a lunchtime show.' We played a bunch of Beatles songs—the ones with horns because we have horns. That was half the set and the other half was cover songs that they did at the Cavern, like Arthur Alexander, The Shirelles and things like that. It's a fun little [show] and we filmed it.
The four-CD version of Soulfire Live! is a collection of the best performances from the entire tour. Can fans expect a wide range of musical genres in that collection?
Oh yeah. My last three years have been very definitive in terms of summing up my career. We have the whole Soulfire package coming out again and then we have the Summer of Sorcery package coming out in May, which is the last thing we did. That also is quite an epic undertaking. Then we have the RockNRoll Rebel package which came out, which is all my records remastered, DVDs from my first show in '82, my second tour in '84 and my third tour in '87. Those are great DVDs we were able to put out. So almost everything I've ever done is now available for the first time in many years.
You wrote a new holiday song for the movie The Christmas Chronicles 2 this past holiday season, and of course your song from Home Alone 2, "All Alone on Christmas," is now a classic that gets played every year at Christmastime. What's it like writing those songs for Darlene Love to perform?
It's real simple: I think she's the greatest singer in the world, and always has been. It's quite an honor. We've been friends since 1980 but could never figure out exactly what to do. Thankfully Chris Columbus came along in the early 1990s and said, 'I need a Christmas song for Home Alone 2.' I knew that was the perfect opportunity to work with Darlene because I didn't have to worry about record companies understanding her or radio understanding her. That was before I started my radio show; now I don't have to worry about radio for anybody.
It was one of the biggest challenges of my life to write a Christmas song. You're jumping into a genre that's in everybody's DNA worldwide. There's tough competition with Christmas songs, so I was very, very proud of being able to write that song. Most of the E Street Band was on that one and Chris did the video himself with Macaulay Culkin in there and it was fun. Then two years ago Chris called me to produce Kurt [Russell] singing the Leiber-Stoller Elvis Presley song "Santa Claus is Back in Town" for a scene in The Christmas Chronicles and he decided to use the entire band, so we're all in that movie in the jail cell with Santa Claus when he sings it.
This time he said we needed an original song. The first one was just a movie theme song that made sense for the movie overall; for this one we're kind of involved in the plot. It was even more fun and more challenging because he wanted it to be a duet. This woman working in the airport interacts with Santa Claus so I had to figure that out. Of course I went right back to Darlene Love, who I'm going to use every single time whenever I get a chance. She's also a good actor—she played Danny Glover's wife in the Lethal Weapon series. Chris was totally into it again and it turned out really good. It was a big part of the movie.
Bruce and the E Street Band are still bringing it on the new album, Letter To You. Was this a different experience, since the band played together at the same time in recording this album?
It wasn't different, it was actually a return to how we used to do it. It's how we made Darkness, The River and Born in the U.S.A. The band gets in a room and plays live, and in this case we didn't even do rehearsals. Bruce just walked into the room with an acoustic guitar and said, 'This is how the song goes.' The E Street Band has been together so long and is so good that they basically produce themselves. We could make arrangement suggestions and it was really like the old days. We did a song from beginning to end every three hours or so and we did the whole album in four days.
The next step is performing it live. Has that been difficult for you during the pandemic, not being able to play live shows?
Yes. That's why Saturday Night Live [in December] was so fun. We were pretending things were normal for a minute.
Even as you're getting older do you still have a lot of energy when it comes to performing live?
I'm still 25 years old in my head. You just have to avoid mirrors. When we walk on that stage, we're 16; we're 22. You get back to that same feeling when you were a kid. That doesn't change.
Did you take part in the recent reunion of The Sopranos cast to benefit firefighters?
Yes, that was for Steve Buscemi's main charity, Friends of Firefighters. It was almost the entire cast and it was amazing to see everyone again. It was a lot of fun.
That show will obviously endure forever. Is acting something you were looking to get into or did it happen by accident?
It was a total accident. I think a lot of people are rediscovering The Sopranos during the pandemic because I get a lot of comments on Twitter. They're discovering Lillyhammer also, because a lot of people missed that the first time. It was the first show on Netflix and there wasn't a lot of publicity, but a lot of people are catching up to it now.
Lillyhammer is of course a bigger role for you and you also wrote and directed for that series. Does that feel more personal to you?
Yeah, I'm very proud of that. It was crazy because the whole thing was done in Norway and everybody is Norwegian except me. I co-produced it, I co-wrote it and I directed the last episode, which includes Bruce Springsteen's acting debut. … It was fun to do all of those things and be in control of the situation and introduce Norwegian talent to the world. They are amazing people.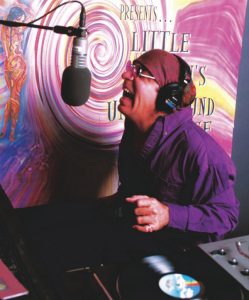 The character of Silvio from The Sopranos is going to be in David Chase's prequel movie The Many Saints of Newark. Did you talk to the actor playing the younger version, John Magaro, and give him any advice?
Yeah, he's a friend of mine. He was in David Chase's first movie, Not Fade Away. He was the star of that actually. He plays the young Silvio and he's very good. He didn't need any tips from me. [Laughs] It was all pretty obvious, which you'll see.
You recently celebrated your milestone 70th birthday. When you look back, does your political work and helping bring important issues into the mainstream consciousness stand out?
It does. That's one of my proudest achievements, politicizing as many people as I could. I took it to the extremes and did nothing but politics in the '80s. It wasn't the wisest move for my career but I was a little bit naïve about the whole thing and I was really just looking at it as an artistic adventure. … I was following no rules. I wasn't worried about hurting my career by doing this or hurting my career by doing that. I wasn't thinking about that at all. I'm quite proud of what we did with South Africa, getting Mandela out of jail when we did. Would the South African government have eventually fallen? Probably, but it was not inevitable and we certainly took years off that process. You wonder what shape Mandela would have been in if they released him five years later. Would he still have been alive? … I'm glad we did what we did when we did it and got him out of jail. That was quite an accomplishment and I'll forever be proud of that. That was something I was passionate about.
Do you feel that "I am a Patriot," a song you wrote in the 1980s, still resonates today with the divisiveness between political parties?
I realized very early on that the whole party system doesn't really work the way it's supposed to. It becomes football teams; you root for your football team and that's all that matters. I find it divisive by definition. Anything that's divisive, I have a problem with. I'm into integration, bringing people together, balance, open minds and universal human rights. George Washington talked about it in his farewell address; beware of political parties. I totally agree with him and that's what that song is about. Let's try to find some common ground. When I wrote it in 1984 I thought that was as bad as things would ever be. How could things be worse? I guess we found out.
I know one of your nicknames over the years was Miami Steve because of your affinity for that part of Florida, but have you spent much time in the Orlando area?
I had an uncle and aunt and cousins who lived there and I remember visiting when I was young. I'm sure we've played there since, either with the E Street Band or The Disciples of Soul. It's a very pretty town. I should've been living in Florida my whole life. I love the whole tropical thing; I love the beach and I've always wanted to live on the beach. For some reason it never quite happened.
But you did live at the Jersey Shore.
Close to it, a couple of blocks away. In those days it wasn't much of a beach. [Laughs] They added about four football fields to that beach after I moved away.
This article originally appeared in Orlando Family Magazine's February 2021 issue.