Southern Charm
Thornton Park's Soco puts a creative twist on comfort food.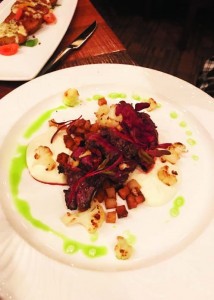 The concept for Soco restaurant in the Thornton Park neighborhood of downtown Orlando has marinated in the back of executive chef and partner Greg Richie's mind for quite a while. While working for Roy's and Emeril's Tchoup Chop, he masterminded recipes for a Southern contemporary menu. Upon leaving these two high-profile restaurants, he took the helm of the Thornton Park Restaurant Group's Cityfish in 2014 and his vision for the space formerly occupied by Hue restaurant soon came into focus. Their management was looking for a fresh concept that celebrated fresh, local inventive food. Richie's tribute to Southern contemporary fare would be a perfect fit for the newly named Soco.
His restaurant features a selection of both contemporary and Southern-inspired cuisine. It is a truly unique blend of worlds, stitched   together by a combination of Southern hospitality and culinary free-thinking. The windows of Soco's dining room and  patio overlook the lively corner of Central Boulevard and Summerlin Avenue in the heart of Thornton Park. The outdoor space really lets you soak in the charm of the area, which despite its growth, still maintains a certain small-town charm with the brick roads and tree-lined streets. Warm wood tones dominate the decor, photographs of Orlando's iconic architectural images offer a sense of place and well-selected fabrics and sideboards add a subtle touch. The original bar area has been moved to a separate seating area on the left side of the restaurant creating much more seating in the main dining room that has a clear view of the open kitchen.
The first thing I noticed when perusing  the drink menu is that they have a "Make Your Own Old-Fashioned." You can choose between nine top-shelf bourbons, five flowered bitters and five sweeteners—ranging from $9-$17 depending on which bourbon you opt for. I chose The Four Roses Small Batch, peach bitters and a chili spiced sweetener ($9). The result of my creation was sweet, spicy and earthy; all the touches of a finely Hanger Steak with cauliflower purée and potato hash made cocktail.
We decided on some small plates to start us off including Lake Meadow's Deviled Eggs ($7).  The horseradish, smoked bacon and pickled mustard seeds elevated this dish from your traditional Southern fare. Crispy Macaroni and Cheese Croquettes ($5) came three to an order sitting in a delicious heirloom tomato sauce that had you looking for bread to sop it up.   The first two small plates were a great start, but the Slow Roasted Barbeque -Glazed Pork Belly Biscuits ($8) with jalapeño jelly and chow-chow (a pickled relish) were on a whole other level. The combination of sauces and those flaky, soft, pork-flavored masterpieces made me crave many more. But, it's the Soco-style "Chicken and Dumplings" that is proving to be my runaway hit. Carved chicken breast is paired with lobster-filled, ravioli-like dumplings in a soy butter sauce. "The most sensual chicken and dumplings, almost unrecognizable but in a very delicious way," my wife said. This dish is sexy; the sauce is like velvet and the filling was exquisite. I will have to order the entrée next time.
When it came to our entrées, we ordered the Bronzed Diver Scallops ($29) with pumpkin seeds, Brussels sprouts, apple and brown butter. A cool and tasty southern scallop dish, but the plate could have used just a bit more seasoning compared to such flavorful appetizers. The herb marinated Hanger Steak ($29) with cauliflower purée, potato hash, salsa verde and grain mustard sauce seemed like too many components for one dish. Fortunately for us, they all work in tandem with each other to bring delicate subtleness to the protein.  The grilled Meatloaf on Lobster Mashed Potatoes ($25) has a blend of three meats topped with a smoked vidalia and andouille sausage gravy. What a creative take on classic comfort food. Unfortunately, the lobster flavor in the mashed potatoes gets lost in the middle of that tasty gravy.
The last entrée was my Korean-style  Fried Chicken ($24). The sweet and spicy Korean sauce was quite tasty and the skin on this chicken was super crispy, as it should be, and the portion was far from skimpy. There was plenty of chicken for lunch the next day, so it was fine it didn't come with any side dish, but I still got the Slow-cookedCollard Greens ($7)—I had to try them and they had that sparkle of the South but with a more contemporary flair to its technique. All of the entrée dishes were definitely well thought out and executed. I plan to go back to try the Florida Snapper and Slow Braised Short Ribs.
To finish off our adventure in Southern fare, we tackled the dessert menu. The first, which says it takes 15 minutes, was  the Fresh Baked Cookies and Hot Chocolate ($8).  It was such a cute idea for the kids, or adults. The hot chocolate was kicked up with a huge brûléed marshmallow on top.  Our server commented that the chef was very excited that we ordered it as not many people decide on that dessert. That's too bad for them because this dessert was a real winning way to end the evening.
The other was a deconstructed Banana and Bourbon Bread Pudding ($11). The bread was a fried waffle and then caramelized, off to the side was the pudding. I couldn't tell if the pudding was loose or if that was how it was supposed to be, but it didn't make much difference as I loved it. Soco and Chef Richie have hit  on a wonderfully hip and exciting concept. The execution of each recipe was flawless and the décor and setting left you wanting to linger long after your meal— perhaps  to create another Old Fashioned. Whether you're coming for dinner or having drinks out on the wraparound patio, your palate is in for a treat.
Soco
629 E Central Blvd. | Orlando
(407) 930-1700
SocoThorntonPark.com
This article originally appeared in Orlando Family Magazine's March 2018 issue.