Teachers of the Year 2017
Honoring 10 local educators who deserve straight A's for their classroom achievements
More so than in just about any other state, teachers have a hard go of it in Florida. Between budget cuts, mandatory standardized testing, having to buy their own supplies, and other indignities large and small, our educators can't seem to catch a break—which makes honoring their achievements more important than ever.
Nominated by their schools, the 10 standouts featured here aren't the only local instructors who deserve special recognition, but they certainly represent the cream of Greater Orlando's teaching crop. If your kids are in their classes, make sure to say thanks the next time you see them. After all, given that few people have tougher jobs than today's teachers, excellence in their field is even more remarkable.
Christina Arenth
Lake Sybelia Elementary School
Recently named as Orange County Public Schools' (OCPS') 2018 Teacher of the Year, Christina Arenth is a very specialized educator indeed: She teaches pre-K students who are deaf and hard of hearing at Lake Sybelia Elementary School. "Over the course of my teaching career, my highest achievement, academic or professional, was earning my National Board Certification as an early childhood through young adult/exceptional needs specialist," she says. "My students leave my classroom with the tools to communicate and to succeed in their academic careers."
Which is no mean feat, given that many of her students enter school with language levels equivalent to a 1-year-old. "Most do not know their own names, and many families have not given them a sign name," says Arenth. Arguably more so than for other students, parental involvement is crucial to the success of Arenth's students, which is why she strives to write daily personal notes to send home with the children.
Arenth's teaching doesn't end once the final bell rings, as she's also a master teacher for the nationwide Learn Together Project, which pairs college students with practicing teachers of the deaf. Unsurprisingly given that affiliation, she feels that teaching works best as a team effort.
"We are stronger together," she says. "Divided, we limit the depth and diminish the quality of our teaching. … We must, as educators, support, promote and be a part of a team, despite the agendas, requirements and restraints placed upon us."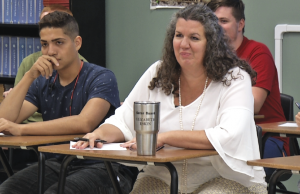 Elizabeth Eskin
Timber Creek High School
An award-winning debate coach and AP literature teacher at Timber Creek High School, as well as a runner-up for Orange County's 2018 Teacher of the Year, Elizabeth Eskin knows something about building championship teams. After all, her students are ranked in the top three percent nationwide by the National Speech and Debate Association.
"I have grown our [debate] team from four to 100 students, and we are a national powerhouse," says Eskin, who also represents Orange County at national debate meetings. "While many private debate programs have a large staff of specialist coaches for each competitive event, I coach all of the events and turned our disadvantage into leadership opportunities by empowering my varsities to mentor novices."
Furthermore, Eskin even finds time to coordinate all aspects of the local debate league, including mentoring new coaches and inspiring other schools to qualify for nationals. That would be enough for most teachers' plates, but it doesn't distract Eskin from her equally important work in AP lit—not to mention her role as the director of her school's AP Choice Program.
Eskin also firmly believes that great teaching is more art than science. "Focus on what is important: the minds and spirits of your students, not test scores," she says. "Instead of another skills drill, spend time getting to know the hopes, dreams and fears of your students. It will serve them much better in the long term."
Jennifer Gautier
Lake Nona High School
Jennifer Gautier wears many hats at Lake Nona High School: AP English literature and composition teacher, student-government sponsor, and all around leader. No wonder, then, that she was a runner-up for Orange County's 2018 Teacher of the Year.
"I assist with all of the school-wide student activities," says Gautier, including organizing and managing Lake Nona's homecoming events and student dance. Furthermore, she says that such activities give her a chance to teach her kids about organization, prioritizing and other key life skills. "These events can be very high-pressure activities that students often don't know how to deal with. I use these stressful moments to teach lessons on character and integrity."
As if that wasn't enough, Gautier is also working on completing her master's degree in educational leadership—a process that has given her the opportunity to work closely with Lake Nona's principal and administration team. As a result, she says, "I had a new appreciation for my administration and marveled at how well a staff can work together for a common cause."
No matter which hat she's wearing at any given time, Gautier focuses on building meaningful relationships with her students. "Students are people with needs that must be recognized," she says. "Our job often goes beyond meeting academic needs, but extends to emotional needs and physical health and safety of our students. In order to accomplish this great feat, educators must be models for students to look up to and to emulate."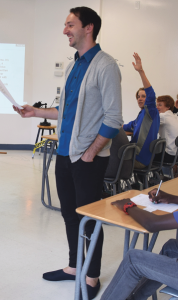 James Grosshans
The First Academy
Many teachers would give students the shirts off their backs, but how about the shoes off their feet? That's exactly what James Grosshans, a middle-school language-arts instructor at The First Academy (TFA), once did for a student who forgot to pack dress shoes for TFA's annual Middle School Patriotism & American Leadership trip to Washington, D.C.
As it was a cold, rainy day, Grosshans walked the streets of our nation's capital in soaking wet socks. But for this dedicated teacher, it's all in a day's work. "My desire each year is to see my students know more about English than they did when they walked in my room," he says, "but to also know that I deeply desire to see them succeed and care about who they are and who they are becoming."
In nominating Grosshans, TFA also credited his ability to create a welcoming, engaging classroom environment where students feel safe intellectually, emotionally and physically. "I find myself constantly surrounded by students, for better or worse," he says. "Before or after school begins, it is unusual that I do not have a room full of students telling me all about what is going on in their life."
As to his advice for other educators, Grosshans says that listening to students is paramount. "Get to know who they are and what they desire," he says. "When a student feels like you desire to get to know them, and desire to be one of their biggest cheerleaders, it is unbelievable what they will do in return for you."
Paula Haughey
Holy Family Catholic School
In late 2016, Holy Family Catholic School needed to make significant, speedy changes when their former art teacher, Nancy Sell-Dane, left big shoes to fill when she passed away suddenly the day after Christmas. Then Paula Haughey arrived from Ireland and quickly made her value known to the school by taking the art program in innovative directions and showing deep appreciation for what she calls her "wee ones."
"As a 'mum' of two, I adore children," says Haughey, "so I bring that into my classroom and, no matter what age, I try to connect with them on a level they all understand. This helps me achieve great things with all my students."
In her relatively short time with Holy Family, Haughey has already helped organize a diocese-run art show and jumped into helping with silent-auction items at the school's annual gala fundraiser less than a month after her arrival. She's now in the thick of creating sets and other decorations for Holy Family's spring musical, A Night on Broadway, which opens May 5.
"I had great art teachers who inspired me from a very early age and who helped me grow my artistic ability," she says. "I believe this is my calling to help all students become excited about art, from PK4 right up to eighth grade, engaging them in something that they may not be naturally talented in but showing them that everyone has the ability to be creative. Teaching all things art is my passion."
Lauren Headley
Lake Highland Preparatory School
A sixth-grade math teacher at Lake Highland Preparatory School (LHPS) for the past nine years, Lauren Headley quickly emerged as a leader among her peers, being instrumental in developing a challenging, appropriate math program for the Lower School. But what really makes her shine is her remarkable work ethic and the strong connections she builds with her students.
"Teaching is a calling and something that I am passionate about," says Headley. "As with any job, there are challenges and rewards, but if you are passionate about it, every day you get to work with your students will be a blessing."
Not just enamored with teaching, Headley is also quite happy with her current role. "I love teaching sixth grade because my students are starting to discover who they are as individuals," she says. "They are starting to mold into the people they want to become. Going to work every day is a joy because I get to be a part of that process. We laugh together, learn together and grow together."
For Headley, being a great teacher is also her way of honoring those who taught her. "Throughout my entire school experience, I was blessed with teachers that not only made learning fun, but who also cared about me and showed me what it was like to be passionate about your job." Accordingly, she says, "I knew from a young age that I was called to be a teacher."
Amarilys Heard
Trinity Preparatory School
When people ask Amarilys Heard why she doesn't teach at the college level, her answer is simple. "I love my high-school students," says the instructor, who teaches Upper School Spanish at Trinity Preparatory School. "My students and I are pretty close, particularly in the AP classes. Through state competitions, fundraisers, travel abroad, Spanish National Honor Society, chaperoning school events—there is ample opportunity for bonding."
Speaking of competitions, Trinity Prep nominated Heard in large part because her students receive national recognition and excel at state competitions, clearly demonstrating the success of her methods. But Heard feels that the time spent with her young scholars is the real prize.
"Just recently, we had our two-day field trip to Miami with juniors and seniors," she says. "This is a very unique event, not only because of its cultural connection with our curriculum, but also because of the opportunity to bond as a class. This strengthens their knowledge, builds their confidence, and of course, unites us as a family. In fact, we always refer to our classes as the 'family.'"
Despite the struggles that modern teachers face, Heard is quick to encourage others to join the cause. "The students need you, and we need dream-makers and mentors," she says. "We have the ability and power to shape young minds ready to create and soar with unique abilities and talents. Let's help them achieve 100 percent of their potential."
Mandi Kraemer
Freedom High School
Another runner-up for Orange County's 2018 Teacher of the Year, Amanda "Mandi" Kraemer teaches math at Freedom High School, but her career has taken her all over the world—including posts in Cambodia, Ghana, Tanzania and Zambia. "I worked with many ages, subjects and contexts," she says of her world travels, "and came to a profound series of realizations: teaching is difficult, and I wasn't very good at it, but I really wanted to do it anyway."
In addition to teaching, Kraemer serves as Freedom's math department chair and sponsors the school's Mu Alpha Theta chapter. She's also a proponent of blended learning formats, which invites more involvement from parents, having learned much about the method through the school's Flipped Instruction pilot program.
"One of my favorite effects of a blended learning format is that it lets students share their learning processes directly with their parents at home," says Kraemer. "In communicating with parents, I often receive feedback about how much easier it is to help with their homework after watching my video lessons with their children."
Ultimately, Kraemer's real driving force is her students—many of whom will be the first in their family to go to college and are largely minorities underrepresented in STEM fields. "In the sanctity of [my classroom], they are not constrained by society's underwhelming expectations," she says. "Together, we can move mountains. Or at least generate mathematical models for moving mountains."
Dr. Ben Rawlings
Windermere Preparatory School
Technically speaking, Dr. Ben Rawlings teaches English at Windermere Preparatory School—but what he really teaches is learning. Besides English, Rawlings is also an International Baccalaureate Theory of Knowledge instructor, and he's credited with fostering collaboration throughout the entire high school, regardless of subject area.
"Our children need to thrive—academically, financially, socially and emotionally," says Rawlings. "We need to teach that students should be leaders now—not tomorrow—and create support systems to develop their leadership. … We need to teach our students to be ambitious now—not later."
As a result of his passion for teaching, Rawlings has reportedly attracted a cult-like following of students eager to feed off his enthusiasm. He rewards that loyalty by breaking down the classroom walls—literally and metaphorically—to head up adventures all over campus, and by working with his pupils to remove their personal barriers to success. "The answer is different for every student and requires flexibility in order to further learning because of the human mind's complexity," he says.
Furthermore, as with all good teachers, learning is a twoway street between Rawlings and his students. "My most memorable moments occur when students teach me and showcase their skills and culture," he says. "For example, I've learned many phrases in different languages, from Russian to Chinese, and even some phrases from made-up languages. … Every year, the memories just continue to grow, and each year is even better than the last."
Eric Yuhasz
Howard Middle School
"The biggest recurring theme in my life is my insatiable appetite to learn," says Eric Yuhasz, STEM teacher at Howard Middle School and runner-up for Orange County's 2018 Teacher of the Year. He further explains that this desire resonates throughout his academic, professional and personal life—and perhaps more importantly, he encourages that appetite in his students, too.
Besides his regular classroom duties, Yuhasz is Howard's Project Lead the Way teacher and is part of the Space Academy for Educators, a role in which he works with Lockheed Martin, NASA, the American Geosciences Institute and the Florida Solar Energy Center. He even finds time to run the school's Magic Club, and he doesn't think that role ends just because the school year is over.
"A local organization wanted my student magicians to perform for an event at SeaWorld," he recalls. "Despite the event taking place after the school year ended, since I have worked to maintain good parental involvement, I was able to have some magicians wow the audience of nearly 200 people."
What's more, one of history's greatest illusionists had a profound impact on Yuhasz's teaching outlook. "[Harry] Houdini once said, 'Never try to fool children; they expect nothing and therefore see everything,'" he says. "This quote is apropos even today. It also is one of the underlying inspirational factors of my being an educator. Students can sense when someone is genuine or trying to fool them about something. Thus, they sense my insatiable appetite to learn."
This article originally appeared in Orlando Family Magazine's May 2017 issue.