The Old Spanish Sugar Mill
Where You Can Cook Up Some Family Fun
The only thing better than starting your morning off with homemade pancakes hot off the griddle, is not having to clean up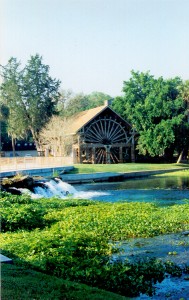 the mess afterwards. So, leave the dishes in the cupboards and let your entire family enjoy the pancake experience that only the "Old Spanish Sugar Mill Restaurant" can provide. Nestled inside Deleon Springs State Park, an hour north of Orlando, The Old Spanish Sugar Mill is not your typical run-of-the-mill, mill. Entering the restaurant is like taking a step back into "old Florida."  The wooden structure has one large dining area and one slightly smaller one, as well as a converted screened-in porch with a fireplace that keeps you warm and cozy during the cooler months. This quaint little establishment has one very unique feature…YOU are the star line cook. Each table is equipped with its very own commercial grade griddle. They supply you with your choice of homemade buttermilk or stone ground batter, and leave you to flip your flap jacks to your heart's content, or until your belt needs to be loosened, whichever comes first. A variety of your favorite toppings are available, including blueberries, chocolate chips, walnuts, peanut butter, apples, apple sauce, and bananas.
For our family, the delicious food takes a backseat to the special time spent creating lasting memories with aunts, uncles, grandparents and even great-grandparents. On our last trip, our 90 year old great-grandfather went pancake-for pancake with his great-grandson, and ended up winning the unspoken eating contest they seemed to have started. Although 90 years young, Jack and Betty Ammon are regular visitors to the Mill. At least once a month, they can be seen dining at the historic establishment, often with a group of their hungry out-of-town friends.
Many think of Deleon Springs as the secret "Fountain of Youth," but Jack says it's the pancakes that keep him young at heart! For a weekend breakfast you need to get there early, as wait times can quickly approach the two hour mark. While you wait, you can meander through the small gift shop or venture into the State Park. Not an early riser? Not a problem! Breakfast is available all day until 4:00 pm. Reservations are accepted for parties of 10 or more. Because of the small size of the establishment, however, only three reservations are taken per day, and none on holidays.
HISTORY:
Constructed in 1570, the mill was originally used to crush sugar cane using the power from the fl owing spring. It was destroyed by the Seminole Indians during the second Seminole War, and again during the Civil War, while being used to supply corn meal to confederate troops. In 1961, Peter Schwarze restored the mill and made the area his home. Today, his daughter, Patty Schwarze, owns and manages the restaurant.
PARK ACTIVITIES:
There are many more activities at Deleon Springs for the family to enjoy, either while you wait for a table or after you finish eating to burn off some calories:
Rent a paddle boat, canoe or kayak and experience the untouched natural beauty of Florida.
Take a dip into the fresh, pristine 72-degree water of the natural spring.
Hike through a flood plain hammock along a half mile, paved nature trail.
Take a 50 minute Eco/History boat tour with Captain Frank (every day except on Sunday/10am to 1 pm hourly)
Scuba dive into the depths of the spring (open water instructors available).
Visit the history museum and explore the historical treasures Florida has to offer.
Run around with the kids on the playground.
Enjoy a snack or picnic under towering, live oak trees.
Climb one of the many large trees scattered between the parking lot and the springs.
INFORMATION:
Restaurant Hours:
Open every day (except Christmas and Thanksgiving). Serving Monday thru Friday 9-4; Saturday, Sunday and Holidays 8-4.

Costs:
Park Entry – $6/car (up to 8 people), $2 for each additional person.
Paddle, Canoe and Kayak Rentals – $10/hour, $21/half day or $30/day.
Boat Tour: $14 per person.
The Old Spanish Sugar Mill
601 Ponce DeLeon Blvd.
DeLeon Springs, Florida 32130
Phone: (386) 985-5644
floridastateparks.org/deleonsprings