A Captivating Collaboration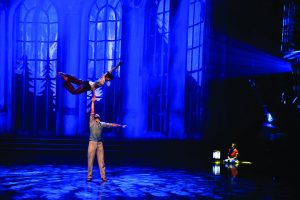 After Cirque du Soleil's long-running hit show La Nouba closed at the end of 2017, Orlando audiences eagerly awaited the company's next production. A dream collaboration was soon formed between Cirque and Disney in the form of Drawn to Life. The highly anticipated show was primed to debut in the spring of 2020 but was shut down just days shy of opening due to the pandemic. Nearly two years later, the show finally opened last November and has been mesmerizing audiences with its awe-inspiring acts that are synonymous with Cirque du Soleil coupled with the beauty and emotion of Disney's iconic storytelling. The incredibly moving story follows a young girl named Julie as she enters into a magical world of animation and seeks to connect to her late father. 
Orlando Family Magazine recently spoke to the show's artistic director, Tim Bennett, about what it takes to put together a production such as this, as well as hand to hand artist Samuel Charlton, who plays Julie's father in the show, about his craft and life as a Cirque performer. 
Can you tell us a little about your background and how you became involved with Cirque du Soleil?
Tim Bennett: I initially came to the world of musical theater as an actor/singer/dancer in New York and then worked for many years as a director and choreographer. I served as the resident director of The Lion King, a role very similar to my current position with Cirque, for several years. I had been a fan of Cirque du Soleil since I saw my first show in '91 or '92, and wanted to work with the company for a long time. I finally joined Cirque as the artistic director of OVO, one of their touring shows about a world of bugs, and I was with that show for about four years prior to starting with Drawn to Life. 
What does your role as artistic director entail?
TB: An artistic director for Cirque is the person that watches over the show as it runs. I basically take the keys after opening day and then it's my job to make sure that the vision of the show—the artistic parts of it—stay as bright and as new and inspired and strong as the day it opened. So, I will give notes to the cast and design teams, handle re-castings when people leave, replace acts if necessary, watch over rehearsals and help make evolutions to the show, especially in the first few years where the show changes slightly. 
In one of the most riveting acts, Samuel and Myriam Deraiche, a real-life couple portraying Julie's parents, perform Hand to Hand Love. Using magie nouvelle, a technique consisting of both magic and movement, the couple captivate the audience with gravity-defying balancing act movements in the tender duet. Samuel, what is it like to work so closely onstage with your real-life wife?
Samuel Charlton: We feel very lucky to be able to work together. We've been working together since 2012, pretty much ever since we've been a couple. Initially, it was challenging and there were arguments and tensions, but we've learned that being a couple working together you have to be more direct with each other than you would be with somebody you know a bit less. 
Have you always worked as a duo?
SC: No. We first started as a group with other performers. For the first show we did together, there were six of us in the act. Then Myriam and I were both in (Cirque du Soleil's) Paramour. We were in the first version of that which was on Broadway and there were three of us in the act. So, we have had a good progression toward now working with just the two of us. 
How did the collaboration with Disney come about?
TB: Cirque and Disney had wanted to work together for a very long time but never quite figured out how to make that happen. When La Nouba closed here in Orlando it seemed like the perfect opportunity. Writer and director Michel Laprise, who conceived of Drawn to Life, had an idea that the show should be about the legacy and the art of hand-drawn animation, which soon became a love letter to the art of animation. He and creative director Fabrice Becker pitched the idea to Disney and they loved it. In fact, the Disney imagineers loved the idea so much that they actually opened up the Disney vaults to Michel and Fabrice. It was soon decided that the show wouldn't feature any Disney characters onstage but rather various images and music that would be evocative. The show has a very Disney-structured story—we follow our hero Julie's journey that takes her through different Cirque acts as she learns various things about the art of animation and about her late father, a Disney animator. Both companies are truly invested in this show and have been so passionate about this idea and putting their thoughts and creativity behind it.
How long was process of taking the show from an idea to opening night?
TB: From the time that Michel and Fabrice first started getting together and formulating ideas until opening was a little over six years. I think it was about four years before it got into the nuts and bolts of the production. Actually getting people into a room and starting to work on acts started in the early fall of 2019. We were supposed to open in the spring of 2020 but we had to shut down due to the pandemic when we were just three days away from opening.
How did the shutdown affect the cast and crew?
TB: In terms of the show, it was in many ways both negative and positive. It gave us a chance, as we started to look at returning, to reapproach some elements of Drawn to Life and we actually replaced two acts and sharpened up the storyline a whole lot. The situation was a bit unusual because Michel and Fabrice had been driving the whole show up until when we planned to open but then when we had to stop, my team and I took about eight months to put it back on its feet and put the new acts in, of course under the creative guidance and drive of Michel and Fabrice. Then the original creation team came in for the last two months to really finish it off. Although the pandemic offered up many challenges, to be honest, we now have a much stronger show than we would have, had we opened when we originally planned.
How were the acts in the show chosen?
TB: Both Michel and Fabrice worked in Cirque casting years ago and during that time they had seen so many different acts so they really came into this show with great knowledge and a wealth of ideas. They already had a lot of things in mind and knew what they wanted yet were supportive of the different animation concepts presented to them and they really knew how to build a good flow of acts. Some acts were only re-shaped slightly and others were built from the ground up.
The show evokes a lot of emotions from the audience. Was there a conscious effort to make the show so emotional?
TB: Yes. Typically, Cirque shows have a very loose structure and although there's always been the creator's vision for the storyline, there's never a strong drive to make that apparent to the audience; that's just part of the Cirque esthetic. However, for this show in particular—since we were working with Disney and Disney's strength is storytelling and evoking strong emotion with a lesson and a moral—incorporating those elements was high on everybody's list of priorities. It was important that this show have a very clear hero's journey, very much in the Disney method of storytelling.
Samuel, you elicit so much emotion in your role. Do you have a background in theater?
SC: I attended theater school in Bristol (England) and studied acting and circus arts for several years. In the end, I decided I enjoyed circus more than acting and other live performances. But acting for this show is made very easy for my wife and I because we are actually in love so no pretending is needed. 
Can you tell us about some of the subtle Disney references interwoven into the show?
TB: It's typical of Cirque that show inspirations don't necessarily come through to the audience but with this show and particularly with the Disney fanbase and their depth of knowledge, there are certain elements that people do pick up on, which always surprises me. Most people may not necessarily know to look for these things and they don't need to in order to understand the show, but anybody that reads some of the information in the lobby will possibly make the connection. We have one character in our show based on Mary Blair, who is often credited with creating the Disney color palette that we all know so well. The character of Mary Blair is seen in the act called "Dream of Colors," an acrobatic act that incorporates her color palette and her imagery throughout the performance. One of the original Disney animators, Ollie Johnston, is also represented—his name is written on the large pencil of the arial pencil act. Throughout the show, there's tons and tons of Easter eggs that are super subtle, in the imagery and musical phrases that are tied to what's going on, and some are intentional and some not so intentional for people to pick up on.
How many countries are represented in Drawn to Life and what is the behind-the-scenes dynamic like?
TB: This cast represents 15 different countries. To me, that's the magic of Cirque and why I love working here because we have very different cultures all working together. There's not only a difference in language but also belief systems and style of working. We have Russians and Ukrainians working together, as well as people from Africa and Spain with very different styles, but because everyone's goal is to put forth the best show, everybody knows how important it is to work really well together. I mean, we literally have people with each other's lives in their hands. Everybody here is a top-level professional so everyone's discipline is very high and everyone has great respect for everyone else. In some cases, we have people who have competed against each other in the past in their sport and it's really wonderful to see people come together without a competitive spirit but with the goal of excellence and working together to achieve that. It's my favorite thing about working in Cirque.
Samuel, what is a typical work day like for you? What do you do on your days off?
SC: Myriam and I have two young children who are both homeschooled, so the first part of our day is getting up and having breakfast together. Then we do educational activities with the kids. Whenever I have free time, I like to work in the garage and make furniture, so I tend to do that in little 10-15-minute blocks. Then we start to get ready and go to work. On the weekends we often have get-togethers at our house or at friends' houses. During the pandemic, we had the chance to build a circle of friends in the community because we had lots of downtime to do that. Now, it is great because we know them very well and we have formed a nice group of friends here.