A Good Story
Comedian Bert Kreischer may just be the most interesting man in the world.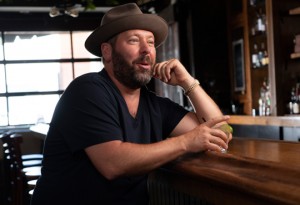 Bert Kreischer is about to embark on the biggest stand-up tour of his career and all he can think about is finding the perfect lamb shank recipe for a dinner party he's hosting later. Well, that and coming up with a new nickname for his friend Eric.
"The guy he replaced at his new job is also named Eric and so his work is having a contest to see who can come up with the best nickname," Kreischer says. "So far, I've come up with Mr. Pickles and Daddy Fat Sacks."
When he's not shopping for ingredients or coining monikers for his friends, Kreischer is one of the country's hottest stand-up comedians, regularly selling out shows across the country and bringing his innate story-telling ability to the masses.
Kreischer, who grew up in Tampa, has laid the foundation for his career over the past two decades, not only performing on stage, but also hosting shows on both FX and Travel Channel, giving audiences a glimpse into his whimsical personality. And while he has gone on to become an author as well as the host of his own successful podcast, he is perhaps still most well-known for attending Florida State University where the then seven-year senior became known as "the top partier at the No. 1 party school in the country" thanks to a 1997 Rolling Stone profile that led filmmaker Oliver Stone to option the rights to his life story.
Ultimately, that Oliver Stone deal never panned out and instead the article would serve as the inspiration for National Lampoon's Van Wilder film starring Ryan Reynolds in the lead role. The movie wasn't a huge success and was largely panned by critics; however Kreischer was not involved with the project and claims to have never seen the film.
Now with his partying days somewhat in his rearview mirror, the married father of two is hitting the road for his largest tour yet, with stops in Orlando on Feb. 10 for two shows at Hard Rock Live and in Tampa at the Tampa Theatre on Feb. 14. The scale of this tour is something that Kreischer doesn't take lightly despite his constant jovial nature.
"Some people are coming to see me for the first time and so I've taken this tour almost too seriously," he says.
While enjoying his final few days off before hitting the road, Kreischer spoke to us about the tour, how he fell in love with comedy and what it's like to be consoled by Whitney Houston at the dentist.

Different comedians have varying styles, but you have been credited as being one of the best storytellers. What's the art in taking a good story and turning it into a great comedic routine?
That's a fantastic question that I'm obsessed with, so thank you. A lot of times for me there's a subtlety when you hear someone tell a story. I was at a dinner party once and this woman told a story, it was very interesting but it went nowhere. I told her it was very interesting but asked her if I could tell her how to tell it. You need a great intro to draw everyone in. And then it needs an arc and in my opinion, it has to have one flip of the switch that you didn't see coming. And more importantly, every story needs an ending. Everyone messes up there, you need [the audience] to know the story is over. I'm not perfect with coming up with endings, I acknowledge it. I chew over it like sunflower seeds nonstop.
The story I'm most known for is "The Machine." [Originally the story didn't have] a good ending, people wanted to know what happened next. I could see it, their eyes and mouths were wide open. … That's the biggest epiphany I've ever had. But, you can get too nifty and too neat like you are presenting almost different platters. This happened here, this happened there. In stand-up, as a storyteller, it behooves you to weave a story into another, to allow them to coexist.
My wife can't tell a story to save her life, but I'll say, "Can I tell you about the time my wife almost got shot in a field." People are like, "What?" "Oh yeah, she was 12." Imagine you were on a boat and you have to keep fishing to entertain. I do it for a living.
Some of your best stories have to do with other celebrities. You've had so many interesting run-ins, are there any that maybe people don't know about yet?
The problem with celebrity stories is the celebrity is not in control of it, and in Hollywood they want to be in control and they can always deny it. Will Smith can say, "I'm not gay." Tracy Morgan can say, "I don't smoke PCP."
But the Whitney Houston story is pretty epic. My daughter broke her jaw and we had to put her under and it was super stressful and my wife and I were really freaking out. It was early in the morning and we go to this dentist in Beverly Hills and they put her under. My wife and I are crying; [my daughter] was 3 years old. This woman is trying to calm me down and I can't even see her, my eyes are so filled with tears. She's smiling at me, and I'm like whatever.
[After the surgery], they have us in this receiving room and I'm holding my daughter, she has gauze and blood in her mouth, but finally we are OK. The woman walks into the room and she says, "It's tough being a daddy, isn't it?" It's Whitney Houston. We almost dropped my daughter on the floor. She was rubbing my daughter's hair and started talking to us; my wife and I were floored.
Is it odd to you that strangers find your life so interesting?
I went from an interesting guy in college that everyone talked about—I never had to tell a story about myself. It was always did you hear about the time Bert did this? Then I got into stand-up and I was listening to other comics brag about themselves and it really rubbed me the wrong way. Cut to 20 years later and I'm doing it nonstop. It's a really weird muscle you grow in this business to promote yourself. And when you get to a place where you are used to putting on that face of promotion, when people compliment you on your work, it is uncomfortable.
You will be performing in Orlando in February, and you grew up not too far in Tampa. Did you get over to Orlando a lot when you were young?
Dude, nonstop. I was in Orlando a lot. I dated a girl who lived in Orlando … and her family is [well-known], they lived there all their lives. Larry and Jane Meddock. Everyone in Orlando knows them.
But I went to Florida State, half of my friends were from Orlando. It was a second home for me.
You'll also be taking the stage in your hometown. Do you still have a strong connection there? Is it one of those tour stops when family and friends are hitting you up for tickets?
Yeah, they hit me up and say how do I get those VIP tickets? I'm like, there are VIP tickets? People want a backstage pass, I'm like what do you think happens backstage? My buddy just sent this group text out to all of us that were in his wedding and he goes, "We should do this again, sometime, like Feb. 14 in Tampa." And my other buddy says, "Well, it's sold out unless Bert can get us tickets."
Everyone familiar with you now knows of the legend of your college days, but you're a father now. How has your outlook on life evolved since having kids?
It's so funny; you never realize the responsibility of the words you say. I don't know how many times I've talked about doing drugs, and almost bragged about it and you realize all those kids who see you and say I can't wait to start getting high and smoke pot. Those kids are your kids' friends. It's an interesting, slippery slope I've created with a brand based on partying and your kids look at that.
If social media existed when you went to college, how different do you think your life would be today?
Oh dude, I wouldn't have a life. If social media existed, the sins of our past, let's just say I'm grateful they are in a closet somewhere. The stuff that was acceptable, the rites of passage of any young guy in Florida in the '80s and '90s, you can't even make a joke about it, it was horrible.
When did you and comedy first click in the sense that you knew this was the path for you?
The Rolling Stone article. In the story I said I thought I could be a comedian, and this radio station put on a comedy night at Potbelly's at Florida State and I [performed] there. I played baseball with Brad Radke, who played for the Minnesota Twins; I grew up with him my whole life. When we were kids, my dad said, "He's going pro." And I was like what about me? But kids like that, it's so natural. There was something about Brad, it was effortless; he doesn't have to think about it. The first time I did stand-up, I called my dad and said I think I found the thing Brad Radke had.
And here's the thing I say to people about getting into comedy: People told me great things about myself, but I failed so much consistently for a year. You would have inklings of hope and then bomb in a room of six people. But no one was going to tell me to quit comedy.
Besides the tour, what other things are you working on that you might be able to share with us?
I'm always working on nine different things. I've got the podcast I'm doing every day; I actually have Brian Regan coming over later today. And I'm working to turn "The Machine" into a movie and people are interested. I'm always trying to do a sitcom—but this tour is the most important thing that has happened to me in my life. If you said to me that "The Machine" was greenlit as a movie and they want to do a sitcom about your life in addition to the tour, but you have to get rid of two of the three, the movie and sitcom are gone.
I've never worked harder on material. My life's goal was to do a legit theater tour and everything I've done in stand-up has taken me to this place.
This article originally appeared in Orlando Family Magazine's January 2019 issue.