A Grade Above: The 2022 Public High School Report Card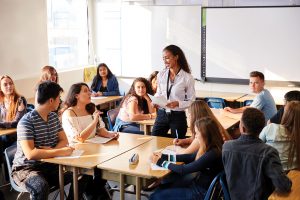 With the new school year right around the corner, we are taking our annual look at how the area's public high schools measure up in key areas. Gleaning information from the Florida Department of Education, we were able to gather key data in areas like average SAT scores, graduation rates and senior class sizes. Furthermore, we also had the chance to speak with Dr. Maria Vazquez, the next superintendent for Orange County Public Schools to learn more about her dedication to the educational field and her visions for the future as the district continues to find ways to grow after the pandemic.
Dr. Maria Vazquez has spent her entire career in education making an impact
A dedicated career educator, Dr. Maria Vazquez recognized long ago how valuable the lessons learned in the classroom can be. Born to immigrant parents who fled Cuba in an effort to provide a better life for their family, the importance of education was something that was stressed in her household from a very young age.
"The sacrifices my parents made for my sister and I were the driving force for us to recognize how powerful education can be," Vazquez says. "They instilled in [us] that education was the most valuable currency that we had and something that no one could take from us."
That mindset has helped guide Vazquez through her journey through the world of education. After getting her start as an elementary school teacher, she has held numerous positions throughout her more than three decades with Orange County Public Schools (OCPS), including serving as an assistant principal, principal and chief academic officer to name a few. Most recently she served as the district's deputy superintendent before she was named its newest superintendent in late June.
As the first Hispanic superintendent in OCPS history, Vazquez harkens back to when she first began in school and spoke no English, calling it "an incredibly scary and difficult time." However, she says the teachers, staff and students "always made me feel comfortable and we very understanding throughout my entire schooling."
That sense of caring and supportive environment is something that gave Vazquez plenty of motivation. "I am living proof that education can transform your life," she says.
Now, Vazquez is looking to inspire future generations of students to reach their full potential and because she's worked so closely for many years with outgoing Superintendent Dr. Barbara Jenkins, who will retire at the end of this calendar year, Vazquez anticipates a smooth transition. During her first 100 days, she plans on taking part in a listening tour to gain insight into ways OCPS can improve their approach.
"I will be reaching out to all stakeholders—that includes employees, parents and community members. I want to hear their perspectives on what is going well in OCPS and what they think are the
areas where we could do better," she says.
Of course, Vazquez has her own ideas, noting specific areas of concern that she hopes to address during her tenure as superintendent.
"First and foremost, we need to make sure our schools are safe places. The most recent shooting has reaffirmed that we have individuals out there that can and have hurt innocent children and staff in school," she says. "Second, we need to address the learning loss that the children experienced during the pandemic. That is best addressed by having the very best staff and supports in our schools. In order to do that, we have to focus on attracting and retaining the very best teachers. I am very pleased that we reached agreements with both of our labor unions for an unprecedented 6% raise and I am very hopeful that will ratified."
Another key area that Vazquez looks to address is the aspect of mental health and having increased awareness and capabilities to better serve everyone.
"We have to ensure that we have support and services for our staff and students in the area of mental health. We have been aggressive in our approach to adding personnel and resources," she says. "Every one of our middle and high schools has been allocated a social worker and we are looking to increase the number of social workers at our elementary schools [as well]. We are also working to increase the number of mental health counselors through the funding we received from the Elementary and Secondary School Emergency Relief Fund.
"These supports will help us to provide more of the life skills, social and emotional support that is needed for our staff to be able to do the very best job in delivering and supporting a structure for our children."
Graduation Rate
| | |
| --- | --- |
| HIGH SCHOOL | GRADUATION RATE % |
| Colonial Creek High School | 99 |
| Cypress Creek High School | 99 |
| East River High School | 99 |
| Edgewater High School | 99 |
| Freedom High School | 99 |
| Lake Nona High School | 99 |
| Ocoee High School | 99 |
| Oviedo High School | 99 |
| Timber Creek High School | 99 |
| Wekiva High School | 99 |
| Winter Park High School | 99 |
| Apopka High School | 98 |
| Boone High School | 98 |
| Dr. Phillips High School | 98 |
| Evans High School | 98 |
| Hagerty High School | 98 |
| Lake Howell High School | 98 |
| Oak Ridge High School | 98 |
| Olympia High School | 98 |
| University High School | 98 |
| Windermere High School | 98 |
| Lake Mary High School | 97 |
| Lyman High School | 97 |
| West Orange High School | 97 |
| Winter Springs High School | 97 |
| Jones High School | 95 |
| Lake Brantley High School | 95 |
| Celebration High School | 94 |
| Seminole High School | 91 |
Average SAT Scores
| | |
| --- | --- |
| HIGH SCHOOL | AVERAGE SAT SCORE |
| Hagerty High School | 1124 |
| Winter Park High School | 1071 |
| Timber Creek High School | 1062 |
| Oviedo High School | 1057 |
| Windermere High School | 1039 |
| Lyman High School | 1023 |
| Seminole High School | 1021 |
| Lake Nona High School | 1019 |
| West Orange High School | 1019 |
| Lake Mary High School | 1017 |
| Winter Springs High School | 1009 |
| Boone High School | 1008 |
| Lake Brantley High School | 1007 |
| Olympia High School | 1003 |
| University High School | 988 |
| Lake Howell High School | 979 |
| Dr. Phillips High School | 976 |
| Cypress Creek High School | 973 |
| Edgewater High School | 969 |
| Freedom High School | 961 |
| Celebration High School | 959 |
| East River High School | 951 |
| Apopka High School | 944 |
| Ocoee High School | 913 |
| Wekiva High School | 886 |
| Colonial High School | 865 |
| Oak Ridge High School | 857 |
| Evans High School | 853 |
| Jones High School | 822 |
Senior Class Size
| | |
| --- | --- |
| HIGH SCHOOL | SENIOR CLASS SIZE |
| Windermere High School | 1,104 |
| Freedom High School | 916 |
| Lake Nona High School | 858 |
| Timber Creek High School | 856 |
| Apopka High School | 842 |
| Seminole High School | 816 |
| Dr. Phillips High School | 815 |
| Winter Park High School | 796 |
| Cypress Creek High School | 759 |
| Colonial High School | 732 |
| Boone High School | 702 |
| Olympia High School | 692 |
| Celebration High School | 678 |
| University High School | 635 |
| Lake Mary High School | 622 |
| West Orange High School | 613 |
| Hagerty High School | 575 |
| Lake Brantley High School | 564 |
| Evans High School | 545 |
| Ocoee High School | 543 |
| Oviedo High School | 536 |
| Oak Ridge High School | 523 |
| Wekiva High School | 489 |
| East River High School | 459 |
| Winter Springs High School | 444 |
| Edgewater High School | 430 |
| Lyman High School | 427 |
| Lake Howell High School | 420 |
| Jones High School | 341 |