An Inspiring Performance
Logan Marmino may be just 12 years old, but after spending a little time talking with the young man you instantly can observe that he is wise beyond his years. He's spirited and eager to embrace life, seizing opportunities no matter how daunting they appear at first glance. 
In fact, when he happened upon a worldwide casting call search on Instagram for a 12-year-old amputee to play the leading role of Josh Dubin in the new series Best Foot Forward, he did not hesitate. That is, once he confirmed that his parents were onboard with him pursuing the acting gig. 
The inspiring new series is based on Paralympic athlete, author and motivational speaker Josh Sundquist's first book, Just Don't Fall, and is considered a game-changer for disability acceptance. Sundquist serves as a writer and executive producer on the new Apple TV + series and he also has a role in the show as the teen's prosthetist. 
Despite Marmino's lack of previous acting experience, "Logan was clearly someone who had an extraordinary natural talent and the ability to listen and react naturally to other people in a scene; a rare quality," says Sundquist. "We were extremely fortunate to have him leading our series because he really is the heart and soul of the stories we are telling in the show."
Marmino's mother, Jennifer, spent a few months in Los Angeles with her son as he filmed the show. While she is fiercely proud of her son's new acting career, she admits that she and her husband Paul were surprised by the recent turn of events in their family's life.  
"Acting was not on his radar, but when he heard about the audition he said, 'Sure, I'll try it.' [That] is pretty much his attitude for everything," she says. 
With 8-year-old twins at home in New Jersey, Marmino's parents had to juggle family life on opposite coasts, but ultimately found a way to allow their son to chase this Hollywood dream. 
"This was something that he really wanted to do and that he was passionate about it because of the mission behind it. So, we figured it out as a family," says his mother. 
Orlando Family Magazine had the chance to speak with Marmino about the show, being a role model for others and being bit by the acting bug. 
Even though you had no prior acting experience you auditioned for this leading role. Where does your confidence come from?
Logan Marmino: You have to try everything. And look where we are now. I guess just being on set and being with everybody. It was a very comfortable environment and everybody on the set just made it a lot better. So, I just wanted to try it.
How did you find out that you got the part?  Who told you and what did that moment feel like?
LM: I had come home from practice and we got onto a Zoom call and that's when they told me the news that I got the part. I was speechless. I couldn't talk for the rest of the Zoom meeting.
What do you appreciate and relate to when it came to your character Josh?
LM: I definitely appreciated the whole kid with the leg thing, and everybody kind of bullying him with kindness, that was a big one. When it comes to the writing, it's everything that pretty much anybody with a disability can relate to. I appreciate that this show is one-of-a-kind and that people with disabilities can really see themselves on screen because nothing like that has ever happened before on TV. 
What do you see as a life lesson from Best Foot Forward? 
LM: The biggest lesson in the show that I can think of is that we're all people and we all have our differences at the end of the day and if we can all just embrace our differences and all just respect each other. We are all normal but in our own ways. 
What's been the reaction to the show from your friends, your family, and fans you might have encountered on social media? 
LM: Everyone is saying that it's such a funny and relatable show, it's something that everybody can watch. Recently, my friends at camp took my cell phone because at lunch they wanted to watch Best Foot Forward.
What would you say to someone watching the show who's worried about being bullied?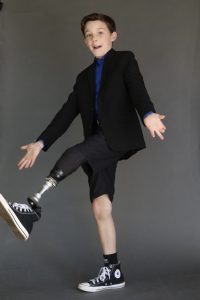 LM: I would say just be yourself. That's the best thing you can do. It doesn't matter what other people think. If you're going out there every day and being yourself; that's a win. So, I would say, "You do you."
Do you see Josh Sundquist as a positive role model?
LM: Josh is great. We're good friends. I love spending time with him on and off the set. He is just an amazing person and he's extremely funny. Everything that he's doing with social media and now the show and just spreading awareness for amputees, I think what he's doing is great.
How do you feel about being a role model?
LM: It's an honor. Just being able to spread awareness and show kids that I'm like them, especially kids with disabilities and amputees out there, there's not much better. It's amazing and I'm very honored to be a role model for those kids.
How do you feel about people who put limits on you or anybody else?
LM: Well, I guess you've just got to prove them wrong. They can say what you can and can't do, but they don't know that about you. Somebody will have a picture in their head of me not being able to do what they do, and the best way to tell them that I can do what they can do or do it better is just to prove them wrong. My hashtag always has been #no limits; I've always said that. You've just got to prove them wrong. 
Are you going to pursue more acting roles? 
Maybe. I loved Best Foot Forward, so my fingers are crossed for Season 2.