Bringing out the Best
Local efforts to change the lives of those with breast cancer.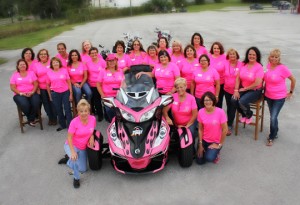 Every October there is a nationwide surge in coverage and awareness about breast cancer. But for so many around the country and world, breast cancer research, treatment and support are year round. Whether it's working to detect the disease sooner or volunteering their time to accompany someone to a chemotherapy treatment or raising money to help pay patients' bills, there is a wide net of people dedicating their lives to the cause. Orlando Family Magazine is taking a look at what's happening right here in our backyard and how these organizations are making sure no one slips through the cracks.
On a Cellular Level
This much can be said for sure: The earlier cancer is detected, the better outcome for patients. However, the methods for routinely diagnosing cancer are invasive, involving imaging tests with radiation or a tissue sample taken in a biopsy. Annette Khaled, Ph.D., professor and head of the cancer research division at the University of Central Florida (UCF) College of Medicine, says technology exists that can find and detect cancer cells from a single tube of blood. The college now has one of only two machines in Florida.
The CELLSEARCH System has been FDA approved since 2004 and allows researchers to find and detect cancer cells in the blood and find out if the cancer is spreading by looking for a rare group of cells called CTCs (circulating tumor cells). These are cells that have broken off from tumors and are now circulating in the blood stream. Finding these cells may show if the cancer has spread even after the original tumor was removed or treated.
For Khaled, who specializes in breast cancer and has obtained funding from the Breast Cancer Research Foundation, having CELLSEARCH opens new doors for her research. "We can now do experiments we couldn't do before [with this technology]," Khaled says. She recently began using CELLSEARCH to look at blood samples from a group of women with metastatic breast cancer to see the number of CTCs in their blood. From there she hopes to see how their cells respond to a new cancer therapeutic she developed.
Khaled discovered a peptide called CT20 that kills metastatic cancer cells by disrupting a protein called chaperonin. Without this protein, the folding mechanisms inside cancer cells can develop, thereby killing the cell. Khaled hopes CELLSEARCH can show the impact of CT20 on CTCs. "We haven't had a way to assess the impact in finer detail," she says. "If this is effective, before the tumor decreases we should see an immediate impact in the number of circulating tumor cells being produced."
More progress will be made once the new UCF Lake Nona Cancer Center is completed. The project is slated to open in early 2021 and will put cancer research and treatment under one roof. For Khaled, partnering with a working teaching hospital will help move her research to further stages of trials.
"From my perspective, one of the things we're looking forward to is the fact that the doctors trained at this center will have a research mindset," she says. "We're always looking forward and willing to explore new techniques and this will incorporate that mindset with exceptional patient care."
Lifting Spirits
While researchers continue to look for critical breakthroughs, women who are currently undergoing treatment for breast cancer have a community of hope surrounding them. Organizations led by women who have been impacted by the disease personally or through a family member or friend have been inspired to make a difference with action.
Founded in 2008, Ribbon Riders was started by seven women who witnessed the struggles of breast cancer patients, not just on their bodies, but their daily lives. Ribbon Riders provides direct financial, emotional and physical support to those with breast cancer in Central Florida. In the past 10 years the organization has provided $450,000 in financial assistance.
"We're an all-volunteer organization. One-hundred percent of our funds go to recipients," says Dorothy Haskill, treasurer for Ribbon Riders. Those who receive assistance must fill out an application showing proof of treatment and financial need. "Once we verify their application, we award them $1,000 to use for anything they need. They can apply once a year for three years." The Ribbon Riders will often deliver checks in person, bringing along trinkets or a quilt as well. Haskill says their recipients are often so grateful that they join the group to give back to others.
The name Ribbon Riders comes from the founding members' passion for motorcycles, and it's also the foundation for the annual Go Pink escorted motorcycle ride, which took place on Sept. 30. Beginning and ending at The Barn in Sanford, men and women come together for a one-hour ride through town before returning for lunch, auctions, music and games. This annual event funds a majority of Ribbon Riders' donation requests.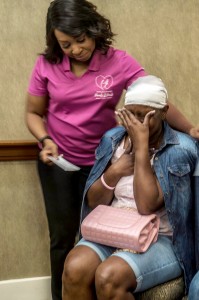 Vanessa Echols is a breast cancer survivor and founder of Compassionate Hands and Hearts Breast Cancer Outreach. She underwent six months of chemotherapy, 30 rounds of radiation and four surgeries. Through all of that she noticed some of the other patients getting treatment didn't have family or friends to accompany them, or transportation, or someone to help with shopping and daily necessities. "This organization was born out of helping people have one less thing to worry about while going through treatment," Echols says.
Compassionate Hands and Hearts is comprised of all volunteers who provide helping hands with chores, transportation, companionship and more. Since 2007, hundreds of patients have been helped by Echols' organization. "Most of [the patients] come to us in desperate situations—they may have an eviction notice, or they don't know whether to buy groceries or put gas in their car to get to the doctor," she says. "We meet everyone we help. We see what impact we have on them." Echols says 100 percent of donations go to patients and the organization operates with no overhead. "We will tell donors who received their money or gift card and how it helped them," she continues.
A cancer diagnosis is life-changing but through their efforts, dedicated professionals and volunteers hope to make patients' quality of life better than expected.
This article originally appeared in Orlando Family Magazine's October 2018 issue.