Class is in Session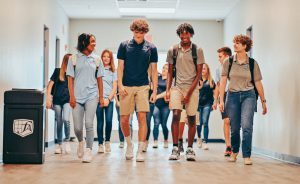 As students are in the midst of another exciting school year, it's time for our annual look at how some of the region's leading private high schools are paving the way for students to grow in and out of the classroom. We worked directly with area schools to glean information in key areas like average SAT scores, percentage of graduates attending four-year colleges, tuition rates, student-to-teacher ratios and more. Click here to review our data. 
We also spoke to several school officials to find out what they are looking for in prospective students, how smaller class sizes help form strong relationships and how they engage parents to become part of their child's academic journey.
To read the The 2022 Private High School Report Card statistics click HERE.
What are you looking for in a student who attends your school? 
"We are looking for students who want to engage in the learning process. We welcome students from the local community and around the world each year who contribute to an active learning community – where their ideas, opinions, and voices are heard. We love to see students who discover new passions or dive deeper into existing passions after they arrive at school. These are the students truly prepared for life after Lake Mary Prep." – Cortney Dowdle, director of admissions and international programs, Lake Mary Prep
"We are looking for students that are motivated to learn, have a love for the Lord and to serve others." – Vicki Phillips, administrator/founder, Champion Preparatory Academy
"A student who is diverse in thought and experience. We have a holistic approach to admissions, which speaks to servicing and educating the whole student here at Trinity." – Kelly Gaines, director of communications and marketing assistant, Trinity Prep
"We are looking primarily to partner with families and the church to build a foundation for life. Students who wish to challenge themselves to learn, grow and be everything God has destined them to be." – Joseph Cioffi, marketing director, Foundation Academy
How do you continuously engage and involve parents to be part of their child's academic journey?
"The Foundation Academy culture has been enriching and engaging families since 1958. We have a robust after-3 culture with athletics and extracurricular activities, as well as weekly chapels with our student body and parents, who are welcomed and encouraged to attend. In addition, we have a weekly newsletter entitled The Keystone and a healthy social media presence that continually engages our families with moments, stories, and personalities that make up the FA culture." – Joseph Cioffi, Foundation Academy
"At Bishop Moore Catholic, we believe that a partnership with our parents is essential in successfully educating the whole child. Educating the whole child includes imparting knowledge and skills, as well as leading healthy and balanced physical, emotional, and spiritual lives. Establishing an open dialogue between parents and faculty and staff is vital and we provide myriad opportunities for in-person interaction, as well as making email and phone communication a priority. We also recognize the importance of facilitating parent groups where parents can share ideas, experiences, and strengths and support one another." – Sarah Luter, director of communications, office of advancement, Bishop Moore
"At The First Academy, we do life together. Getting connected and sharing the experience with fellow parents is part of our school community. The First Academy Parent Association offers parents the opportunity to volunteer for special projects and events that support teachers and students throughout the school year. Parent University is also offered to the parent community and provides courses throughout the year to help empower and equip parents to support and raise their children as Christian leaders." – Megan Fleming, creative marketing and alumni manager, The First Academy
"Keeping parents and the entire family engaged in the students' academic journey is something that we take pride in at Windermere Prep. There is constant communication with students and parents regarding their holistic journey. Our College Counseling department does a fantastic job in aligning students' interests academically to the classes that are offered. Many of our teachers are club leaders on campus and actively engage with students to be involved in various activities. In addition, outside of academics, our performing arts and athletic programs have deep foundations in which our students can pursue their interests. Between open houses, college counseling, and communication between teachers to students and their families, Windermere Prep can continue to propel students toward meeting and exceeding the challenges put in front of them." – Rachel Freeman, marketing and communications manager, Windermere Prep
How do smaller class sizes help private schools give students more individualized attention and what are the major benefits of having those strong relationships?
"Trinity has an average student to faculty ratio of 12:1 which allows for the mentoring, discussion and collaborative based learning environment that our students thrive in." — Kelly Gaines, Trinity Prep
"In a smaller class, no student is able to fall below the radar and all students receive the benefits of teacher interaction, feedback, and individual student conferencing throughout the day. The ability to establish relationships is the baseline for academic success. When students understand how much their teachers believe in them and when they experience this type of connection with their teachers, it helps motivate students to learn difficult concepts, persevere through challenges, and feel a desire to do their best and work toward maximizing their potential. Lake Mary Prep students know that the teachers truly care for them, and this makes all the difference in the classroom." – Courtney Dowdle, Lake Mary Prep
"The Christian classical approach to education seeks to develop the mind, body, and soul of each student.  In order to do so, our students need to be truly seen and known by the faculty and staff. Geneva teachers, staff, and coaches provide a small, safe environment for the students to ask and wrestle with hard questions, to learn how to live in community with friends, to make mistakes, and to learn valuable lessons from them." – Kedi Milajecki, advancement coordinator, The Geneva School
"The small class sizes at The First Academy give students the opportunity to experience the strongest balance of academic achievement and spiritual formation. TFA's teachers are able to cater to the individual needs of their students. Building a community of Christian leaders is a priority for our teachers and impacts our graduates for a lifetime." — Megan Fleming, The First Academy
What lessons learned during the pandemic have resonated and will help guide you into the future?
"We've always known that students learn differently but teaching behind a computer for a few months definitely changed the way teachers teach. There becomes a relational disconnect when everyone is behind a screen. However, students and teachers were able to communicate consistently throughout the pandemic, which made learning more human. Continuing to engage in human contact between teacher and student has helped the entire teaching approach to understand that students are humans and learn differently. Keeping an open mind in how we teach all of our students has helped our teachers become more versatile in their teaching efforts." – Rachel Freeman, Windermere Prep
"We learned that it is important to stay true to our mission: inspiring students to love beauty, think deeply, and pursue Christ's calling on their lives. In order to do this successfully, in-person learning and being physically together in community is essential." – Kedi Milajecki, The Geneva School