Day Trip
For It's Always Sunny in Philadelphia actor Charlie Day, the path to stardom has been a wild and unexpected ride.
Charlie Day fondly recalls the exact moment when he came to the realization that acting was his long-term future. He was in his early 20s and became inspired while appearing on stage at the Williamstown Theatre Festival in Massachussets, a place where many Broadway actors and celebrities would hone their chops during the summer months.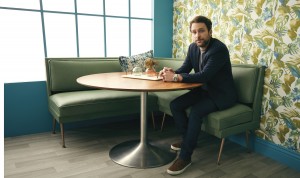 "It's a great thing being on stage with these people," Day says of the experience. "It could be someone famous or someone who's just trying to make a living acting but not a household name. I thought if I could make a living as an actor, I'd be OK if no one ever knew my name."
Of course, many now do know his name thanks to his role as Charlie Kelly on the wildly popular hit TV show It's Always Sunny in Philadelphia. Day not only portrays one of the main characters, but he also writes and executive produces the show alongside his partners in crime and fellow cast members Rob McElhenney and Glenn Howerton.
The show just finished its 13th season, ranking it among television's longest-running scripted prime-time series. (The Simpsons, by comparison, is enjoying its 30th year on air, while Gunsmoke and Law & Order both ran for 20 years.) Few, including Day, could have expected a show such as theirs, about a troupe of ne'er-do-wells running an unremarkable bar on an unremarkable street, would have struck such a chord with viewers. He chalks up the show's popularity to its crass humor and creativity, but mostly its cast of tremendously flawed yet lovable characters.
Although Sunny may have propelled Day into the spotlight, more recently he's carved out a place on the silver screen as well. He's starred in box office hits such as Horrible Bosses and Pacific Rim and lent his voice to animated movies like Monsters University and The Lego Movie. The latter film was a tremendous success, grossing nearly $470 million worldwide, and Day will appear in the upcoming sequel, The Lego Movie 2: The Second Part, in February 2019.
And Day is also branching out, making a name for himself as a producer away from the set of Sunny. He currently produces The Cool Kids, a sitcom that debuted on Fox this fall. In addition, he and McElhenney recently booked a half-hour comedy series with Apple.
But Day never envisioned all of this while on that theater stage back in Massachusetts; he was simply comfortable with the idea of success equating to being able to keep the lights on and food in his refrigerator.
"I have surpassed my hopes and expectations. Now I'm just trying to stay employed," he quips.
We caught up with Day to talk about Sunny's improbably epic run, among other topics, including his goals for the future, how he met his wife (fellow actor Mary Elizabeth Ellis, who plays "the waitress" on Sunny), and how he acquired the musical abilities he has put on display throughout the years.
Q&A
Considering where you guys started with It's Always Sunny in Philadelphia, did you think back then that you'd be talking about it 13 seasons later?
I never thought we'd do more than five or six episodes and get cancelled, because it's a long shot to do a show, and even more of a long shot to do one that lasts. I couldn't have imagined we'd have the opportunity to do it for as long as we have.
What's the creative approach you take in formulating the show?
Every year, when we sit down to write the show, we think about what's possible. Then we write the storylines and sit back and say, well, let's see how this goes. A lot of times I'll think we missed the mark, but who knows, maybe it will come together. Then when we get to filming, and it's still pretty funny. It has something to do with the chemistry of the people there. Every year we get to this point, and it always winds up being pretty funny.
To me, Charlie always seemed like the heart and soul of the show. He might not always do or say the right thing, but he means well.
He's got a good heart. He very often doesn't do the right thing or say the right thing, like you said, but sometimes he does. Somewhere deep down he's a good person.
The show's hilarious, sometimes quite raunchy, but I read that you get some of your best ideas during your drive to and from the set, listening to NPR. Is that true?
It used to be back in the day; I'd see what the headlines were and be listening to those NPR stories, so then we'd have to write an episode about something like North Korea. … These days, the show takes on a life of its own. It's a lot easier writing for characters you know so well. The challenge then becomes not repeating yourself. There's a corkboard with a lot of notes of various colors that are full of ideas for episodes. Maybe it's Mac coming out to his father or the gang going to the waterpark; the trick is seeing where you can combine those cards into one episode.
You do a lot of singing and music-related stuff on the show. The song "Nightman" comes to mind. I've read that music runs in the family. What's your dexterity?
My father [earned] his Ph.D. in musicology. He then met my mother, who also was going to get her Ph.D. in musicology. My sister has her Ph.D. in music, too. So I come from a very musical family. I grew up in a house with instruments, and I learned how to make noise on all of them, but I'm no expert. My interest and ability are just that, but I have a low-stakes outlet for writing a funny song for Sunny that is allowed to not be perfect. I'd be too embarrassed to do something serious.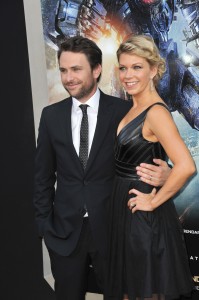 I read that you and Mary Elizabeth Ellis met on the set of Reno 911, where you played incestuous siblings. I don't know if it's true or not, but that's about one of the best "how I met my wife" stories I've ever heard.
I'm not sure how that rumor got started, but we were together before Reno 911. We auditioned for Reno 911 together, while we were dating. How we met: I was doing a play in New York in December 2001, and we had a mutual friend. [Ellis] came to see the play, and she charmed me with her sense of humor. My friends and I went to a bar afterward, and I arm-wrestled my buddy to see which of us would get to talk to her. I won.
This article originally appeared in Orlando Family Magazine's December 2018 issue.