In Perfect Harmony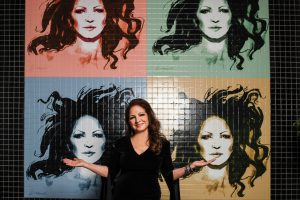 Ever since Gloria Estefan was a young child she claims she "saw" or "knew" things that were going to come to pass at some point in the future. And as time went on and this happened frequently enough, she began to rely more and more on these instinctive feelings whenever they arose.
So it should come as no surprise that after first meeting her now-husband Emilio and joining his band, the Miami Latin Boys, that she envisioned a much brighter future than the small gigs they were playing in local clubs on the weekends. And she had no reservations about sharing her belief, no matter how crazy it may have sounded at the time.
"I told [Emilio] that I had no clue of how or why it was going to happen, but I just saw clearly in my mind that we were somehow going to be successful outside of the U.S., then it would spread here and eventually all over and that I 'felt' it was inevitable, but I couldn't explain to him how," Estefan recalls. "But Emilio has always dreamed big and followed through with hard work so I think that rather than totally disbelieving me, he found my pronouncement exciting and motivating."
Fast forward decades later and it's easy to see that Estefan's premonition was spot on as the group that would later become the Miami Sound Machine would go on to tremendous success, creating some of the biggest hits in modern music. Meanwhile, she and her husband are the epitome of the power couple, continuing to build upon their empire which has stretched well beyond the music world. 
To her credit, Estefan is one of the most celebrated and recognized artists of all time. She has sold more than 100 million records worldwide, charted 38 No. 1 hit singles, won seven Grammys, five Latin Grammys and has been awarded the Presidential Medal of Freedom. Earlier this year she added to her impressive list of honors when she was inducted into the Songwriters Hall of Fame. There's even a Broadway show—On Your Feet!—based on her and Emilio's lives and the music they created and which the couple executive produced.
We had the chance to talk with Estefan about how her storied career, life away from the spotlight and what drives her to continue to create the soundtrack to our lives. 
First off, I wanted to ask you about longevity and what that word means to you. You've had this wonderfully amazing music career that has spanned decades;, you've been married to your husband for nearly as long; the two of you have been involved in the hospitality business for quite some time and you continue to make lasting impacts in various communities. Do you ever pause to think about longevity or reflect on the legacy you continue to build upon?
As far back as I can remember, whenever I would think about the things that I wanted to do or decisions I needed to make, my second thought would be about the impact of that decision on my long-term future. Perhaps this came from being a first generation immigrant and being keenly aware of the trauma my parents and grandparents lived by having to leave their successful lives in Cuba, my native land, and come to a new country to start over. It was important for me to take steps forward but try to ensure that it was always on solid ground. 
After marrying Emilio and having our son, Nayib, it became important that our decisions take into account the impact they would have on our son or future children in the hopes that we would make them proud. 
After our initial success with our music, it became important for us to take into account our culture and the impact our decisions might have on our Cuban people who saw us as an example of what could be achieved in this great country and the world. 
It has also always been very important to us to continue to grow and evolve in our careers and not stay stagnant, repeating ourselves musically in order to "play it safe" with what had worked before. We have always wanted our music to grow as our lives and experiences have grown and I believe that our fans have appreciated it.
Can you talk a little bit about the connection you and Emilio have after all this time together? In a world where couples, especially those in the limelight, don't always last, how has your love for one another continued to evolve and get stronger?
I have to say that, despite the fact that we have spent the last 47 years as a couple, 44 of them, married, time has literally flown for us both. Emilio and I have very different personalities but it creates a beautiful balance. I always kid that if we were both like me, we'd still be playing guitar on our living room couch, and if we were both like him we'd be dead of heart attacks by now from overworking every possible moment. But that's the beauty of our relationship, we fill each other in. We love a lot of the same things—family, nature, animals—and we rarely differ on music, politics, religion or priorities so we don't have many reasons to argue. 
Don't get me wrong, through the years we've learned each other's ins, outs and limits, but from the day we said "I do," our prime motivation has been to get through and enjoy life together and be there for each other, supporting and applauding each other's successes without allowing ego to get in the way. 
What are some of your earliest music memories?
I remember my mother singing to me when she would put on my diaper, which was the only way she could get me to be still. I can still recall the song clearly, the lyrics and melody, even though I was only months old. I remember my first crush at 4 years old, Joselito, a then 6-year-old recording and film star from Spain whose movies my grandfather would take me to see when we came to Miami. I would memorize each song and sing them for my family. Then at 6 years old I remember pulling up to a laundromat with my mother in San Antonio, Texas, where my father, then a Second Lieutenant in the U.S. Army, had been stationed and being mesmerized by a song playing on the radio. The hair on my arm stood on end and I made my mother leave me in the car so I could listen until the song finished. It was "Ferry Cross The Mersey" by Gerry and the Pacemakers which began my love for the musical British Invasion that persists to this day. And recently I realized that the magic I felt from that song was because it sounded like a Cuban bolero.
After all that you've accomplished, both professionally and personally, what still motivates and drives you?
My motivation has always been driven by my love for my family and the fact that I want to be the best person I can possibly be for them and for me. That has grown to include my fans which I consider family and also brings with it the responsibility that comes with being seen as representatives of our culture. I don't like to let people down, especially myself, and I live each day excited to learn new things, try new things, be resourceful and self-sufficient, and continue evolving, growing and becoming stronger. 
The music business certainly looks a lot different than when you entered into it. What do you like about the industry these days and conversely what are some of the things you could do without?
I really like that any person that has something to say musically does not have to sit around waiting to be discovered and has tools at their disposal that can help them bring their vision to life in a professional way that can compete on any platform. You see successful musicians coming out of YouTube and social media platforms and not necessarily having to rely on the big multi-national record companies that ruled the airwaves. We can listen to music from all over the world and be exposed to a multitude of global artists anywhere we live. 
However, having so many channels has also created the fragmentation of the music listening public where now it's  impossible to have the huge numbers of listeners on any one platform, network or radio station. Artists and writers are no longer compensated as they were when physical copies were being sold because the laws have not caught up to the streaming world and it's becoming impossible to make a living wage by solely being a recording artist or a songwriter.
You've talked before about the tragic tour bus accident that took place back in 1990 that left you severely injured and how that was a real turning point for you. How did that experience not only change your life, but allow you to find the ability to try and inspire others?
I always say that I would not want to go through that again but I wouldn't change it either. It didn't so much change my life as it changed my appreciation of my life. When I was 12 years old my father was diagnosed with MS due to Agent Orange poisoning from the Vietnam War and he spent his last years in a wheelchair. Needless to say, when I was paralyzed in that accident my worst fear came true. I had to find a patience and discipline that I never thought possible because I had a very clear picture of what my family, especially my son, would have to endure if I didn't do everything in my power to create the best possible outcome for my situation so I worked very hard to regain my independence. 
At first getting back on stage or back to my career was not at all my goal, rather, just being able to walk to the fridge to get my own glass of water. But six months after my accident, when I started to realize that my body was slowly coming back, I knew that I had a very unique opportunity to inspire those people that had generously sent prayers and beautifully inspiring thoughts my way. Fame was never my motivation for making music so I thought perhaps that the purpose for achieving that fame might have been to be able to inspire others to "give it their all" in whatever challenges they might be going through by watching me go through mine and make it back.
Every artist likes to give credit to their fans, and I imagine you are no different. To have such a loyal fan base as well as the newer generations who have become fans over the years, is that one of the more rewarding aspects of living your life for all to see?
The human connection that an artist makes with their fans is the most beautiful and rewarding part of this experience. At this point I consider many of my loyal fans my family and my favorite thing about social media is that it affords me the privilege of being able to communicate directly with them and be there for them through tough moments above and beyond whatever connection my music may have created with them.
I wanted to ask you about your ties to the Orlando area. There's an obvious connection because you have Estefan Kitchen Orlando and previously operated Bongo's at Disney Springs. 
Obviously, you have Estefan Kitchen Orlando and previously had Bongos Cuban Café at Disney Springs. And I had the chance to see you last year as a celebrity narrator at Epcot's Candlelight Processional. So, what do you enjoy most about this area and the time you get to spend here?
Orlando is magical for me for obvious reasons … it's our biggest Florida playground! From the opening of Walt Disney World, which I attended when I was a child, to the many wonderful family visits with my own kids and family through the years, every memory we have made there has been special and wonderful and that continues to be the case. Now I can share that with my grandson Sasha as well and we love having so many fun adventures in the Orlando area.
You created the Gloria Estefan Foundation back in 1997. What inspired you to start the organization and how proud are you of the success you've been able to achieve over the years?
After my accident I wanted to be of service and be able to give back even more, so initially, there was a lot of focus on being able to be on the cutting edge of spinal cord research so I could be part of the cure for paralysis since I had been one of the fortunate few that had regained their mobility after such a difficult spinal trauma. But most importantly, I wanted to create something that could be of immediate help to people whose needs might slip through the cracks and not be able to get funding from large organizations, so I also made that my goal. My foundation has raised millions for spinal cord research but also funds wonderful organizations such as Operation Smile and has bought bullet-proof vests for the K-9 unit of the Miami Beach police force because they're too expensive for the police budget. For 15 years now we've organized and funded "Feed A Friend," a yearly Thanksgiving event that supports several local organizations in Miami and also serves a myriad of varied causes. It makes me extremely happy to be of service and my foundation allows me to do that in the most efficient way.
Was it always important for you to find a way to use your platform to make a difference in the lives of others?
It has always been of prime importance to me to use my platform in ways that leave a positive impact on our world beyond entertaining people and being a part of the soundtrack to their lives and I feel blessed to have been able to do so.
You've received so many honors in your life, from Grammy wins to the Presidential Medal of Freedom and beyond. But a few months back you became the first Hispanic woman to ever be inducted into the Songwriters Hall of Fame. What did that recognition mean to you?
Other songwriters and their creations have gotten me through the most difficult times of my life with their art so to be inducted into the Songwriter's Hall of Fame is one of the most meaningful acknowledgements that I could ever receive. It's a privilege to be able to communicate through my music and lyrics with others sharing this ride and it's and responsibility that I don't take lightly.
Your music and career have obviously transcended Latin culture, but do you take a certain pride in being a mentor and an advocate for the other Latin artists that have followed in your footsteps?
It makes Emilio and me very happy to be able to say "yes" to other artists when so many people said "no" to us. It's also a goal to be able to help other Latin artists share their culture with the world and we feel that the more people who know and hear the incredibly diverse music from our different Latin countries, the better they'll understand who we are and how much we have to offer the world.
People have had this glimpse into your life for so long, but what is something that we might be surprised to learn about you?
I make delicious pancakes from scratch that my family stands in line for when I make them. I am the "eyebrow queen" and the women in my life are always asking me to do their eyebrows. I am a certified boat captain and have taken courses in navigation, piloting and seamanship.
How has it been for you to watch your children grow up to become successes and carve their own path?
Our children are Emilio's and my most important "production" and we have raised them to be humble, warm humans that we cherish and support in whatever they may find of interest. Having struggled so much in our early lives, Emilio and I wanted to give them every opportunity and comfort. Our only wish for them is that they enjoy their lives as much as we have enjoyed and appreciated ours and that they find their happiness.
How much of your own childhood shaped how you are as a mother?
Every mother and father are molded by the experiences they had with their own parents. Whether you had ideal parents and want to emulate their example or weren't happy with the ways you were raised and want to do things differently, the impact of our upbringing is momentous.
You had the chance recently to work with Dolly Parton, Belinda Carlisle, Cyndi Lauper and Debbie Harry for a song for the 80 for Brady film. I imagine that was a lot of fun for all of you. How did it all come together?
My friend Diane Warren texted me and said that she had [written] a killer song that was going to be in a movie and that amazing women were the lead characters so she wanted amazing women from '80s fame to sing on her composition. The moment I heard the song I connected to it and loved it. And when she told me that Dolly Parton was already in, I needed no other reason to do it.
So what's next for you, anything on the horizon you can share with us? 
Right now I'm very excited to be working on a very special musical project with my daughter, Emily that I can't share the details of yet but can tell you it's a challenge, a first for me, and I have a "feeling" that it will be another milestone.