Paying Tribute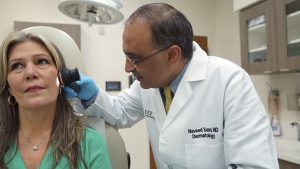 The past few months have provided renewed hope in the health care community. COVID-19 vaccines have helped change the tide from anxiety and isolation to relief and liberation. However, variants and vaccine hesitancy have continued to place hardships on medical professionals across the country. Even while all hands were on deck fighting the virus, the health care field hasn't slowed down when it comes to innovation and patient care. From expansions and new technology to improving patient outcomes here in our backyard, there is a lot to celebrate when you take a closer look. What follows is just a sampling of the achievements being made locally and the positive impact they'll have on the community well into the future
Healthier Children in Mind, Body and Spirit
The need for expanded mental health services became all the more apparent during the pandemic, but it was the unprecedented demand from children and adolescents that exposed the most gaps. According to the Academy of Child and Adolescent Psychiatry, nearly one in five U.S. children have a mental, emotional or behavioral disorder each year, and only about 20% of those with disorders receive care from a specialized mental health care provider.
In response to this, Dr. Phillips Charities recently awarded a $6 million grant to support AdventHealth's creation of the Center for Advancement and Support of Youth (CASY). It will be the first comprehensive pediatric and young adult mental and behavioral health program in Central Florida.
Ken Robinson, president and CEO of Dr. Phillips Charities, says Orange County currently has less than three child and adolescent psychiatrists for every 10,000 children under the age of 18 in the area. "Today's youth are the future and providing them with the tools they need to succeed is vital for our community, which is why we are excited for AdventHealth's plan for this program."
CASY's approach will be holistic and patient-centered, improving and expanding access to mental health care, increasing early diagnosis and intervention and helping families navigate the complex system of resources. The program will also aim to reduce the number of ER visits and hospitalizations for pediatric patients. In the past two years, over 300 children were hospitalized at AdventHealth for Children following a suicide attempt or other self-harm event.
"We've come a long way in caring for our children's physical health, but their mental health can have just as great of an impact on their futures," says Dr. Rajan Wadhawan, senior executive officer of AdventHealth for Children. "Through this program, we'll soon have even more resources to ensure a brighter future for the children in our community."
Amplifying Access
When "community" is in your name, and a pandemic hits, the response must be comprehensive in its reach. For Community Health Centers (CHC), a Federally Qualified Health Center with 16 locations throughout Central Florida, its efforts to provide COVID-19 vaccines, tests and at-home test kits went above and beyond.
According to John Riordan, director of marketing and community relations, since early 2020, Community Health Centers have:
-provided 6,500 COVID-19 tests
-administered 13,700 vaccines
-offered 28 walk-up COVID-19 vaccine events for the community
-distributed 33,250 at-home tests to community partners.
In late 2021, CHC was also named a Best and Brightest Company to Work For by the National Association for Business Resources, marking the fourth-consecutive year it had received the honor. CHC provided quality primary health care services to insured, uninsured, underinsured and underserved children and adults in Central Florida, amounting to nearly 64,000 patients annually.
Care with Every Breath
Right here in our backyard sits Orlando Health – Winnie Palmer Hospital for Women & Babies (WPH), a world-renowned health care facility that encompasses one of the largest and most technologically advanced NICUs in the nation. Its Level III NICU designation means that its teams of specialists are among the most prepared to deal with any set of challenges presented by patients.
For those undergoing respiratory distress caused by fluid and circulation issues, as well as lung abnormalities, or patients requiring assistance with ventilation, the Respiratory Therapy Team at WPH includes therapists who care for NICU patients, even some who weigh less than 400 grams, and expectant mothers with unique challenges in their care.
A team of 55 have a combined years of service to Orlando Health of 471 years and several clinicians hold distinct specialty certification, which includes Neonatal Pediatric Specialist (NPS), Adult Critical Care Specialists (ACCS), and Certification in Neonatal Pediatric Transport (C-NPT). Clinicians have the opportunity to train for Labor and Delivery Room, Transport Team and ECMO (Extracorporeal Membrane Oxygenation) Team.
The team provides support to patients from labor and delivery services to ventilation management, inhaled gas administration and external transport of neonates via ground and air. Respiratory therapists provide guidance in respiratory management through patient population-specific guidelines with the Tiniest Baby Collaborative, caring for patients from 22 weeks gestation to WPH's Complex Care Unit in support of some of their most medically complex patients.
Outreach that's All-Inclusive
The mission of 26Health Orlando is to open the doors of health care to the city's LGBTQ+ population and its allies, including adults, children, non-binary, transgender, cisgender, sick or well. With comprehensive physical and mental health care services that encompass adoption counseling, rapid HIV and STD testing and treatment, to an on-site pharmacy, convenience and comfort are paramount at 26Health.
Among its most important goals as an organization is outreach, says Maria Garcia-Rolon, associate director of the Patient Care Coordination Team, which is committed to establishing new partnerships in the community.
"Our goal is to break through any barriers that the community faces by providing wellness screenings consisting of blood glucose and cholesterol levels, and we not only provide general information about good health and preventative medicine but also link the patients to care," Garcia-Rolon says. "In addition, we also offer free HIV/STI testing and prevention during our testing events. … Our internal services include an emergency food pantry, a clothing bank, insurance coverage assistance and resources for other community services at no cost to our clients."
The team recently created a new partnership with The Ventanilla de Salud at the Mexican Consulate in Orlando and The Farmworkers Association in Apopka. Outreach events will be held at different locations on a weekly basis: the first Monday of each month for the Farmworkers Association, and the second and fourth Friday of each month for the Mexican Consulate. There is also an outreach weekly on Wednesdays at the Northwest Family Health Center.
The Patient Care Team also stepped up to collaborate with its medical clinic in other events specific to COVID-19 vaccines. Garcia-Rolon says the team participated in four separate events throughout Orlando.
The First Line of Defense
Dr. Naveed Sami, a board-certified dermatologist at UCF Health and full-time professor of dermatology at the UCF College of Medicine, has focused his life on making skin healthy. After all, skin is the body's largest organ and the first line of defense in our immune system.
A general medical dermatologist, his specialty focus is on the diagnosis and treatment of psoriasis, eczema and autoimmune skin conditions such as those arising from diseases like lupus. He is a recognized international expert in the treatment of autoimmune skin diseases and a nationally recognized scientific researcher who leads clinical trials of new skin disease treatments at UCF Health. In addition to caring for patients, he also helps train the doctors of tomorrow.
"I went into medicine because it combines my passions for science and caring for the sick," says Sami. "I believe in shared decision-making with my patients so together we can individualize their treatment and manage their skin conditions."
Since skin diseases can be connected to internal organ disorders, Dr. Sami enjoys working closely with other specialists to provide the most optimal care. He works in close partnership with the other outstanding clinicians at UCF Health in areas such as primary care, rheumatology, endocrinology, ophthalmology and lifestyle medicine, and with physicians across the Central Florida community.
Sami's diverse training includes a medical degree from the Aga Khan University in Karachi, Pakistan, dermatology residency training at the University of Alabama, and a fellowship at Harvard University in the Department of Oral Medicine.
The Year of the Nurse Educator
Nurse educators are responsible for preparing a diverse and culturally competent nursing workforce. Their roles are somewhat less visible than bedside nurses, but they are responsible for leading education to improve the quality, safety and patient experience of care delivered. The unprecedented challenges of the pandemic have forced adaptation within health organizations greatly, and nursing is no exception. In recognition of the continuing support of nurses everywhere, The National League for Nursing (NLN) has designated 2022 as the Year of the Nurse Educator.
At Nemours Children's Hospital, Florida, the Clinical Nurse Educators are comprised of a team of seven expert-to-novice professionals (listed with their service line specialty): Kelly Eberbach (Emergency Department), Karen Pierce (Neonatal ICU), Laura McKenzie (Cardiac ICU, Resource Pool and Transport), Kim Zalewski (Medical/Surgical Unit and Inpatient Rehab), Anna Cox (Pediatric ICU), Lisa Halpin (PeriAnesthesia), and Ayne Amare (Hematology/Oncology). The Clinical Nurse Educators work in collaboration with both the Clinical Nurse Specialists; Lori Brittingham, Roberta Schofield and Krissy Jiang, and Program Coordinators; Susan Soderberg and Christine Lauretano, all forming part of the Nursing Professional Excellence team.
"Each member of the Nursing Professional Excellence team contributes to the successful education of our nurses, taking ownership of all training and onboarding so that everyone we hire has the core competencies we require to provide excellent care for our patients at Nemours Children's Hospital," explains Sophy Rodriguez, director of nursing. While some members of the team have been with Nemours for many years, others are new. Together the team is adjusting to work during the pandemic. Nemours is recruiting differently, she says, adapting continuously. "We are onboarding at unprecedented rates and candidates now come with different needs," says Rodriguez.
"Through so many changes and challenges, their resilience, their grace and their wherewithal is inspiring," she continues, adding that this team has excelled at remaining flexible and embracing innovation and virtual learning methods to meet the education needs of a dynamic nursing workforce.