Grom Social: Social Networking for Youth
Grom Social: Social Networking for Youth
Founded by a Florida Teen!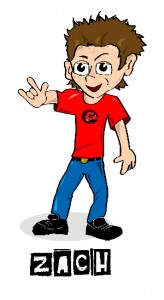 If your kids aren't on Grom, they soon will be ─ if Zach Marks, a Melbourne Beach teen, has anything to say about it. The curly-haired, 13-year-old is the brainchild behind Grom Social (GromSocial.com), an online network for kids, by kids (for ages 5–16). He thought up the site after his parents, Sarah and Darren, kicked him off Facebook. "There wasn't a fun, safe, educational site out there for kids," Zach said. "I wasn't allowed on Facebook. I'm a very social person and that's why I always wanted to be on a social media site."
In December, Grom Social celebrated its first anniversary with more than 300,000 users in 201 different countries and territories! Of those, 26,876 reside in the Greater Orlando area, including Orange, Osceola, Polk, Lake, and Seminole counties. "It's crazy how many people are on the site now," said Darren. "It's been an incredible rollercoaster ride."
The idea behind Grom Social – Grom is an Australian slang term for an apprentice surfer – is more than just a hub for children around the world to connect.  The Marks wanted to create a site that teaches youth how to conduct themselves online, such as by keeping personal information (like home address and phone number) private. The site includes a curse word filter and is monitored 24/7 by multiple advisors. Parents approve all friend requests and get email updates and "report cards" about their child's activities. Grom Social also strongly supports anti-bullying and encourages teens to say no to alcohol, tobacco, and drugs by promoting such messages throughout the site with the help of specially-designed avatars, aka Gromatars, such as Trevor, the anti-bullying character.
"Trevor is one of our most popular characters because bullying is one of the biggest problems," Zach said. If a child is being bullied and mentions something to a friend on the site, Trevor contacts the child to talk about the issue. The avatar, manned by a live person, also steps in when someone on the site uses inappropriate language toward another user. "Social media isn't going away," Darren declared. "We feel Grom is a way to teach children how to use social media. We try to protect them as much as we can but we don't shelter them."
Zach's mother, Sarah, pointed out that Grom Social is often many users' first experience with an online presence. "You're kidding yourself if you think your child isn't going to find social media," she explained. "We're in a cyber-world and, as parents, it's our responsibility to limit things." For the Marks, embracing social media through Grom is a family affair! Zach's older brother, 15-year-old Luke, is a professional surfer who became Grom Social's first investor with $2,500. Nearly each member of this family of eight has inspired a Gromatar character, modeled after their individual personality. Sarah, for example, is "Sarah the Trainer" and Darren is "Pumped Up Paul".
Additionally, the Marks siblings create webisodes, called Grom Stops, which can be viewed on GromSocial.com or the Grom Social YouTube Channel. Along with his siblings, Zach controls everything, from the site's color schemes to the select topics which the avatars discuss. Clearly a computer buff, Zach is interested in computer coding and technical aspects used to build Grom Social and other websites. "The coolest part was building the website and learning the programs," he recalls. "My favorite part is talking to kids from around the world." Zack is now in the development stages of a 3D educational video game, with Florida Virtual School, which pairs a skate boarding theme with learning. "We're trying to hide the math as much as we can so kids want to play the game but they're still learning," Zach explains.
The family is also in talks with several networks for a reality show and, last month, welcomed Kendall Schmidt, acting and singing star of Big Time Rush, as a member of the Grom team. "He's like a megastar! He has 12 million followers on Twitter," said Darren, adding that Grom Social's server had to be beefed up to manage the influx of fans that participated in the online chat. Zach will be joining Kendall this year on a multi-city tour in support of their newfound partnership.
Currently, Zach is busy enhancing the Grom Social site, homeschooling through Florida Virtual School, and continuing to foster his interest in technology. "I don't know what the future will bring, but I want to stick with computers because that's what I'm good at," he said. For Sarah and Darren, obviously proud parents, watching their son's entrepreneurial success has been fun. "It's fascinating to me that people are interested in what Zach is doing. The effect he has is amazing," Darren said. Sarah agrees, "We're very proud of him!"