Caring for the Kids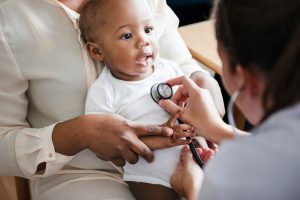 It's no secret that pediatric providers play a key role in a child's growth and development. And certainly every parent wants the very best for their kid, so prioritizing their health during their formative years is of the utmost importance—even more so during the nearly two years since the onset of the pandemic. 
And while many of the headlines surrounding pediatric health of late have largely centered on the advancements of COVID-19 vaccines for children, that's not to say there hasn't been plenty of other exciting breakthroughs in any number of other areas in recent times. 
To get a better sense of how some aspects of pediatric medicine are evolving, we reached out to health care providers from across the area to find out what's been taking place in their particular fields and to find out how these changes are helping better serve patients and improve outcomes. 
Preventing Injuries in Young Athletes
Playing youth sports is beneficial in many ways for children, from keeping them physically active, teaching them about teamwork and problem-solving, boosting their self-esteem and providing a social outlet for them to be among their peers. 
But while kids may gravitate toward athletics for a little friendly competition and the love of the game, many parents these days are taking things to the extreme by having their child specialize in a singular sport with hopes that they may turn thousands of hours of intense practice into a college scholarship or maybe even a professional career. 
Dr. Zach Stinson, a pediatric and sports medicine orthopedic surgeon and medical director of sports medicine at Nemours Children's Hospital, says this kind of dubious thinking is actually doing more harm than good. That's because youths who focus on one sport become prone to overuse injuries due to their physiologic and musculoskeletal immaturity. 
"There is a correlation between early sports specialization and increased risk of injury," Stinson confirms. "And that isn't just a generalized risk of injury, but also includes more severe injuries that require surgery. It is across the board more problematic, and not just with regard to the specialization, but also the timing and intensity of the training. The length of time spent on one specific sport contributes to the risk of severe injuries and burnout."
To combat this, it is recommended that children participate in what Stinson calls "sports sampling," or trying varying sports to work different parts of the body in different ways. It is also suggested that for any given sport, there is a rest period of at least four months off during the year. Another rule of thumb would be that the hours spent training per week do not surpass the child's age, though that can be adjusted based on the sport and their physical development. 
Aside from the injury factor, Stinson says he and his colleagues work hard to dispel the myth that sports specialization will result into turning one's child into an elite athlete.
"The emphasis on sports specialization, a lot of it is due to the thought that it will increase their child's chances at getting a college scholarship or becoming a professional, but a vast majority of studies show that's not true. Many [high-level] athletes didn't start specializing until 16 years of age," he says. 
With more and more parents pushing their kids to take the next step in their athletic career, it remains to be seen whether or not the raised awareness of the dangers associated with youth sports specialization will resonate and we start to see a societal shift. 
Keeping an Eye on Things
A child's vision gets stronger with each passing year and plays a major role in their ability to learn and develop. But because their eyes are still forming, it also makes them susceptible to disease and other more common refractive errors. Adding to the challenges is the fact that many children with retinal disorders don't present immediate symptoms.
Like with most health issues, the numerous pediatric eye conditions that may arise are dealt with best if treated early. One such condition is retinopathy of prematurity, which can occur in premature newborns and could lead to underdeveloped blood vessels in the retina. Another condition, uveitis, is a result of an inflammation of the eye and can lead to systematic issues like juvenile rheumatoid arthritis.
That's why it is strongly recommended that children visit their pediatrician for annual routine eye screenings as it is often during these screenings that ocular issues are first identified. If a parent becomes aware of a significant visual or retinal issue, they should seek out the expertise of an eye specialist immediately. 
Dr. Ruwan Silva, a board-certified, fellowship-trained vitreoretinal specialist at Florida Retina Institute, says the earlier problems are diagnosed and treated, the better chances there are of avoiding more serious complications down the line.
"If there is an issue a child has, we like to catch it early so we can help save their vision," Silva says. 
While pharmacologic therapy has increased the options for treating patients with effective medications to avoid destructive outcomes, surgical advancements have also grown leaps and bounds and patients are now able to undergo less invasive procedures with quicker recovery times and better results. But perhaps the biggest progression in pediatric eye health, Silva says, has been recent improvements in imaging technology and its capabilities. 
"In diseases of the retina, we rely on imaging technology—we can diagnose with imaging far better and without having to dilate the eyes—and the advances have made it easier for us to get a much more accurate diagnosis than before," he says. 
Ultimately, if a parent perceives there may an issue—no matter if it seems like a big deal at the time or not—they should err on the side of caution and bring it to the attention of their pediatrician or pediatric ophthalmologist. 
A Breakthrough Treatment
A revolutionary treatment known as CAR T-cell therapy is making major strides in the battle against leukemia with initial studies showing that about half of the children who undergo the cutting-edge therapy are in remission and leukemia-free beyond five years. 
In Central Florida, AdventHealth is the only health care system to offer the treatment, which uses the patient's own immune cells to target cancer cells, providing an additional option to non-Hodgkin lymphoma patients whose cancer has been resistant to traditional treatment. 
What takes place is white blood cells are removed from a patient and then sent to a lab where specific types of white blood cells called T-cells are transformed into leukemia fighting cells. The T-cells have an antibody on their surface, a way for that immune cell to recognize their leukemia cells. This programs the patient's white blood cells to attack cells with a specific protein on them, in this case leukemia. 
Dr. Susan S. Kelly, medical director, pediatric cellular therapy at AdventHealth for Children, says the breakthrough has been tremendous because it is restoring hope for patients who would have died.
"This is really a game-changer," Kelly says. "The patients who receives [the treatment] often have no or poor options. And there are now reports of a cure … remission lasting 5-10 years and likely forever in up to 50% of patients. We can give many children back their whole life."
Currently, the CAR T-cells are able to be made for children and adolescents with B-cell acute lymphoblastic leukemia—by far the most common type of cancer in children—and some types of lymphoma or leukemia in adults. However, there are many trials underway to see how the therapy can be used to fight other types of cancer.
Kelly says CAR T-cell therapy—which should be noted is very costly at roughly half a million dollars—is just the start of a whole field of smarter cancer treatments where a patient's immune system is used to fight the disease. 
"For so long, we have relied on the same medications, often with serious side effects. To be able to have something this novel and have such a success is amazing. Cancer therapy is changed forever."
Trying to Solve the Mystery
A pediatric brain cancer diagnosis is painfully difficult for any family to cope with. And though doctors, researchers and other medical professionals remain fiercely committed to combatting the disease, there are many obstacles still to overcome.
One hindrance is that it is extremely tough to collect brain tissue while a child is still alive, and until researchers are able to thoroughly study the tissue, the mystery remains on why these children don't survive their disease. 
Thankfully, a partnership between Orlando Health's pediatric cancer department and the organization Gift from a Child is working to address these matters. Gift from a Child is a national initiative supported by families who have lost a loved one to pediatric brain cancer and with their permission, researchers are able to collect the deceased's brain tissue for closer examination in an attempt to gain a deeper understanding of the disease. 
As one of only a select group of health care systems in the country working in this capacity, Orlando Health's Dr. Amy Smith, chief of pediatric hematology and oncology, says these collaborative efforts are helping provide critical insight.
"We have a saying, 'If cancer is the answer, then tissue is the issue.' You need tissue to make a diagnosis and in more recent years, it's become important to not only look at it under a microscope, but to get answers about genetics and what is driving the growth of the tumor," Smith says. "Clearly, the tumor has figured out a way to get around the treatments, so it is important to know why they didn't work."
As families deal with the devastation of losing their child at a young age, the program provides a much-needed support system as well as the chance to help others not have to suffer the same tragic fate. Smith says it's the main motivation for why parents decide to work with Gift from a Child.
"It helps them find meaning in their child's life; to know their child made a difference in the world and is still living on in a way and that their suffering wasn't for naught," she says. 
That everlasting love and strong desire to make a difference continues to inspire Smith to work harder than ever with all the tools at her disposal in an effort to move things forward and find a cure. 
"One of the things that is very disheartening is when I have to sit in front of a family and say there's nothing we can do for your child. I would love to never have that conversation again," she says.