Strides in Women's Health Care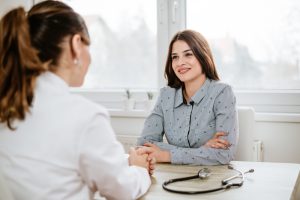 From new contraception options to minimally invasive robotic technology, the world of medicine has made great strides in improving the way health care workers treat women. This demographic of patients requires specialized surgical techniques and tools to ensure that it receives the best quality of care, and according to local experts, there are tons of new innovations being used to make this happen.
Precise Robotics
Robots and intelligent technologies are becoming more and more common parts of everyday life, including smartphones and voice assistant smart speakers. This same concept applies to complex gynecological surgeries, which are starting to utilize robotics more often than ever before.
According to Dr. Jessica Vaught, a minimally invasive GYN surgeon at Winnie Palmer Hospital, robotics has been a part of surgery since 2001 and gynecology since 2005. But, the most groundbreaking technology she has worked with is the da Vinci OS4.
"This is their fourth model now. It has really allowed us to expand what we can offer to women surgically," Vaught says. She specifically mentions the impact it's had on women with fibroids. The solid growths within the uterus are very common, with up to 70% of women developing them and 25% of them needing the growths surgically removed.
"When we do surgery for these [fibroids], sometimes women will just want their uterus out along with the fibroids if they're done with childbearing. But a number of women will want to keep their uterus or they're trying to have children, so we can perform a myomectomy, which is taking the fibroids out of the uterus. And this is something that was largely done through an open incision like a C-section cutter or bikini cut," Vaught explains.
"But with the advantage of the robotic system that they have now, which is much more versatile, it's able to work in spaces that were a little bit harder for the older model. We're really able to do these minimally invasively, so the women have such a better recovery. They're going home the same day [and] they're back to their lives."
With this technique, patients are out of the hospital the same day, whereas patients who undergo open incision surgeries stay overnight for two to three days.
Vaught adds that robotics are also huge game-changers in surgically treating endometriosis, which is another common problem for women that causes pain and can affect a woman's ability to get pregnant. "With the advanced visualization and the dexterity of the robot, we've been able to treat that condition much more."
Dr. Erica Stockwell is an advanced gynecologic surgeon for AdventHealth for Women and has similar experiences to Vaught when it comes to utilizing groundbreaking technology to treat her patients.
Stockwell brings up vNOTES—vaginal natural orifice transluminal endoscopic surgery— which "combines the benefits of vaginal surgery for the patient, no visible incisions and quick recovery with less pain, with the benefits of laparoscopic surgery for the surgeon, direct visualization and advanced instrumentation.
"Another exciting adaptation to vNOTES is a robotic-assisted vaginal approach, utilizing the Anovo robotic system. This technique combines a camera through the belly button and robotic instruments through the vagina," Stockwell explains. Like the surgeries performed with da Vinci robotics, there are minimally visible scars with this approach.
Reproduction Advancements
Reproductive medicine is a rapidly growing branch in women's health care, with new technological advancements constantly benefitting the practice and its patients.
Dr. George Patounakis is a fertility doctor specializing in IVF, IUI and surrogacy.at Reproductive Medicine Associates Florida and works directly with the latest innovations.
"The most significant advancement in the fertility space is the single-embryo transfer, SET, which drastically reduces multiple births, resulting in a lower risk for mom and baby," says Patounakis. "In addition, preimplantation genetic testing can detect abnormalities, giving parents peace of mind while increasing the chance for a healthy, successful pregnancy."
Single-embryo transfer, according to Patounakis, allows specialists to accurately identify viable embryos and choose the best one. He says that this is safer for both the mother and baby and results in less NICU time than transferring multiple embryos.
Dr. Shiela A. Bahn, the chief of obstetrics and gynecology at Community Health Centers, says that the different options for women's contraceptives have made a huge impact on how she is able to treat her patients.
"In the last 20 years, we have seen more options for contraception that have made different methods available for patients, such as different intrauterine devices and hormonal implants. This plays a role in reducing unintended conception and even teen pregnancy," Bahn says, adding that there has been a reduction in unwanted pregnancies since more contraceptive options and education on the topic have become more readily available to young women.
Women's Eye Health
Dr. Jaya Kumar is a retina specialist at the Florida Retina Institute and sees both men and women. She says that there's a clear difference between the two demographics when it comes to eye care.
"Women are more likely to experience dry eyes with aging and more frequently diagnosed with autoimmune conditions that can cause vision loss," Kumar says. This could be because many women don't prioritize their eye care and don't get treated as often as they should.
"As a woman and a mother, I can relate to the majority of ladies who have a tendency to forego routine exams for themselves to take care of others or manage family matters."
Fortunately, Kumar says that there are new advancements to treat diseases common in women.
"The greatest advancement in the vitreoretinal space has been the introduction of intravitreal injections for several retinal conditions including wet AMD, DR, and retinal vein occlusion. These treatments have helped prevent central vision loss and other complications from these diseases," she says.
Looking Ahead
The world of medicine has undoubtedly grown drastically over the last few decades. Fortunately, this is only the beginning. Our experts are looking toward the future and have high hopes for upcoming technology.
Patounakis hopes to see advancements that allow doctors to repopulate ovaries with oocytes, cells that undergo meiotic division to form ova, for women who experience premature menopause but would like the opportunity to reproduce.
Meanwhile, Vaught and Kumar are focused on a future of precautionary measures in health care.
Kumar wants to see earlier interventions to prevent the progression of chronic diseases like dry age-related macular degeneration (AMD). "Unfortunately, dry AMD can result in severe atrophy or thinning of the macula which causes central vision loss. We have limited options to halt the progression—but there are promising treatments on the horizon," Kumar says.
Vaught is focused on providing endometriosis patients with the highest level of care through multi-specialty care teams as opposed to just one doctor. This approach seems quickly attainable, especially since her team at Orlando Health is already putting these measures into place.
"Endometriosis can affect not only just the uterus itself and the ovaries, but a lot of times it will affect the bladder, it will affect the bowels, and so, we've really been trying to treat it with a multidisciplinary team and so we have a lot more surgeons," she says. "Colorectal surgeons and urologists are becoming trained in endometriosis and we're approaching it as a multi-specialty team."
With so many new technological and biological advances in practice now, along with the expectations that even more will be available in the future, the health of women across the area is in fantastic hands.