Helping You Feel Great in Your Own Skin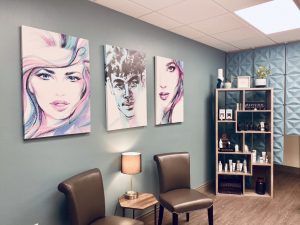 Vision, ability and experience define the board-certified dermatologists and clinicians of Advanced Dermatology as much as empathy and compassion. And that's a beautiful thing.
"When you come to see us, you can expect us to be highly trained in skin care, to be 100% transparent about all the aesthetic options available to you, and to really listen to your concerns and goals," says board-certified dermatologist Dr. Savina Aneja, who works in offices in Baldwin Park, Lake Nona and the exciting new Advanced Dermatology Aesthetic Center in Winter Park.
Advanced Dermatology has about 15 offices in Metro Orlando. "We can provide you with customized treatment plans backed by unparalleled resources, technology and expertise," she adds.
It's never too late to start caring for your skin … or too early.
"The majority of my cosmetic dermatology patients are also my medical patients," Dr. Aneja says. "Some of their most common concerns are lines and wrinkles, problems around the eyes, thinning hairlines, pigmentation issues, scarring (including acne scarring), and skin laxity. Our treatments include some of the most sought-after cosmetic treatments including Botox, injectable fillers, chemical peels, Hydrafacial treatments and laser treatments. We also have our own line of PROSCRIPTIX FX hair therapy products."
"Patients will often start a consultation with, 'Tell me what I need,'" says certified physician assistant Ellie Mirali, who has more than 25 years of expertise and specializes in cosmetic procedures including lasers and injectables. "I try to avoid answering that question. I give them a mirror and say, 'Look into the mirror and tell me what bothers you.' Then we make a wish list. We go over their budget and set realistic expectations. From there we create a customized plan." Her deep understanding of facial anatomy and passion for aging interventions has led to her being recognized as a top provider of non-surgical cosmetic procedures.
Dr. Aneja adds, "We'll help you become your most confident, vibrant, youthful you—with outcomes that are noticeable but natural."
Benefits of non-surgical cosmetic/aesthetic procedures
More accessible price point
Less downtime
Faster in and out of treatment
Little or no discomfort
Fewer risks overall
Remarkable medicine. Remarkable care.
Under the direction of nationally and internationally recognized laser expert Dr. Stephen Eubanks, the Advanced Dermatology Aesthetic Center brings together the knowledge, experience and artistic talents of some of the nation's most highly esteemed cosmetic dermatologists and aesthetic professionals.
"We're excited to offer some of the newest laser technology in the aesthetics market and to create a memorable experience that will delight you, whether you come to us for a mild facial, leading-edge laser skin resurfacing, body contouring or other solutions to rejuvenate your skin and body," Dr. Eubanks says.
"In the past, laser and energy treatments were very aggressive and required lots of downtime. Today, treatments such as CoolPeel Fractional CO2 Laser Resurfacing are far advanced and result in minimal downtime and almost no discomfort at all.
"We use advanced lasers for skin resurfacing, treating redness and spots, and removing unwanted hair, birthmarks and tattoos.
"For the body, we use Venus Bliss to reduce fat/cellulite, Physiq to reduce fat and to tone muscle, and VelaShape, which combines infrared light, radiofrequency energy and a vacuum into a single treatment to remove fat cells.
"Sofwave uses ultrasound technology to stimulate collagen production for skin revitalization," Dr. Eubanks continues.
"COVID-19 has done nothing to help people feel better about the way they look. Zoom-type meetings have made the desire to look better even more urgent. I want to help you address your concerns to help you look and feel better. More rested and relaxed."
"Like many other cosmetic procedures, laser procedures require some maintenance, usually a single annual treatment. Our skin continues to age, and it continues to be exposed to the sun, even after being treated initially.
"Knowing what treatments will benefit you the most and knowing which lasers will safely and effectively deliver the results you desire, is the result of extensive training and experience."
If you are ready to feel more confident about your appearance and to look and feel more refreshed, rejuvenated and youthful, trust Advanced Dermatology's experienced professionals to help you turn back the clock and help restore the natural beauty of your face and body. "You're going to enjoy the experience," Dr. Eubanks says
Get started by scheduling a consultation today.
Advanced Dermatology and Cosmetic Surgery
140-plus offices nationwide
(800) 397-1399
AdvancedDerm.com