Learning Lessons
Local preschools and child care centers have adjusted their practices in response to the coronavirus pandemic.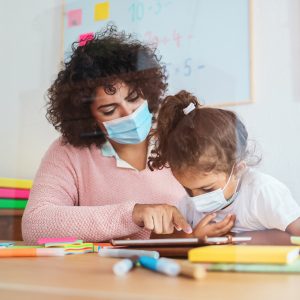 As the coronavirus pandemic first arrived in Orlando, a number of child care centers and preschools kept their doors open to care for the young children of essential workers. But the uncertainty surrounding the virus still was of great concern to parents and many decided to keep their kids at home.
A few months later, as people began to settle into a new normal with heightened safety measures and loosened restrictions, families began re-enrolling their little ones.
"When kids started coming back, like in June and July, that was very exciting," says Deanna Gustafson, director of Winter Garden's Children's Lighthouse.
The children were just as elated. Rebecca Faria, regional director of Kiddie Academy, says parents told her their children couldn't wait to come back. They missed interacting with their teachers and the social aspect of being with fellow classmates.
However, the children and their families came back to an environment that was different from what they had left. Child care centers, following the Centers for Disease Control and Prevention's recommendations, have instituted mask-wearing for staff and children who are older than 2 years. In some cases, class sizes have been shrunken. Child care centers are also imposing more stringent sanitizing routines, utilizing air purifying technology and temperature checking children when they arrive.
All of these new protocols have been taxing for staff but students have warmed to them in attempt to make the best of the circumstances. Michelle M. Deschamps, a spokeswoman for O2B Kids, says her preschool and child care center tries to bring fun to these not-so-fun situations.
"Our masks aren't scary," she says. "We wear masks because we are ninjas or superheroes or astronauts or something different every day."
Interactions between child care workers and children have been adjusted, too.
Gustafson says she and the staff have changed how they hug kids and have encouraged children to give more of a side hug.
And preschool teachers are using the situations created by the pandemic as a learning opportunity, teaching students about germs and how to stop the spread of them.
"We actually implemented a new aspect of our curriculum that's called the health essentials," Faria says. "We want to make sure that we're doing practical things to make sure the kids are safe, but also teaching them how to do that themselves and the importance of it."
Deschamps says O2B Kids has focused on introducing COVID-19 safety into the healthy practices it normally teaches children.
"We are continuing to instill healthy habits in our children—handwashing after using the restroom, after outside play, before and after eating, eating nutritious foods, and enjoying outdoor play, just like we would be doing if we weren't in the middle of a pandemic," she says.
Still, challenges remain, namely the sharp decrease in enrollment. "As far as enrollment, right now, we're at 52% occupancy and prior to COVID, we were at like 87% to 88%," Gustafson says.
Faria says some parents are hesitant to allow their children to return before there is a vaccine.
"But also, not all parents have the luxury of being able to stay at home and enjoy time with their kids," she says. "Many of them have been returning to work, so we've been seeing the number of enrollments increasing again."
And while face masks are now a normal part of life, they do present a challenge to young children who still need to see their teacher's facial expressions to fully comprehend what's being said.
"I think our biggest struggle right now is just keeping that connection with the learning with the teachers and the kids who are not used to understanding facial expressions with a mask on," Faria says.
To alleviate this, some teachers are wearing masks with a clear plastic layer or have adjusted their strategies in communicating with the children.
But winter may bring one of the toughest challenges yet: cold and flu season, colloquially referred to as a twindemic.
Gustafson says she is concerned about the stress on her staff because it will be hard to differentiate between what is just a cold and what may be COVID-19. Although the center mandates that children must be picked up by their parents if they show any signs of sickness and they are also given temperature checks when they arrive at school, it could still pose problems for staff who want to keep families informed.
Ultimately, child care centers and the children they look after are still learning lessons in handling the coronavirus pandemic.
"We will get through this together, and when we come out on the other side our children will be more resilient for it," Deschamps says. "The kids are teaching us as much as we are teaching them."
This article originally appeared in Orlando Family Magazine's November 2020 issue.