Orlando Family Stars
Each month, Stars features exceptional students, student-athletes, educators and all-around boons to the Greater Orlando area.
Public Allies Central Florida                  
A group of diverse young professionals from Central Florida recently took the trip of a lifetime to Washington, D.C., to witness policymaking at the highest level. Public Allies Central Florida is a social justice organization that partners with other nonprofits to provide hands-on training to tomorrow's leaders. During the four-day trip at the end of June, the allies spent an hour discussing Central Florida's affordable housing crisis with Adrianne Todman, Deputy Secretary of U.S. Department of Housing and Urban Development. They also had the opportunity to meet with Reps. Maxwell Frost (FL-10) and Darren Soto (FL-09) and staff from Rep. Jared Moskowitz's (FL-23) office.
Richard Corrales                                         
A 2007 Winter Park High School graduate, Corrales is currently serving in the U.S. Navy, assigned to Strike Fighter Squadron (VFA) 122. The command is a strike fighter squadron located aboard the U.S. Navy's largest master jet base in Lemoore, California. Petty Officer 1st Class Corrales joined the Navy 15 years ago and today serves as an aviation electronics technician. Members of VFA 122 fly and maintain the F/A 18 Super Hornet, one of the most advanced aircraft in the world. The Super Hornet takes off from and lands on Navy aircraft carriers at sea and is capable of conducting air-to-air combat as well as striking targets on land.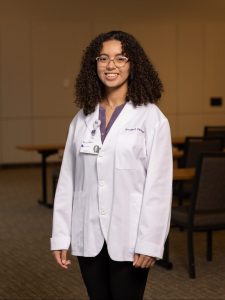 Yasmine Elkaldi
Oralndo's Elkaldi has been selected to serve at the prestigious Northwestern Medicine Summer Pre-Med Internship program in Chicago, where more than 1,600 students applied for the program. They will study under a physician mentor while rotating to 45 specialties and attending sessions on timely topics related to the current state of medicine from leading physicians and hospital executives. The program selected 51 students who have unique stories demonstrating their passion for medicine and hail from across the United States, as well as from Puerto Rico and Canada.
Chris Martin                                                            
A firefighter with the Seminole County Fire Department, Martin was recently honored with the "First Responder Award for Seminole County" by The Children's Safety Village of Central Florida at its 6th Annual Community Heroes Celebration Awards Gala. The event consisted of celebrating those who continue to make the Central Florida area a safe community for children and families. Martin was a former UCF Knight and NFL football player who chose to become a Seminole County firefighter after the tragic pool drowning of his 2-year-old son Gunner in 2016.
Jamie Merrill                                                           
The Board of Directors of Boys & Girls Clubs of Central Florida (BGCCF) has announced the appointment of Merrill as its new President and CEO. In her new role, Merrill will lead Florida's largest Boys & Girls Club organization. Currently, BGCCF operates 40 Club sites in six counties—Orange, Osceola, Seminole, Lake, Brevard and Nassau. Last year, the organization served more than 11,000 children, offering them academic support, extracurricular enrichment and positive adult role models during the non-school hours. The clubs are located in neighborhoods that rank, on average, at the 80th percentile for household poverty, nationally.
Know someone who deserves Star Treatment? Submit your nominees to Karen @OrlandoFamilyMagazine.com