Orlando Family Stars: January 2018
Each month, Stars features exceptional students, student-athletes, educators and all-around boons to the Greater Orlando area…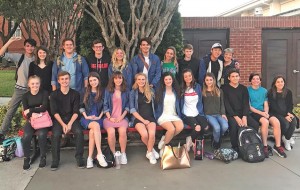 Star Students 
Lake Highland Prep School Thespian Troupe No. 2449
Lake Highland Preparatory School's Thespian Troupe No. 2449 recently performed single-act play The Curious Savage and received a Superior rating for their outstanding work. Earlier this year, they performed at the Florida State Thespian Festival, where two members were awarded State Critic's Choice for a duet performance as well.
Star Students 
Addison Simms & Luiza Coutinho
The First Academy's 4th graders Addison Simms and Luiza Coutinho were selected as the newest members of the Florida All-State Chorus last fall. The duo had to master several different melodies and compete against 900 other students to gain this achievement, and they are now tasked with learning six new songs to perform in early 2018.
Star Student 
Juliah South
Circle Christian School student Juliah South is passionate about caring for others. Along with providing medical care for her younger siblings, South also volunteers for local organization Nathanial's Hope, is an ambassador for Children's Miracle Network and participates in missionary trips during the summertime. South plans to pursue a career in nursing.
Star Student 
Ian Kim
Accomplished student, athlete and public speaker Ian Kim has effectively changed distance learning systems for the better. As a freshman, he worked with the University of Central Florida to create a virtual student tour that is still being used today. In addition, he runs the soundboard for the local theater, instructs youth soccer at the YMCA and writes video scripts.
Star Student 
Daniel Core
Circle Christian School's Daniel Core led his team to place in three different level championships last year. Individually, he was a medalist at the 2017 American Junior Golf Association Open at Seagate, and has consistently ranked in the top 40 at other junior championships. He is also a volunteer for the local Special Olympics Golf program and hopes to attend law school for a career in nonprofit upon completing his undergraduate.
Star Educator 
Al Harms Jr.
Community champion Vice Admiral Al Harms Jr. was named acting president for Lake Highland Preparatory School this winter. After completing 34 years of service in the Navy, Harms served as vice president for the University of Central Florida's strategy, marketing, communications and admissions department, and continues to serve on academic, scientific and other boards within Greater Orlando.
Know someone who deserves "Stars" treatment? Submit your nominees to Stephanie@OrlandoFamilyMagazine.com
This article originally appeared in Orlando Family Magazine's January 2018 issue.