Palate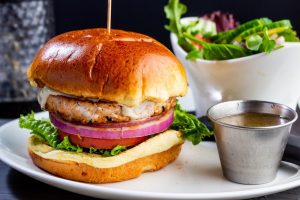 TOP FIVE: 
HAMBURGERS
A quintet of tasty things to try this month
The Cowfish Has Officially Left the Building
At The Cowfish Sushi Burger Bar
Universal CityWalk 
A meal fit for a king, this full-pound beef burger features creamy peanut butter, fried bananas and applewood bacon all on a brioche bun. If you're not all shook up over this amount of food, opt for the Single Hunka Love, which consists of a mere half-pound burger. 
The Sockeye    
At The Hangry Bison
Winter Park
Sandwiched between two brioche buns, this salmon burger is coated with honey mustard and balsamic reduction. Fixings include fresh tomatoes, leaf lettuce, red onions and melted Swiss cheese.
Greek Veggie Burger
At That One Spot Burger
Ocoee
Diners will have no beef with this burger. It is crafted of a house-made spinach patty, then topped with fresh sprouts, red onions, fresh red and green peppers, crumbled feta cheese and Greek yogurt. It is served on a wheat bun. 
Pizza Burger
At Beth's Burger Bar
Multiple locations
A marriage made in heaven, this unique burger dish is loaded with marinara sauce, mozzarella cheese, pepperoni and basil Aioli. 
El Diablo Burger
At D-Luxe Burger
Disney Springs
This devilish duo consists of two-pressed chorizo and signature-blend patties. It is layered with fried banana peppers, pepper jack cheese, lettuce, tomato, grilled onion and chipotle mayonnaise.
RAISE A GLASS:
COSMOPOLITANS
Libations you're sure to love
Baby Blue Cosmopolitan   
At Nona Blue Modern Tavern
Lake Nona
This signature cocktail is crafted with Ketel One Citroen vodka, blue curacao, white cranberry juice, simple syrup and lime juice.
Very Berry Cosmo   
At ICEBAR Orlando
International Drive 
Wet your whistle with this sweet drink consisting of blueberry vodka, triple sec, sugar and lemon juice. The sharp splash of cranberry juice provides an extra touch of fruity flavor.
Hawaiian Cosmo
At FishBones
Lake Mary
Thid tropical concoction features Three Olives pineapple vodka. The cocktail is further enhanced by the addition of both pineapple and cranberries.