Palate: December 2017
A quintet of tasty things to try this month & libations you're sure to love…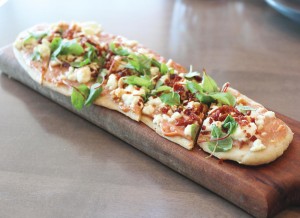 Top 5: Flatbread
GUAVA & GOAT CHEESE FLATBREAD
AT CHROMA MODERN BAR + GRILL, LAKE NONA
Selections abound at Chroma Modern Bar + Grill, but we were confident in our order. Their Guava & Goat Cheese flatbread is comprised of a soft dough base, adorned with sweet guava paste and tangy goat cheese, and then finished with speck ham, thin Marcona almonds and red sorrel.
BLT FLATBREAD 
AT CALIFORNIA GRILL, WALT DISNEY'S CONTEMPORARY RESORT
Disney's claim to fame is character dining, but we were more focused on the delectable BLT Flatbread at California Grill. A warm, crispy base is covered generously with sweet heirloom tomatoes, soft mozzarella and tomato-based mayonnaise and finished with Cherrywood bacon jam and crunchy arugula.
ONION FLATBREAD 
AT THE STRAND, PARK LAKE
Our favorite thing about The Strand is their ability to turn simple ingredients into sophisticated plates, and the Onion Flatbread is no exception. A slightly grilled, dough base is home to sensationally rich, caramelized onions, sweet ricotta and mozzarella cheeses and a sinful balsamic drizzle.
BLACK & BLUE FLATBREAD 
AT EMBER, DOWNTOWN ORLANDO
Style and quality are in generous supply at Ember Bar & Grill, and we definitely felt elevated after devouring the Black & Blue Flatbread. Fresh, shaved ribeye and Vidalia mushroom confit is layered atop artisan bread and finalized with Maytag cream and a decadent spinach mozzarella.
ZUCCHINI FLATBREAD
AT 310 LAKESIDE, LAKE EOLA PARK
The Zucchini Flatbread at 310 Lakeside is arguably nothing short of sheer culinary genius. Boursin mint spread is applied generously to toasty bread, then treated with layers of expertly sliced zucchini, shaved Bermuda onions and made perfect with sharp grated parmesan and house balsamic reduction.
Raise a Glass: Rum
COCONUTS ROASTING OVER AN OPEN FIRE
AT FROSTY'S CHRISTMASTIME LOUNGE, DOWNTOWN ORLANDO
Frosty's Christmastime Lounge is what winter dreams are made of, and Coconuts Roasting Over an Open Fire is the source of the magic. Rum Haven Coconut Water Rum is shaken with Giffard Banana de Bresil, then combined with shredded coconut flakes and lime juice for an icy delight.
NEEDLE IN THE HAY
AT THE RAVENOUS PIG, WINTER PARK
The name suggests a struggle, but this crafty mix-up felt like the perfect gift. Sweet Plantation pineapple rum is tossed with tangy Fernet-Branca and tawny port, then blended seamlessly with spiced apple, lemon and nutmeg flavors for a fire-crackling finish.
THE RIG 
AT THE PORCH RESTAURANT, WINTER PARK
The Rig paints images of a tropical escape instead of a winter wonderland, but we can appreciate the variety. Grander Panama rum is mixed with Chambord liqueur, then lovingly joined with fresh grapefruit, lime and orange juices for a sandy serenade.
This article originally appeared in Orlando Family Magazine's December 2017 issue.