Plan, Protect and Provide
The attorneys of Murphy & Berglund PLLC help clients safeguard their wishes, as well as their families, in the aftermath of divorce.
With the issuance of a divorce decree, two people who once loved each other can go their separate ways and heal from the emotional trauma—starting life anew. One chapter of the story ends and another begins.
This would be true in a perfect world. The problem, however, is that the world is rarely perfect.
"The legal considerations don't end at the final divorce hearing," says Jodi E. Murphy, founding partner of Murphy & Berglund PLLC, a law firm based in Altamonte Springs. "We see a lot of post-divorce legal and financial ramifications. Whenever there's a separation or divorce, it's a good opportunity to review your financial and estate planning documents with an attorney."
Murphy, who focuses her legal practice in estate planning and elder care, has seen too many cases in which families find themselves wrestling with complex and painful issues resulting from divorce—issues that could have been avoided had former spouses taken the time to update their estate plans properly.
One example: An injury or some other serious health issue results in an individual's death or otherwise being in a position in which he or she is unable to make decisions. Without an updated estate plan, the role of decisionmaker—and possibly the controller of one's estate—may fall to the individual's former spouse.
"You probably don't want your ex or soon-to-be ex to be in that position," Murphy says. "Even if it's a trial separation or you just filed the paperwork to start the divorce process, you want to protect your personal decision making and not leave it in the hands of your soon-to-be ex or the court system."
Protecting the Family Tree
Murphy, who co-founded Murphy & Berglund with fellow attorney Michelle A. Berglund-Harper, has been helping clients prepare for "what ifs" for approximately 15 years. She began her career as a construction litigation attorney. Although she enjoyed the work, she recalls feeling as though she "wasn't helping people." Then two life events intersected: She started a family of her own; and she saw the struggle her parents endured when her grandmother became ill.
"My parents met with an attorney in order to get my grandmother's affairs in order, and they sat there with blank faces, having so much legal jargon thrown at them and not really understanding what was happening," she recalls. "I thought: I can do this better, so I set up a practice designed to help people [with their estate planning needs] at a level they could understand."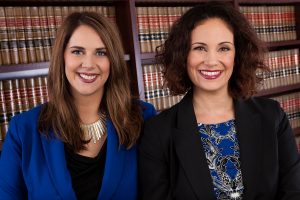 Murphy and Berglund-Harper had separate legal practices until 2011, when they combined forces in the founding of Murphy & Berglund. Both married with young children, the partners have built their firm into a place where clients can receive the counsel and representation needed to "protect every branch of the family tree." This includes helping clients whose families are undergoing significant change in the aftermath of a divorce.
"When a divorce happens, you're splitting up a marriage, but the family unit goes on," Murphy adds. "You want to make sure your family is protected if the unexpected happens."
By this, she refers to the need to update essential estate planning documents, such as wills, trusts and durable powers of attorney, as well as guardianships for minor children (or incapacitated adults), post-divorce. Although there is the potential for difficult conversations because of the raw emotions often involved with the dissolution of a marriage, addressing these issues while going through the divorce process—"while everyone is alive and competent"—can prevent trouble in the short term as well as down the road.
"Communication is key," she adds. "You see it all too often, where the divorce is finalized but they don't address the guardianships or who should be able to make medical decisions for minors if the parents are unavailable. Then something unfortunate happens to both parents, and it turns out that one parent has one person listed as a guardian and the other parent has designated someone else. Then it has to be fought out in the court system, with all the unnecessary drama and expense that comes with it."
Likewise, Murphy suggests giving strong consideration to healthcare surrogate designations and durable power of attorney documents for adult children (those who have turned 18). As students head off to college or otherwise travel away from home, Murphy says this designation becomes critical.
"I took a call yesterday that involved a child who went off to college and was involved in a bad car accident," she says. "The hospital was not able to release any information because the child didn't have a healthcare surrogate. The parents got on a plane and went to see their child, but the hospital isn't even letting them in because of COVID-19, only designated healthcare surrogates."
In a co-parenting situation, it is even more critical that adult children have legal documents naming their chosen decision makers to avoid confusion, delay, and additional legal and court costs.
Murphy says COVID-19, like any event that "rocks the world," has sparked renewed interest in estate planning, because it reminds people of the fragility of life and "the need to have our affairs in order no matter what." In addition, because the pandemic has forced people to spend more time at home, they feel empowered to handle these kinds of administrative projects.
More than anything, Murphy states that people tend to contact an estate planning attorney after seeing a parent, friend or loved one struggle through a loved one's death or illness, though estate planning is something that should be top of mind and reviewed on a regular basis. She witnessed two completely different outcomes involving members of her own family who passed away: her mother, whose estate was distributed quickly and efficiently because she had the proper documentation in place; and her sister, whose estate has lingered in probate because she did not.
"My sister was 38 years when she died and, despite my recommendations, she did not have her affairs in order because she thought it wasn't necessary yet," Murphy says. "Probate can be time consuming and expensive in Florida, but preparing the documents to protect your family doesn't need to be painful. We want people to know their options.
"My goal is to provide people with peace of mind by having the right documents in place, not leaving things to chance," she continues. "From there, we recommend updating an estate plan every three to five years, or any time people have a major life event, like a birth or death."
Or, for that matter, a divorce.
Murphy & Berglund PLLC
1101 Douglas Ave., Suite 1006 | Altamonte Springs
407-865-9553 | MurphyBerglund.com
This article originally appeared in Orlando Family Magazine's September 2020 issue.