Raising the Bar
Meet some of Central Florida's top-level varsity athletes
Sean Stewart, Montverde Academy boys basketball
A 6-foot-8 forward, Stewart averaged 20.5 points, 13.6 rebounds and 4.6 blocks last year at Windermere and was part of the U.S. team that won the gold medal at the FIBA World Cup in Spain this past summer. He transferred to Montverde Academy for his senior season before moving on to Duke.
OFM: How is the transition going to a new school and a new team?
SS: It's going a lot better now. I'm more used to the school and all my teachers. At first, it was kind of hard adjusting, but now me and all of my teammates get along with each other well on the floor, so it's a lot better. Practices are hard but we get through it.
OFM: Is that why you decided to transfer to Montverde, to face tough competition every day in practice and to play in elite tournaments?
SS: That's exactly what I wanted. I'm getting a lot better just playing against these guys every day because I have to work really hard on offense and defense. That's the main reason I went there.
OFM: I know you were very close with your team at Windermere. How difficult was the decision to leave?
SS: It was really tough but I had to do what was best for me. The best part about it was that everybody at Windermere was so supportive. I still talk to those guys every day; I talk to the coaches a lot and they check in on me. It was hard leaving but they understood my decision and there were no hard feelings. Every game that I'm here and they're playing, I'll be watching.
OFM: Central Florida has developed into a hotbed for basketball. Jizzle James from Olympia says you're one of his favorite players to compete against.
SS: Last year we had some crazy battles. Orlando was really good last year: OCP, Lake Highland, Dr. Phillips, Olympia, Oak Ridge, Windermere—there were a lot of great teams. It's really exciting seeing all the guys I grew up around making it big. All the dreams we had, it's so cool to see and it's going to be really fun to see how the future plays out.
OFM: Duke is obviously one of the best programs in the country. Were you always a fan growing up?
SS: It's a really cool story: I was about 9 years old, fourth grade, and I went with my dad, my brother, and Grant Hill and his two daughters to a Duke game. I always said I was a Duke fan but I had never really been to a game, so he took us up there and we watched one of their first games of the season, which they won by 50. Just being there and seeing that atmosphere I was like, 'Wow, I need to go here.' Since then I've always been a Duke fan and I always said my dream school was Duke. To be able to have the offer and have them really want me to be in the program, say that I would fit in and that they believed in me, it all just worked out so perfectly. I couldn't pass it up.
OFM: You must be excited to play at Cameron.
SS: Yeah, every game at Cameron is a championship atmosphere.
OFM: Do you think Jon Scheyer will be similar to Coach K in leading the team, or do you think he's going to put his own stamp on the program?
SS: I think he's going to do his own thing, but I also know he's going to take little bits and pieces from Coach K, because that's one of the greatest coaches of all time. He knows what he has to do and he's going to be great this year.
OFM: Do you know what you want to study?
SS: I'm going to study business or marketing, those are the two I'm trying to decide between. I just know that's something I'm going to need in the future. My brother does marketing in college and he says it's fun, so I might try to do that.
OFM: Obviously, your goal is to get to the NBA. In your mind, what's it going to take to get there?
SS: I just have to keep doing what I'm doing and keep expanding on different parts of my game, like my shooting. My mid-range is really good but I have to work on extending it to the 3-point line. That's what the NBA is like nowadays, so I have to work on that and I also have to work on my ball handling, so when I get to Duke I can play the 2, 3, 4 or 5, whatever they need me to play.
OFM: Has your dad [Michael] been a big influence on your basketball career, considering he played in the NBA?
SS: My dad has been my biggest role model. He's always been there for me and given me a lot of great advice. I'd say the greatest advice he gave me was to always play as hard as you can and you'll get something good out of it. That really stuck with me and a lot of [people] will say, 'You're the hardest-playing kid on the court.' To hear that makes him really proud and makes me really proud, because that's the main thing I focus on when I'm playing. To see all my work paying off is really exciting.
OFM: Do you remember him as a player or were you too young?
SS: I was too young; he retired when I was like 1 or 2 years old. I've seen some clips but I've never really watched a full game. But I know he was straight defense and shot blocking.
OFM: It sounds like your mom has been a huge influence on you as well.
SS: Yes. They've gotten me to where I am today and I wouldn't be here without them.
OFM: You've gotten to travel all over the country and even the world because of basketball. What's your favorite spot you've been to?
SS: Definitely Spain this past summer. I've been out of the country before, but I've been to the Bahamas and Mexico. I had never been to Europe and it was really fun to be there with my USA teammates. It was just a crazy experience to look at the schedule and see that your next game is against Egypt or Lithuania. It's like, 'Man, we're playing a different country right now.' Everybody is speaking different languages on the court. We were right on the beach in our hotel, so whenever we had down time we were able to go to the beach. Everybody saw us walking around in our USA stuff and they were taking pictures. It was just a cool experience.
OFM: Of course you won the gold medal and got to play with guys like DJ Wagner, the No. 1 recruit in the class. Did you all bond pretty quickly?
SS: It was kind of like our Montverde team. We were already there for so long trying out for the team, and we stayed together in the Colorado Springs facility. So we were already becoming friends there, and then when we made the team at final cuts we started practicing together and it was fun. We all liked each other and played well together. We had to travel 14 hours in one day, and we were together all day, every day for three weeks. Then we won gold together, so now whenever we see each other we're all friends.
OFM: What are your hobbies when you're not playing basketball?
SS: I don't really have many. I like to do stuff that any normal kid does, like play video games with my friends, ride my bike around my neighborhood, listen to music, watch movies with my family, hang out with my friends. I just like to have fun like any normal kid. I've always liked going to amusement parks too.
OFM: What's your favorite ride at Universal?
SS: This is a funny story. It was definitely Rip Ride Rockit, but then I grew and I went there one day and they said … I was too tall to ride the ride. So I haven't been able to ride it in like a year and a half. So my favorite ride is The Hulk now.
OFM: What's your favorite basketball movie?
SS: My favorite movie and basketball movie is Space Jam—the original. The remake was trash. There were so many things they could've done to make it better and they just didn't do it.
Lorenzo Amaral, Oviedo boys soccer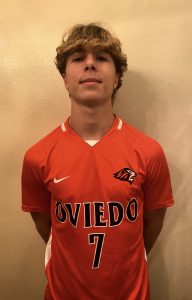 A four-year varsity contributor, Amaral was named Seminole Athletic Conference Player of the Year after scoring 14 goals and adding four assists as a junior. He comes from a soccer family—his father Leandro played professionally, and he is a triplet whose brother and sister also play at Oviedo—and he will continue with the sport at Brown University.
OFM: Are you excited to see what you can accomplish in your final season at Oviedo?
LA: Yeah, I'm excited for senior year. We have a lot of new players coming in. I've been playing for four years so I really want to make this last year a special one. I want to push the team and go far this year. My goal is to put in as many goals as I can, and also get assists as well for my teammates. But in the end I really just want to make it far in the playoffs because we haven't had the best luck with that. I think this season is going to be really important for me and the team to push in the playoffs and go far.
OFM: Do you expect to be more of a leader as a senior?
LA: Coach chose me as captain with my other senior teammates. I want to lead my teammates, especially the younger ones who are new to the school. I just want to get the best out of them and give my best to the coach and hopefully we can have a successful season.
OFM: Did you start playing soccer at a young age?
LA: Yeah, I started playing when I was 5 years old with my dad, who played pro. My brother and sister played too. It's good how far we've come. I've always had soccer in my life and I want to continue doing what I'm doing and keep getting better.
OFM: What do you love about the game?
LA: I've always just loved the sport. I grew up with it and all my life I've been watching it with my dad and playing it with my brother and sister. It was always my passion and in my future I want to continue with soccer. I just love being around my teammates, working with them and performing, and I think there's still much to come. I'm willing to work hard to become a better player.
OFM: Where did your dad play?
LA: He played in Brazil for multiple teams like Vasco, Flamengo, and then he played in Italy as well and for the Brazilian national team in the qualifiers. I really look up to him. He's coached me and I've really learned from his game.
OFM: Were you born in Brazil?
LA: Yes, and then we moved here when I was 6 years old. I still remember Brazil; we lived in San Paolo and then Rio de Janeiro when my dad played for Flamengo. It was really nice there. We moved here and it was different at first, but me and my brother and sister were really young so it was easy to adapt.
OFM: Have you ever gone back to visit?
LA: I've actually never gone back. We planned to but only my mom and dad have.
OFM: What do you like about growing up in Florida?
LA: I really like the environment and the weather. Even the area around school is a really nice place. I think Florida is the perfect place. Me, my sister and my brother grew up here and developed a lot of friendships and memories here.
OFM: Are you excited for the World Cup?
LA: Yeah, I'm really excited. It's in November, I wish it was in the summertime, but I'm really excited and I hope Brazil wins it. I'll definitely be looking at that.
OFM: I know you're a very good student too. Obviously, you put a lot of time into soccer, but has schoolwork always been important to you as well?
LA: School is always going to come first. For me and my family, that's really important. I have to get my academics right first and then soccer comes after that. I just think it's really important to build your structure around academics. My education is definitely a priority and I think a lot of good things will come out of that.
OFM: How is your college search going?
LA: I actually committed to Brown University a month ago, so I'll be going up there next year and playing. It's really exciting.
OFM: What did you like about Brown?
LA: I was really new to the [Northeast] but the school is nice and it's in a nice area, close to downtown Providence. I liked the environment, not just with the school but with the coaches and I thought it fit me and what I wanted to do. The coaches were welcoming, they talked me through the process and how they wanted to incorporate me into the team and how they wanted me to be a big part of the team. That really got me excited. It's a huge step for me and it's going to take a lot of hard work, but it's something I couldn't pass up and I had to take the opportunity.
OFM: Are you ready for the cold weather of Rhode Island?
LA: I'm not really ready. I went up and talked to the coaches and they said it gets really cold up there. I'll be fine but it will definitely be a big change. I'm going to be buying a lot of sweaters and hoodies.
OFM: Do you know what you want to major in?
LA: I still have some time to think about what I want to do but I was thinking something in business.
OFM: Would you like to play soccer professionally?
LA: That's the dream for me. I definitely want to be a pro soccer player, since I was little that's always been my dream. It's step by step, but at the end that's one of my goals.
OFM: What do you like to do for fun in your free time?
LA: I like to hang out with my friends a lot and I like playing tennis with my brother and my sister. Sometimes in my free time I like playing soccer too. But I just like hanging out with friends, spending time with family, vacationing and traveling.
EJ "Jizzle" James, Olympia boys basketball
A 6-foot-2 senior guard, James poured in more than 25 points per game as a junior while adding 4.5 rebounds, 3.4 assists and 2.3 steals to lead Olympia to its first district title in program history. He will continue his career at Cincinnati.
OFM: Does it feel weird that it's your final season at Olympia?
EJ: Yeah, but I had a talk with my coach and I'm ready for it. I'm excited and I'm ready to win it all.
OFM: What stands out when you look back on your junior season?
EJ: A lot of good things happened for me and the team. I think we overachieved last year. I think we did some things we didn't think we could do, and that's a big momentum swing into this year. We have the pedigree now and we just have to get to the final destination.
OFM: What are your main goals for yourself and the team?
EJ: Just to win states; that's the only thing I'm thinking about. … I know I'm not far from being the all-time [points] leader at Olympia, so that's one [individual] thing I can accomplish.
OFM: You can impact the game in a lot of different ways. What's your favorite part about basketball?
EJ: I just really like to win, that's my main thing. I'll do whatever it takes. If I have to score I'll score, if I have to distribute I'll distribute, and if I have to defend I'll defend.
OFM: Who are some of the other guards you admire?
EJ: I've always liked Russell Westbrook. He's my favorite. I like his attitude, his aggression, his mentality—everything.
OFM: Central Florida has a lot of great basketball and it's gotten better in recent years. Who are some of the guys you like to compete against?
EJ: Sean Stewart—that's my guy and I really like to compete against him. He's one of my best friends and we came up and got better together. He's one guy I always liked to compete against.
OFM: What made you want to commit to Cincinnati?
EJ: I love the atmosphere and the culture there. The principles [in the program] are the principles that I've been brought up on and it's really like going to Olympia again. The coaches are great and I love the chemistry with the players and how they hang on and off the court. I love everything about it and the fans made me feel even more like home. We're building something great.
OFM: Have you grown up watching March Madness and is that something you're looking forward to being part of?
EJ: I'm looking forward to being part of it, but I was never really into college basketball. I was into the NBA, so now I'm going to be more tuned in than ever so I know what I'm getting into.
OFM: Has your father [former NFL star and Hall of Famer Edgerrin James] helped prepare you for what's to come?
EJ: Yes. He always has me in the best situations for training and he makes it tough on me in my workouts. I always push myself to get better every day.
OFM: Did you ever play football?
EJ: I used to play when I was a kid up until seventh grade. My brother is good at football but I wanted to be good at basketball and I took it serious. My dad actually wanted me to play basketball.
OFM: How did you get your nickname?
EJ: It's just something I've always grown up with. I had that name since I was a baby. Everybody calls my dad EJ so they came up with Jizzle when I was a baby, and I stuck with that. I made a name for myself so that's what I go by.
OFM: How far do you think you can go with basketball?
EJ: I want to play in the NBA, that's my main goal. If not, I want to go into business.
OFM: What are your hobbies when you get a break from basketball?
EJ: I'm really into playing [NBA]2K, that's my game. I like to play with the Warriors or the Nets.
OFM: What do you like about going to school at Olympia?
EJ: I like everything about it. I like the culture here, I like being around it every day, and it makes me feel at home. I've been here for all of [four] years and it's what I know, and that's why I didn't want to transfer anywhere. I wanted to finish this thing that we started with my coach.
OFM: What's the best part about growing up in Florida?
EJ: There's no cold weather. In Cincinnati it gets old, but I'm ready for it. I like getting dressed up.
Jasmynne Gibson, Colonial girls basketball
Gibson, a 6-foot junior forward, has established herself as one of the best bigs in the area and averaged 14.3 points and 7.6 rebounds as a sophomore at West Orange. She has transferred to Colonial for her junior season, joining a talented group with high expectations.
OFM: How is the adjustment to your new school going?
JG: It's going good, I like it. It wasn't really a tough decision because I already knew I was leaving West Orange, but picking a school was kind of a tough decision. Over the summer I met coach [Cindy Richardson] and met the team. Way before I even knew I was going there for sure, [they welcomed me].
OFM: It's a talented group. What do you think you can accomplish together?
JG: I think we can go all the way to states and possibly win the whole thing. We have a good group of players and we all have the same mindset and the same goal of wanting to win. That's one thing I like about our team, that we all push each other and we're all here for the same reason, so it works really good.
OFM: Do you have any specific individual goals?
JG: I just want to keep doing what I'm doing and get my stats better. Honestly, not even in the games, I just want to get better at my game. Even in practices, I want to work on what I'm doing and get better at that.
OFM: You're really tough inside with your scoring and rebounding. Are you trying to add other dimensions to your game?
JG: Yes. … This summer I've been moving toward the outside and playing more of the 3. I've been working on my ball handling and my jumper, more guard stuff, but still working on my moves on the inside. I like playing the 3 and being able to go back and forth between the inside and the outside.
OFM: Have you always loved basketball?
JG: Yes. I started off playing soccer and then my brother started doing basketball and track, so I moved into basketball and track. I still am doing track, but I started playing basketball more and I started taking it serious in middle school. I had a really good group of girls and good coaches on my first AAU team and I think that helped me fall in love with basketball more and know this is what I wanted to do. It's always been a thing I enjoyed.
OFM: So you have one older brother?
JG: I have two older brothers. One is a freshman at Oklahoma right now [Jayden] and plays football. He played basketball for the longest time but in high school he took football more seriously. He's doing really good and he influences me because he's at the point that I want to get to.
OFM: How is the recruiting process going for you?
JG: It's going good. It's a little slow but it's starting to pick up, so I can't complain. I want to major in business, so I'm looking for a school with a good business program and I want to play for a coach and a team that have a connection and get along—a family-based team. Some days I want to go far and some days I want to stay close, but it doesn't really matter, I just want the best opportunity.
OFM: What do you like about growing up in Florida?
JG: The weather. Even though it's hot, I'd rather be hot than cold and I like the sun.
OFM: What do you do for fun when you're not playing basketball?
JG: I like hanging with my younger brother. When I'm not playing sports, I'm with him most of the time.
OFM: Are there any basketball players you look up to?
JG: I really like Candace Parker and Maya Moore. They both play the position I want to play so I look up to them.
Cameron Galvin, Freedom girls wrestling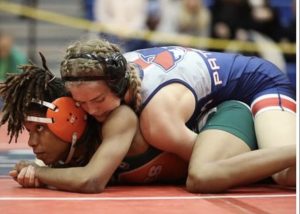 Galvin, a senior, captured the 115-pound state championship last season in the first year that girls wrestling was officially sanctioned by the state. She posted a 32-1 record overall and helped lead Freedom to a top 10 national ranking.
OFM: Last year was a special season for you and the team. What stands out when you look back on it?
CG: It was special because it was the first year [girls wrestling was sanctioned] and we were able to make a statement. … We knew we were the best team out there and we actually finally got to prove that. It was great that we got to prove ourselves with a real, sanctioned state tournament and we're going to keep working off those accomplishments.
OFM: What did it mean to you to win an individual state title?
CG: It meant a lot. We were all just thankful for all the people who came before us and everyone who worked so hard to make it official. My brother wrestled so I watched the state tournament for the guys, and we just had our state tournament at a high school gym [previously], so it meant a lot to be acknowledged and have people take us seriously for the first time as a sport.
OFM: You had an interesting celebration dance after winning states. Was that planned?
CG: [Laughs] I had some different celebrations in mind but me and my team decided I was going to do the worm. I just thought it would be very funny if I dropped down and did the worm after I won. I grew up doing gymnastics so I've done a lot of things like that.
OFM: For the team to finish ranked in the top 10 in the country is such a great accomplishment. What did you and your teammates think about that?
CG: We thought it was awesome. Going to states, we were obviously all prepared and we knew we could win. But actually winning and seeing how it happened made us all realize how good of a team we were and how we all came together and performed. It made everyone a lot more confident in our abilities and we were so proud we could lean on each other for support throughout the whole thing.
OFM: How old were you when you first got into wrestling?
CG: The first time I wrestled I was 5 or 6, but I only wrestled for a couple of years and then I stopped and did gymnastics up until the beginning of my sophomore year. That's when I started wrestling again. I stopped doing gymnastics and my best friend at the time was wrestling; my brother wrestled in high school and my dad had wrestled in college at Central Michigan, so they really pushed for me to wrestle. I just decided to try it out.
OFM: Do you tell other girls how much fun you're having in the sport and the lessons you're learning through wrestling?
CG: For sure. I think it's a really great opportunity for other girls and I try to express that. I think it really helps your hard work and dedication, and it definitely helps your confidence as a person. Going out on the mat, you're the only one out there and you can't depend on other people. That attitude transfers into all of my other things like academics and just being a person.
OFM: You were part of Team Florida at nationals in Fargo. How was that experience?
CG: It was really good. It's cool how all the people in Florida come together and it's nice seeing people who you only see once a year at the tournaments. You spend a lot of time with your team so we could really connect and focus on wrestling. It was fun meeting all the coaches, and the arena they have is really nice for the tournament. It's cool seeing how other people take the sport as seriously as I do. They definitely make it as big of a deal for girls as for guys.
OFM: I saw you got to meet Jordan Burroughs there.
CG: Yeah, that was awesome. I had my Jordan Burroughs Asics, even though he doesn't work with Asics anymore, which is really sad. I had him sign my shoes so that was cool.
OFM: What did it mean to have Kailey Rees as a teammate for the past few years? Did you learn a lot from her?
CG: I definitely did. I owe a lot of my success to Kailey because she was one of my first practice partners and if it wasn't for her, I wouldn't have learned as fast as I did. The first couple months of me wrestling was her beating me up every day, which at the time was not fun. But I owe it to her for helping me get to this level and she was one of my best friends, so it was a lot of fun being on the same team as her.
OFM: What are your main goals for this year?
CG: My obvious goal is winning another state title and helping our team win states. … My goal for any tournament is to win it and I'm definitely going to Fargo again next year and I want to be an All-American.
OFM: Do you want to wrestle in college?
CG: I'm not sure right now. I'm looking at all of my options.
OFM: So you want to go to Auburn, which doesn't have a women's wrestling program. Why Auburn?
CG: My really good friend goes to Auburn and she loves it, and I want to go to an SEC school with big football games. I want to do environmental engineering and they have a good engineering program.
OFM: What do you like to do for fun aside from wrestling?
CG: I'm on the bowling team and bowling has turned into my new favorite activity. The bowling team us super fun because nobody really cares too much, we just go and have fun. It's a nice break from the serious practices, and I'm also pretty good so that makes it fun. My high score is 192 and I want to get to 200.
OFM: What do you like about growing up in the Orlando area?
CG: When we first moved here [from Michigan], I was really little and we didn't know if we were going to stay. We got passes to all of the parks and growing up like that was really cool, because all of my relatives dreamed of going to Disney and it was right in my backyard. There are a lot of opportunities around here and a lot of stuff to do. Going to school in Orlando, I've met so many people from different cultures and it's helped me grow as a person.
Trinity Turner, Dr. Phillips girls basketball
A junior point guard, Turner can impact a game in multiple ways, as evidenced by her averages of 15.9 points, 8.6 rebounds, 6.4 assists and 3.4 steals as a sophomore. She led Dr. Phillips to its fifth state championship and first since 2013.
OFM: What a special season it was last year. Do you still often think about winning the state championship?
TT: I think about it every day, every time I step on the court.
OFM: Did you think that was possible going into the year?
TT: Honestly, I didn't know. I didn't know if we could make it that far. It surprised me.
OFM: What's your favorite memory?
TT: The state championship, when we went neck and neck with them. We were down the whole game and had to battle to get back in it.
OFM: A lot of the key players return this season for your team. What are your expectations?
TT: For the team, my goal is to go back to back. For myself, I just want to continue to lead my team and continue to do what I do best.
OFM: Did you work on anything specific in the offseason?
TT: My jump shot. I worked on that a lot. My dad is the one who works me out so he definitely helped me with my jump shot, and so did my AAU coach.
OFM: How did you get into basketball in the first place?
TT: I've been playing basketball since I was 4. When I first started, my dad had to sneak me into the Junior Magic just to play because I was too little. They don't let people play until they're 5 so he had to sneak me in.
OFM: What do you love about the game?
TT: I love how competitive it is because I'm a competitive person.
OFM: You're a player who can affect the game in many different ways. What gives you the most satisfaction?
TT: When I set up my teammates. That's what really gets me going, honestly.
OFM: I know your older sister plays in college. Is she a big influence on you?
TT: Yes. Every time she's down here, we have to train together and get those one-on-ones going. When I was little, she used to always beat me, but now it's me [winning].
OFM: Do you have any other siblings?
TT: I have three sisters and one brother. I'm the youngest. My sisters definitely influenced me, just watching them go to college, getting their degree and landing in good, stable jobs.
OFM: Have you started thinking about college yet?
TT: Yes, I think about college. [The recruiting process] is overwhelming, to be honest. I want to play in the Power 5.
OFM: What are your hobbies aside from basketball?
TT: I like to watch Netflix, spend time with my family and friends, go watch games, and watch basketball on YouTube. I like Money Heist and Blacklist on Netflix. I like a lot of shows; I could go on and on.
OFM: What do you like about living in Florida?
TT: I've been here my whole life. I like that there's no snow and it's always hot. There's nowhere like home.
OFM: There's a lot of good basketball too. For example, I know you're close with Jada Eaves.
TT: Oh yeah, she's like a sister to me. It feels good going against her. I love going against the best of the best, trying to compete and seeing who has built their team to be stronger. I love playing against her but she's still [my girl], no matter what.
Amelia and Raelin Miller, Bishop Moore girls soccer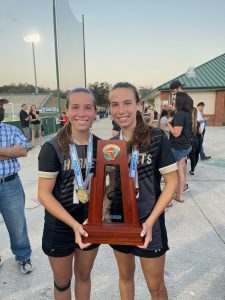 These twin sisters, now juniors, both played a key role in helping Bishop Moore claim its sixth state championship last year and first since 2007. Amelia led the team with 12 goals to go with four assists, while Raelin added 11 goals and five assists.
OFM: Obviously, last year was a special season. Do you feel that this upcoming season also has the potential to be memorable and you have a chance to repeat as state champs?
AM: I definitely think we have a chance this year. Having everyone back is a big plus and the freshmen coming in and the people on JV are all good, so I think we're going to double our chances of winning.
OFM: What stands out when you look back on last season?
RM: I think how we [won the state title] with no seniors. We had something to prove almost, even though we really didn't. We had the mentality that every game was going to be our last. I just like the feeling of playing with this team and I'm so happy we get to do it again this year.
AM: I think my best memory is when they blew that last whistle and we all ran to each other. It was like, 'Oh my gosh, we completed our goal.' Going down 1-0 and coming back right after that, 45 seconds later, was a really cool experience. After Victoria [Pou] scored the third goal to get us on top, and to finally seal it with the fourth goal, we realized we were about to win.
OFM: Did you know going into last season that you had the potential to be state champs?
RM: No. It was a dream but in the beginning I didn't know exactly what was going to happen and we were just hoping for the best. I didn't know if we were going to be able to go all the way because the year before we had a lot of seniors who left, so we thought it might be a rebuilding year. But we came back and won it.
OFM: What's it like to go through this whole experience with your sister?
AM: We definitely grew closer together and we always have a good time. The connection on the field is really strong and we look for each other.
RM: I love having her by my side. I feel like she makes me a better player and she pushes me in so many ways that she doesn't even know. We're really competitive with each other and we always want to be first no matter what, but it makes me a better player when she's there with me.
OFM: Are you close off the field too?
RM: We're always together. We like a lot of the same things. We've always been close; we've always been competitive, but I feel like that makes us who we are.
OFM: What is an aspect of your sister's game that you admire?
AM: I like the way she just goes for it. She takes the ball, dribbles it down and is like, 'I'm going to score.' And most of the time, she does.
OFM: Did you two start playing at a young age?
AM: We started playing competitively in fifth grade. We used to play tennis when we were younger and then we got into soccer. Some of our friends were playing so we played rec first, and then we started playing club and that's when we really got into it.
OFM: Were you a goal scorer from the beginning?
AM: I played a lot of midfield back in the day. I would make the passes and I wouldn't score as much.
OFM: What would you rather do now, score yourself or set up a teammate?
AM: Both are good. It's a good feeling either way, assisting or scoring.
RM: That's a good question. I like scoring of course, I feel like everyone does. But I also feel an important role is to assist; to give up a goal and give it to someone else. At the end of the day, you're going to win by scoring. It can be 0-0, but you have to put one in the back of the net to win.
OFM: Have you thought about college yet?
AM: Yes, I would like to play at the next level. I'm looking for a mid-sized school with high academics and a really good soccer program on top of it.
OFM: Do you play any other sports?
AM: Yes, I play golf and tennis for high school.
OFM: Do you have any favorite soccer players?
AM: I like Sam Mewis and Rose Lavelle. I like the way they play: They're aggressive, they want the ball, they make the passes and they get in the box.
OFM: What do you do for fun when you're not playing sports?
AM: I like to hang out with my family and friends. I like babysitting and being around younger kids too.
RM: I like hanging with my family and friends. I love playing with my cousins and going to family events.
OFM: What do you like about growing up in Florida?
AM: I love the weather and being able to play sports year-round. Up north you have to stop at a certain time for winter or go inside, but here we have sunshine year-round.
RM: We were born in Kansas but we've lived in Florida since we were 2. I think the people make the experience here a whole lot better. Being able to play really good competition in Florida is awesome, and we also have a lot of family here so that's nice.
OFM: What do you like about your school?
RM: I really like Bishop Moore. The athletics are amazing, the academics are amazing, and the people really make the community. There are so many things I could say about Bishop Moore that are amazing.
Eligh Rivera, Lake Highland Prep wrestling
Rivera earned the 138-pound title at the National Prep Championships as a junior and emerged as a leader for one of the best programs in the country. He is primed for a big senior season before continuing his career at Princeton.
OFM: Is it weird to think that you're heading into your final season of high school wrestling?
ER: Yeah, especially after seeing everyone come before me, it's weird to finally be in that position. It doesn't feel like it's real.
OFM: It's been a special career so far and you're coming off a memorable junior season. Did you think you could compete for a national title or did you surprise yourself?
ER: I think I always felt it was in the cards. For me to go out and win something, I have to believe I can win it. That was a goal of mine from the beginning of the season, and going into the tournament I didn't know I was going to win, but I pictured myself winning.
OFM: It took some nerve-wracking matches to get there, winning the semifinal in sudden victory and the final in the ultimate tiebreaker.
ER: Yeah, I'm in that situation a lot. It's not the best but you have to do what you have to do. I've been wrestling for a long time and I've been in a lot of close matches, and the more that you're in, the easier it gets. You're calmer, you know what's coming, you know what shape you're in and you're more comfortable, so you don't get as nervous.
OFM: Do you pride yourself on being able to wrestle for six minutes or even longer?
ER: That's one of the main focuses at Lake Highland—we do a lot of conditioning.
OFM: What are your goals for this year?
ER: I definitely want to repeat at Preps and there are a few other tournaments that are big for us and I really want to win. I've placed at them before but I've never won them, so as of right now, those are my goals.
OFM: What has it meant to be part of one of the elite programs in the country?
ER: I knew they were a top five team in the country and it was really special to become part of it, especially my freshman year when we had a really good team and I was the new kid. It was really cool being around kids who were ranked and it gave me goals. We always have someone in the room who is at my level or higher than my level, so it's nice to have people who can challenge me and push me.
OFM: I know you're on the road a lot traveling to tournaments across the country. Does that help you bond with your teammates?
ER: Yes. It's really cool, especially being with the ones who I compete with. I think it makes our relationships a lot closer because we're always trying to one-up the other one. … It pushes us to get better. We travel a lot so we spend a lot of time together, and we have a close-knit circle. At school, all of the wrestlers hang out together.
OFM: What made you commit to Princeton?
ER: I committed there almost a year ago, about 11 months ago. The Ivy League has always been my goal since I was in fifth or sixth grade; my dad always engrained that in us. So I looked at all the Ivy schools and Princeton has been the No. 1 undergrad school in the country. I always strive for the best and Princeton was the best I could get. The wrestling team is starting to be on the rise and they're No. 2 right now in the Ivy League and No. 18 in the country. As far as the combination of academics and wrestling, I don't think you can get any better than that.
OFM: Do you know what you want to study?
ER: Right now, I'm looking to do a business/economics major. I might do a minor in engineering.
OFM: Are you ready for the challenge of balancing schoolwork at an Ivy League school with trying to compete at a high level?
ER: I'm excited for it. I think Lake Highland prepares us well for that, because our curriculum is definitely not a walk in the park.
OFM: What's it like to have your brother Ethan as a teammate and partner in the room?
ER: It's cool. Our whole time growing up, we've always been close in weight until a year ago. We were 10 pounds apart, 15 at the most, so I've always had an in-house partner wherever I've gone. If I didn't have anyone else to work with, I could always work with him or we could go on runs together and weight cuts together. It's nice to have someone who is always with you. He'll be going at 120 for this season, so now we're a little more spread apart, but I think he'll have a good season.
OFM: Who do you usually work out with now?
ER: I try to switch it up and get a different partner every day of the week. Some days I'll go with smaller kids so I can work on my speed; other days I'll go with bigger kids to work on my strength. Then once or twice a week I'll wrestle with some of the college kids who come back and the coaches who can still move around, just so I get versatility from every aspect of the sport.
OFM: Did you and your brother start pretty young?
ER: I started in second grade and he started in first. We're originally from Pennsylvania, and that's actually late in Pennsylvania. Most kids there start in kindergarten. It's funny, our dad did it a little bit in high school and he didn't even want us to wrestle, but me and Ethan were fighting around the house so he said, 'I'm going to take you there and you can deal with some rules.' We got hooked after our first practice and the rest is history.
OFM: What part of Pennsylvania are you from?
ER: The Poconos. I have some family in Florida in Cocoa Beach, but most of my family is still back in Pennsylvania or Jersey.
OFM: What do you like about going to school in Florida?
ER: The weather. I love the weather, it's so much better.
OFM: What do you like to do when you get a break from wrestling?
ER: I really like to work on my car, play video games every now and then, and just hang with friends. I like to go out to eat, play mini golf or go bowling, stuff like that.
OFM: Do you ever get out to the parks?
ER: It's funny, I've actually never been to Disney and I've lived here for four years. I used to go to CityWalk and Disney Springs a bunch, but I've never actually been to the parks.
OFM: Overall, are you happy with the decision to move to Florida and join the Lake Highland program?
ER: Yeah, I think it's really helped my career. The coaching I've got from [Mike Palazzo] has been great. He definitely pushes us hard and that's helped me grow as an athlete and a person. I've become more competitive and more focused on my goals.