Seizing the Moment
After the spring season was cut short last year due to the pandemic, these standout student-athletes from Central Florida are making the most of their opportunities in 2021. 
When the coronavirus pandemic first struck last year, one of the first casualties was the scholastic spring sports season. Instead of chasing championships or personal milestones, student-athletes were faced with the sudden halt of their athletic endeavors. For some, it was the last time they were able to don their school colors, while others lost a key year of their careers.
Fortunately, high school athletics have come back strong since the fall, and those who shine in the spring sports are especially chomping at the bit and hoping to have a full campaign this time around. Each season, Orlando Family Magazine likes to recognize some of the local kids achieving great things both on the field and off, and as always, our area is blessed with a plenty of difference-makers who are worthy of inclusion on the list.
BASEBALL
Justin Colon, Montverde Academy, senior: A 6-foot-2, 175-pound shortstop, Colon is best known for his outstanding glove and rocket arm at shortstop but can also do plenty of damage with the bat. He is committed to the University of Missouri and could also hear his named called in July's Major League Baseball Draft.
Eric Day, Oviedo, senior: After batting .500 with seven extra-base hits in just nine games as a junior, Day is off to a scorching start in his final campaign at Oviedo. The third baseman/shortstop made the all-tournament team last summer at the WWBA 17U National Championships. He is committed to Troy University, where he is expected to have an impact right away.
Braden Holcomb, Foundation Academy, sophomore: A shortstop/third baseman who can also play the outfield, Holcomb is powerfully built at 6-4 and 215 pounds. He batted .611 with 10 extra-base hits, 19 runs and 17 RBIs in just 10 games as a freshman. A terrific athlete who also plays football and basketball, he will focus on baseball in college and has already committed to Vanderbilt University, one of the top programs in the country.
Matthew Prevesk, Apopka, senior: Prevesk, a 6-3, 190-pound outfielder who also contributes on the mound, possesses a fluid left-handed swing and is one of the top prospects in the country. He hits for power, uses the entire field and makes things happen on the basepaths as well. Considered a great teammate and a leader on and off the field for Apopka, he carries a 3.3 GPA and is committed to the University of Florida.
Ricky Reeth, West Orange, senior: Reeth has been a key player for West Orange since his sophomore year and contributes both in the outfield and on the mound. He batted .400 with 10 runs scored in limited action last spring. He will continue his baseball career at the University of Notre Dame.
Isaac Sewell, The First Academy, junior: Sewell, a lefthanded pitcher, was dominant in last spring's shortened season, as he went 2-0 with a save and allowed zero runs on three hits in 13 innings. He was an all-state first-team selection and was named The First Academy Pitcher of the Year. An exceptional student and teammate who brings out the best in those around him, Sewell has college offers from Virginia Tech University and High Point University.
SOFTBALL
Catherine Buckner, Oviedo, senior: Oviedo's captain, Buckner leads by example with a work ethic that is one of the best coach Jennifer Pecoraro has ever seen from a player. She is a top hitter and pitcher who has more than 50 career hits and tossed a perfect game last year against Seminole. Buckner, who has a 4.3 GPA and is a member of the National Athletic Honor Society, will continue her career at Florida Southern College on a softball scholarship.
Aubrey Evans, Apopka, junior: Apopka coach Mike MacWithey says, "[I]f a coach had the ability to design the perfect softball player, it would be Aubrey Evans." High praise indeed, and the second baseman/shortstop lives up to it. She has made the 9A all-state first team and all-Metro Conference first team each of the last two years, and away from softball she is a dedicated, hard-working student with a 3.8 unweighted GPA. She is committed to the University of Central Florida.
Alissa Griffin, Wekiva, senior: A varsity player since her freshman year, Griffin is a talented catcher for Wekiva who can also play third base and first base. She was an all-Metro Conference selection last year and is looking forward to continuing her career at Florida Memorial University.
Hannah Harper, The First Academy, junior: Whether she's at the plate, in the circle or playing first base, Harper finds a way to impact the game. Last season she hit .511 with two home runs and posted an ERA under 2.00 while striking out 61 in 64 innings. Known for her positive outlook and strong work ethic, she takes the same approach in the classroom, where she has a weighted GPA of 4.66. She received the 2019-20 Royal Reach Award, given to students who embrace all parts of the school, support classmates and inspire peers and faculty. Harper is committed to the University of West Florida.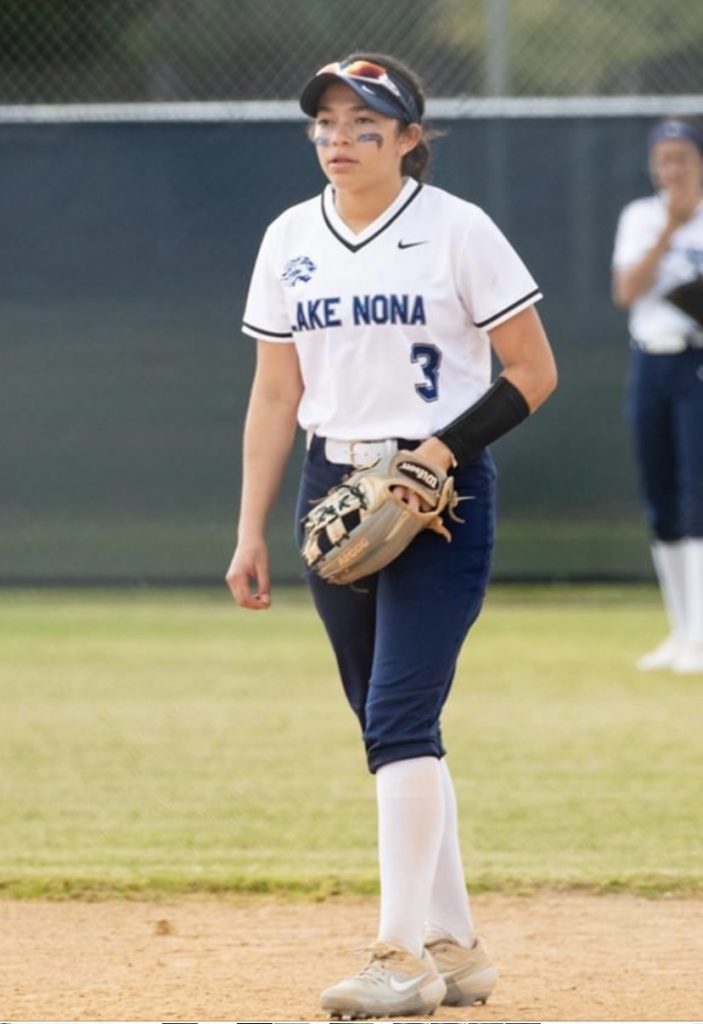 Jianna Simonet, Lake Nona, senior: Simonet, a second baseman/shortstop, seems to get on base almost every time she comes to the plate, whether with a hit or a walk. An exciting player, she will take her game to the next level at Florida International University.
Avery Viancos, Lake Nona, senior: Viancos has been a standout at Lake Nona since her freshman year and is looking to end her remarkable career with another memorable season. The outfielder is aiming for her 100th career hit before moving on to Florida Gulf Coast University.
Shannon Weems, Olympia, sophomore: Weems made quite the impact at Olympia last year as a freshman, as she led the team with a .576 batting average, 1.000 fielding percentage and posted a 1.78 ERA in 51 innings pitched. Although she is unable to pitch this year due to an injury, she is still making a difference with her bat and in the field at third base and shortstop. Weems has a 3.5 GPA and hopes to play softball in college while pursuing a career in pediatric surgery.
BOYS LACROSSE
Hayan Atassi, Dr. Phillips, senior: In just 10 games before the pandemic forced the cancellation of his junior season, Atassi was on a roll with 24 goals and 21 assists, both tops on the team. The midfielder/attacker is one of the most dangerous playmakers in the area. Atassi, who has a 3.6 GPA, is considering his college options.
Ryan Berkman, Montverde Academy, senior: The younger brother of former West Orange star Mikey Berkman—who became the first Florida player with 200 goals and 200 assists for his career in 2018—this attackman is making quite a name for himself. He had 28 goals, nine assists and 36 ground balls in just eight games last year at Windermere and is now suiting up for Montverde.
Garrett Moore, Winter Park, senior: A two-time captain for Winter Park, Moore was named the team's rookie of the year as a freshman and offensive player of the year as a sophomore. He also joined the top lacrosse players in the state on the SweetLax Florida 2021 national team and is committed to Jacksonville University, the only NCAA Division I program in Florida. He has a 3.8 GPA and volunteers with the Winter Park Lacrosse Club.
Aaron Williams, Lake Highland Prep, junior: Williams is a talented midfielder who can score, set up his teammates and contribute defensively. He recorded 16 goals, nine assists and 18 ground balls last year as a sophomore and should be even better as an upperclassman.
Sam Zagame, Foundation Academy, sophomore: Zagame was named the team MVP last spring during Foundation Academy's first-ever varsity lacrosse season for his play and his leadership. He erupted for 10 goals in one game and finished with 37 in five games. Zagame has been playing lacrosse since he was 6 and is also a starting linebacker on Foundation's regional championship football team. Academically, he is enrolled in AP and honors classes and is a member of the Junior National Honor Society.
GIRLS LACROSSE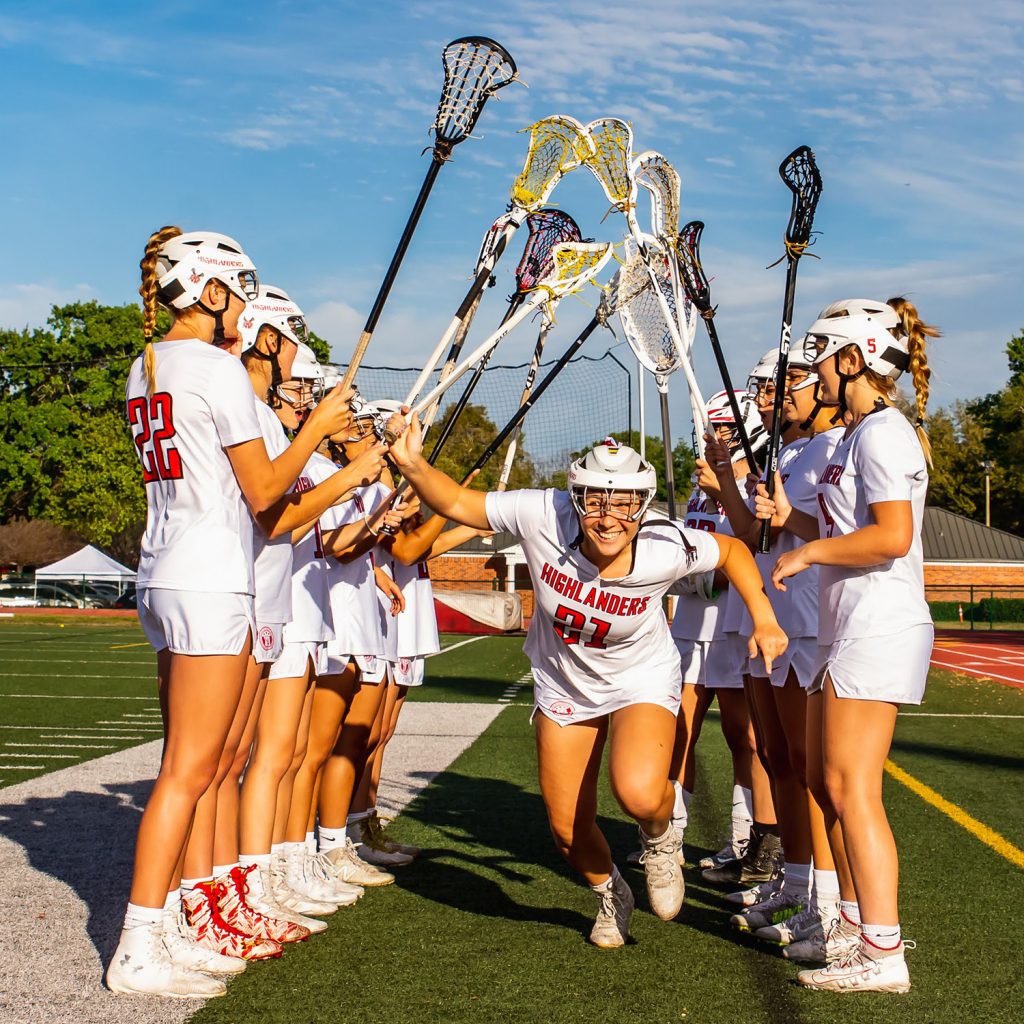 Olivia Adamson, Lake Highland Prep, senior: A dynamic attacker, Adamson can make things happen whether she's assisting on her teammates' goals or scoring herself. She is Lake Highland's overall points leader the last three years and entered her senior campaign with 265 career points. A three-time Under Armour All-American, she also competed for Team Australia at the 2019 World Cup Games, winning a bronze medal. After wrapping up her stellar high school career, Adamson is looking forward to competing in lacrosse at her dream college—Syracuse University—which she first committed to as an eighth-grader.
Ashley Thurston, Lake Highland Prep, senior: A four-year varsity player, Thurston is one of the top midfielders in the state. She is a proven goal scorer who also shines on draws, with a 75% winning percentage last season. An Under Armour All-American, she had a 4.9 GPA coming into her senior year and is a member of the National Honor Society. Next year she will follow her older sister Ainsley—a sophomore at Duke—into Division I lacrosse at Stanford University.
Barrett Walsh, Winter Park, senior: Walsh, a four-year varsity player, came into her senior season with 84 career goals after leading Winter Park in scoring each of the last two seasons. She is just as successful in the classroom; she is part of the International Baccalaureate program, has a 5.4 GPA and is a member of the National Honor Society. Away from lacrosse and school, she volunteers for New Hope for Kids, a nonprofit that supports families grieving the death of a loved one and grants wishes to children with life-threatening illnesses.
BOYS TRACK
Amer Amer, Windermere, senior: An outstanding competitor in the throwing events, Amer started his senior season by breaking his own school record in the shot put with a throw of 14.59 meters. He also owns the second-best throw in program history in the javelin and took first place in the event at last year's Sanford-Seminole Open. Amer is a standout linebacker in football as well, and this past fall he recorded 67 tackles, 12 tackles for loss and four forced fumbles.
Weston Baptiste, Montverde Academy, senior: Baptiste, who took second at regionals and third at states in the 400 meters two years ago as a sophomore, is currently ranked first in the state in the event with a time of 47.63 seconds. He clocked that time, a personal record, in January and is hoping to run even faster this spring. Baptiste expects to make a college decision in the coming weeks.
Daniel Demontagnac, Dr. Phillips, junior: Demontagnac excels in multiple sports and in the classroom as well. On the track he is currently among the state leaders in the long jump and triple jump, ranking in the top 10 in both.
Justin Kern, Bishop Moore, senior: Kern cleared 15 feet and ¼ inch in the pole vault in February, ranking him No. 1 in the state in the event.
GIRLS TRACK
Kai Eisenhardt, Montverde Academy, senior: A runner-up in the Class 2A state meet two years ago as a sophomore, this pole vaulter remains one of the top competitors across Florida. She opened her senior season by clearing 12 feet, 5 inches, a new personal record. She is headed to the Ivy League in the fall as she will attend the University of Pennsylvania.
Miracle Johnson, Ocoee, junior: Johnson has made a name for herself over the last few years as a sensational sprinter, posting low times in the 100, 200 and 400. She also contributes in the long jump.
Jahnile Registre, Evans, senior: Registre is an elite 400 runner who is also strong in the 800 and high jump. She was recruited by a number of SEC schools and chose the University of South Carolina as her next destination.
Amber Schulz, Timber Creek, junior: A state medalist in cross country, Schulz is part of a solid group of distance runners for Timber Creek and is one of the best milers in the area.
BOYS WATER POLO
Dylan Umpierre, Boone, senior: A four-year varsity player and two-year captain, Umpierre has proven to be an offensive force throughout his career. He scored 71 goals as a junior and is well on his way to besting that mark in his final campaign. Active in several clubs at school, Umpierre has also achieved the rank of Eagle Scout in the Boy Scouts of America. He has already been accepted to the University of Central Florida, Florida State University and Auburn University and is waiting to hear from several other prestigious universities before making his college decision.
Eli Schweitzer, Olympia, senior: A well-rounded player for one of the premier teams in the area, Schweitzer will do whatever it takes to win, whether that means scoring, creating opportunities for his teammates or forcing steals.
GIRLS WATER POLO
Jordan Agliano, Lake Nona, junior: Agliano burst on the scene two years ago with a phenomenal freshman campaign in which she had 178 goals, 143 steals and 53 assists. She continues to be one of the elite players in the area. Also a standout swimmer, she will focus on that sport in college at the University of Kentucky.
Lillie Herron, Boone, senior: Herron has made her mark in several sports at Boone but most notably water polo. She has played varsity for four years, serving as captain for two of those, and is coming off a 42-goal season as a junior. The student body class president, she has a 4.8 GPA and plans to major in business in college.
BOYS TENNIS

Sebastian Labaca, Windermere, sophomore: Labaca stepped into the line 1 role for Windermere last year and flashed major potential while competing against older and more experienced players. He posted a 6-2 record in singles and is playing even better this year as a sophomore, having gotten stronger and smarter as a player. Labaca, who carries a 3.1 GPA, has high expectations for the rest of his career.
Alexey Timokhine, Olympia, senior: Timokhine brought a sterling 42-1 career record into his senior season, including a perfect 13-0 mark as a junior. Had the season not been cut short due to the pandemic, he would be on his way to breaking Juan Bianchi's school record of 65 wins, which he still hopes to challenge. Timokhine competes in level 3, 4 and 5 tournaments in the USTA and has a solid 10.789 UTR (universal tennis rating). He hopes to play in college but has yet to make a decision.
GIRLS TENNIS
Noelle D'Angelillo, Boone, sophomore: After playing at line 1 as a freshman, D'Angelillo's experience in the role should lead to bigger and better things in her second season.
BOYS VOLLEYBALL
Ryan Peluso, Winter Park, junior: Peluso, an outside hitter, recorded 70 kills, 62 digs and 15 aces last year to help Winter Park go 6-0 before the season was canceled.
This article originally appeared in Orlando Family Magazine's March 2021 issue.