Super Women
A closer look at 23 ladies making a difference in our community.
When it comes to finding Greater Orlando's Super Women—women who go above and beyond to make the region a better place to live—we had no shortage of nominees worthy of the honor. Orlando Family received scores of recommendations, trumpeting the accomplishments of women who run charitable nonprofits, medical professionals, and even the top boss of the area's largest construction project. Narrowing down the list was no easy task, and we wish we could've included everyone. Regardless, these 23 Super Women have shown that with a little hard work, compassion and character, anything is possible—and maybe, just maybe, you can have it all.
Orlando Regional Medical Center Pulse-Shooting Physicians
Being the closest hospital to the Pulse nightclub, Orlando Regional Medical Center played an integral role in assisting victims and saving the lives of 35 severely injured patients during the early morning hours of June 12. As it turned out, many of the staff who were on duty at the time were women, including Dr. Aura Sofia Fuentes, a third-year general surgery resident who graduated from the University of Central Florida College of Medicine's charter class in 2013. Dr. Megan Heekin, also a third-year general surgery resident, recently celebrated her one-year wedding anniversary with her husband Matthew, and the two met while working together at ORMC. Fourth-year general surgery residents included Dr. Kathleen Relihan and Dr. Brittany Warren, both of whom graduated from Florida State University's (FSU's) College of Medicine. Several emergency physicians were also involved, including Dr. Katherine Bondani, Dr. Amanda Stone, Dr. Amanda Tarkowski and Dr. Tory Weatherford. Stone and Tarkowski graduated from University of Florida's College of Medicine, and Weatherford did the same at FSU.
Linda Landman Gonzalez
A member of the Orlando Magic's senior leadership team since 2007, Linda Landman Gonzalez's involvement with our heroes of the hardwood goes far beyond basketball concerns. She's the Magic's vice president of philanthropy and multicultural insights, and she's also the president of the Orlando Magic Youth Foundation. Landman Gonzalez has done much for the community outside the Magic, too. Currently, she's chairperson for the Central Florida Commission on Homelessness, and she's involved with the Florida Humanities Council, the Dr. Phillips Center for the Performing Arts, the Florida State Fair Authority, Florida Hospital for Children Foundation, See Art Orlando, the Women's Executive Council of United Way, and the City of Orlando's Children's Trust Committee. She's also the immediate past chair of United Arts of Central Florida, Business Force and Valencia College Foundation. Finally, she's received numerous awards and honors relating to her business and charitable activities, including being appointed by Governor Rick Scott to join the board of Volunteer Florida.
Tia Aery
Tia Aery's efforts as the executive director of Family Promise of Greater Orlando, which helps homeless families find shelter and achieve stability, are part of a family tradition, as her grandmother served meals to the needy during the Great Depression. "As the story goes," says Aery, "one homeless man marked the sidewalk outside the kitchen with a big 'X' so that others could follow and find the generous woman easily." Finding Family Promise is easy for anyone with internet access—something their clients don't always have, which is why outreach is so important to the team. And a team they are. Together, Aery and Family Promise have tripled their capacity to help families over the last two years, and they've assembled a team of skilled case managers. Under Aery's watch, they've adopted a "Housing First" approach to addressing homelessness, and they continue to provide shelter, meals and hospitality to guest families at facilities operated by the group's faith-based partners in Orange and Seminole counties.
Ena Heller
Since Ena Heller became the director of Rollins College's Cornell Fine Arts Museum in 2012, she's pulled out all the stops to not just increase the museum's collection, but to enrich Greater Orlando as a whole. Under Heller, more new works have been added to the museum's permanent collection than in the previous 25 years. Thanks to those additions and a number of new exhibitions and programs, Cornell's attendance has grown by 117 percent, and four of their exhibitions have traveled to other museums over the last two years. Additionally, the new Alfond Collection of Contemporary Art is largely displayed at Winter Park's Alfond Inn, which is operated by the college and has become a satellite branch of the museum, complete with guided and audio tours. In 2015, to help grow appreciation for art, Cornell introduced an Education Gallery for young visitors and their families, and the museum works with faculty and students to engage them with the permanent collection and temporary exhibits.
Dr. Wendi Wardlaw
As far as Dr. Wendi Wardlaw is concerned, if she's to be considered a "super woman," it's only because of a super God. "I am an example of perseverance, tenacity and drive, but above all faith," she says. Because her family moved a lot, Wardlaw attended 11 different schools before graduating from high school. She then spent 10 years enlisted in the Army Dental Corps, where she rose to the rank of sergeant, worked as a dental assistant and hygienist, and was also trained as an operating room tech in emergency field medicine. She attended dental school after receiving an honorable discharge, and eventually opened her Stoneybrook Dental practice. For the past 13 years, she's been a missionary, and she also founded Inspired Purpose Inc., a nonprofit that reaches out to the local community and abroad to provide dental services to the underserved. Wardlaw spreads the group's message through her Healthy Mouth, Healthy You syndicated radio program, which airs six days a week in 200 countries.
Donna Lorman
For Autism Society of Greater Orlando (ASGO) President Donna Lorman, the decision to join was inspired by her son's autism—but the ways she's helped the group grow during her time is a testament to her tenacity and experience. ASGO's vice president from 1997-2001, Lorman took over the top spot in 2003. The group has since enjoyed increased growth and recognition benefitting its members. Lorman's current roles include serving as an autism-awareness trainer for law-enforcement officers, chairperson of the annual Sea of Dreams event at SeaWorld Orlando, and chairperson of Adventures in Autism. Furthermore, she facilitates parent support-group meetings and social-skills groups for young adults with autism, is the awareness-campaign contact person for local doctors, coordinates social activities for members and their families, and performs many other integral tasks. In recognition of her efforts, Lorman received the State of Florida Points of Light Award in 2006, among other honors. All this, and she's been happily married for 26 years and raised two children of whom she's proud.
Debbie Jones Komanski
A rare Winter Park native, Debbie Jones Komanski has served as the executive director of the Albin Polasek Museum & Sculpture Gardens since January 2004, using her knowledge of cultural arts and local history to make it a standout arts destination. Over the past 35-plus years, Komanski's served as the president of the Rotary Club of Winter Park, UCF Alumni Association, Volunteer Center of Central Florida, and the Town and Gown Council. Furthermore, she's held key leadership positions with local nonprofits and schools, and she also works with the Florida Association of Museums, the South Eastern Museum Association, the Museum Directors Council of Central Florida, the Winter Park Cultural Collaboration, and the Central Florida Women's Resource Center board, which founded the Victim Service Center of Central Florida. Her contributions to Greater Orlando haven't gone unnoticed, either, with recent honors including the Winter Park Chamber of Commerce's 2016 Community Leader of the Year award and Central Florida Women's Resource Center's 2016 Summit Award.
Loreen Bobo
Most people tend to think of construction work as a man's world. But thanks to the I-4 Ultimate project, locals have found that's not really the case—as evidenced by Loreen Bobo, the construction program manager and prime Florida Department of Transportation (FDOT) representative on the 21-mile, $2.323 billion undertaking. "We have a large team overseeing the project," says Bobo, "but I am ultimately responsible." Her education and career path left her well poised to handle the gargantuan task, including a B.S. in civil engineering and a master's in industrial engineering. Bobo is also a wife and mother, having two sons with husband Brandon, who's a civil engineer. What's more, the I-4 Ultimate project team pairs with local schools on supply and food drives, as well as a Christmas program, and the I-4 Ultimate public-involvement team works to promote engineering at schools with engineering magnet or STEM programs. "I'm a big supporter of sharing engineering with young students," says Bobo. "If you like to solve problems and make things better, engineers do that."
Sibille Pritchard
The question isn't what Oviedo resident Sibille Pritchard has done to help make the Greater Orlando community better, so much as what hasn't she done. First, she's the chair of the International Drive Business Improvement District's Advisory Board, working with business and community leaders to keep the area's main tourist corridor humming smoothly. She's done much for local arts and history, too, having previously served as the chair of Eatonville's Zora Neale Hurston Festival. She's also a former chair of the Florida Council on Arts and Culture, chairs Orlando Ballet's board, and sits on the Dr. Phillips Center for the Performing Arts' executive board, saying of the latter, "I think it's changed the city and brought the arts to a really different level." As if the above wasn't enough, she's even found time to help her husband, Dr. Peter C.H. Pritchard, with his work at Oviedo's Chelonian Research Institute as one of the world's foremost authorities on turtle and tortoise research. The couple also raised adult sons.
Nancy Baumann
Even though she started working with Canine Companions for Independence more than 20 years ago, Nancy Baumann still has ample enthusiasm for the group's mission of providing highly trained assistance dogs and ongoing support to people with disabilities. Although Baumann reportedly downplays her importance to the organization, she's been instrumental in the group's success since she started as a volunteer. Her work has touched every facet of the organization, and her roles have included being a volunteer puppy raiser, an officer of the executive committee, and even president of the board of directors. Moreover, she recruited the leadership that enabled the organization to build the Anheuser Busch/SeaWorld Campus that serves the southeast region, and she was the founding chairperson of the group's Tales & Tails Gala. The annual event has raised more than $5 million since its inception 20 years ago. And though Baumann might be humble about her accomplishments, her impact has been anything but small to the individuals and families whose lives she has touched.
Margaret Guedes
The Orlando-based Kids Beating Cancer (KBC) charity has done a lot of good, but it took something tragic for it to get off the ground, having been founded by Margaret Guedes in 1992 following the loss of her son to leukemia. Today, KBC strives to advance cures through the science of cutting-edge treatment at its Kids Beating Cancer Pediatric Transplant Center. The group also provides resources and support for children with cancer, leukemia and related diseases throughout the treatment process. KBC pays for transplant testing and donor identification, which aren't covered by Medicaid and only partially covered by children's insurance, as well as other forms of assistance, such as a meal-voucher program for parents. The KBC Pediatric Transplant Center is already the second-largest of its kind, and it's expected to be Florida's top pediatric center by year's end. The efforts of Guedes and her organization haven't gone unnoticed, either, with Guedes receiving the prestigious H. Clifford Lee Lifetime Achievement Award in 2012, among other honors. KBC certainly has the appreciation of the families they've helped, too.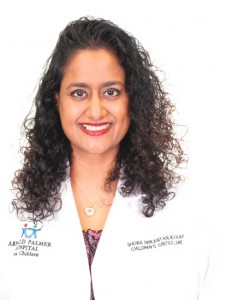 Dr. Shoba Srikantan
A pediatric critical care physician at Arnold Palmer Hospital for Children, Dr. Shoba Srikantan is a medical advisor on the board of Make-A-Wish Central and Northern Florida, and she's also on the inaugural Make-A-Wish National Medical Advisory Committee. In the latter capacity, she helps ensure that the 7,500 children who pass through Central Florida with life-threatening medical conditions can have wonderful experiences with their families. Additionally, Srikantan was recently honored with an Inspirational Physician Award from the American Medical Association Women Physicians Section, recognizing her work as a role model for other doctors. Srikantan has also reached out via social media to obtain personal video messages from celebrities like musician Ed Sheerhan and actor Robert Downey Jr. to inspire those she helps. In 2014, Srikantan was interviewed on The Today Show when a video chronicling a mother's quest to thank caregivers at Orlando Health went viral. As she said at the time, "You can go through a tragedy and still come out OK; there's time for healing."
Norma Ross
Founded in 2008 by Norma Ross, the St. Cloud-based Pawsitive Action Foundation provides highly trained assistance dogs and ongoing support to veterans and people with different abilities. "The idea for Pawsitive Action was birthed out of a time of great heartbreak for me," says Ross, who decided to become a dog trainer at a young age following a devastating incident. "There were months where I couldn't even get out of bed and function. But even during this time that seemed debilitating to me, the passion for training dogs, particularly assistance dogs for vets, wouldn't go away." To date, Pawsitive Action has successfully trained and placed 25 assistance dogs. They also offer assistance-dog training and owner-trained courses, for which veteran assistance is available, as well as pet-training classes. Ross herself is a certified trainer and professional dog-show handler; she's worked as a veterinarian assistant with experience in conformation, obedience, herding, tracking, Schutzhund and agility; and she's even collaborated with TV and movie producers using canine actors.
Kathy Adragna
Late this summer, Kathy Adragna, the director of advanced practice at Nemours Children's Hospital, stepped up to help ease the burden of families without insurance whose children needed medical checkups before enrolling in public school. An advanced practice nurse, Adragna volunteered to provide free physicals for children at a clinic run by the nonprofit Shepherd's Hope. She also recruited 11 nurse practitioners and physician assistants from Nemours, with the group volunteering 33 hours of their time. Though most of the examined children were healthy, the exams did uncover some health problems that required a specialist, likely helping a family address a challenge before it become truly serious. At her "day job," Adragna leads nurse practitioners and physician assistants at Nemours Children's Hospital and Nemours Specialty Care locations in Central Florida. She's also the immediate past president of the Florida Chapter of the National Association of Pediatric Nurse Practitioners, and she's partnered with Lake Nona High School's Health Careers Academy to help students learn about different careers in healthcare.
Judy Sarullo
The founder of Pet Rescue by Judy (PRBJ), a nonprofit, no-kill shelter, Judy Sarullo has aided animals in need throughout Central Florida for more than 20 years. To date, Sarullo and her team have helped place more than 60,000 dogs and cats, many of which arrive from less-than-ideal situations and require special medical care. Sarullo's focus is to rescue animals that are abandoned or in distress, update their vaccines, and find good homes for them—but she'd prefer to prevent any animal from needing to be rescued. Sarullo believes that education is essential to stopping pet overpopulation, and she works tirelessly as an advocate for low-cost spay and neutering. PRBJ has also implemented community-engagement programs, ranging from hosting birthday parties for young animal lovers to supporting people with disabilities, as well as providing animals to comfort retired citizens in long-term care facilities. In recognition of her service, Sarullo was presented with the 2016 Humanitarian of the Year award from the Greater Sanford Regional Chamber of Commerce.
Karen Keene
Karen Keene is the director of marketing & business development at Dean Mean, a corporate law firm with statewide reach, but what really sets her apart is her tireless dedication to community involvement and empowering other women. Since 2005, Keene has mentored women throughout Central Florida. It started when she introduced The Athena Network to Orlando via the ATHENAPowerLink program, through which she formed partnerships with area businesses to serve female entrepreneurs seeking to take their businesses to the next level. To date, 40 local women have successfully completed the program, with some claiming revenues in excess of $1 million. Keene has served on the governing body since the local chapter's inception and is the president of ATHENA Orlando Women's Leadership Inc. She's also dedicated thousands of hours to advancing the organization's national programs throughout Greater Orlando. Moreover, she developed a pilot program called ATHENA NextGen. Now in its third year, NextGen guides up-and-coming female professionals, and Keene will present it at ATHENA International's 35th Anniversary Summit for use in other cities.