Town Tour: Small Town, Big Heart
Mount Dora offers a whole lot of charm and a little bit of everything else.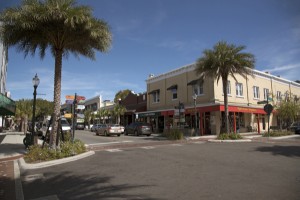 The beginnings of one of Greater Orlando's most quaint communities, Mount Dora, can be traced back to the late 1800s, when an early settler named Dora Ann Drawdy left her mark and positive influence on the surveyors with whom she worked. This originated the name Dora, and the fact that the town is situated on a plateau 184 feet above sea level served as the reasoning for Mount. Hence, Mount Dora was born.
Despite being less than six square miles, Mount Dora uses its space efficiently, to say the least. Formerly referenced as the "Antiques Capital of the South," Mount Dora is now known as "Festival City" and has demonstrated itself as exactly that. There are more than 10 annual festivals that take place here in various months of the year, and they are as rich as they are varied.
"We hold numerous festivals, craft fairs, plant, blueberry, seafood and bike festivals and many others, but our prized event is the Mount Dora Arts Festival held every year in early February," says Mayor Nick Girone. "An estimated 250,000 come to Mount Dora for this weekend festival." With crowds of that size turning out, it's easy to see that this event offers entertainment that can't be found anywhere else. Attendees will find no shortage of entertainment, because this festival boasts over 250 artists and is juried, so the talent is always on display.
Vice Mayor Laurie Tillett loves that no matter the day or season, Mount Dora is continually bustling with options. "There's a Spring Show in March, blueberries are highlighted in May, and August brings the Seafood Festival," she says. "In between the larger events are others: the Highland Games, monthly Art Splashes and many more. There's always something to do, see and enjoy here."
If you find yourself in town on a rare weekend without a festival, downtown Mount Dora has plenty of shops to keep every browser and buyer occupied. Make a stop at the expansive Renninger's Antique Mall for the largest assortment of knick-knacks in the state, or stop in at one of the many distinctive boutiques, like My Sweet Repeats consignment or Whispering Winds gift shop. If you're in need of that perfect piece for your home, be sure to visit Checkered Moon or Memories & Marvels to complete your décor. Whatever you're in the market for, downtown Mount Dora is sure to have a store that will offer it.
For those in search of a more tranquil, natural escape, Mount Dora offers plenty of relaxation, too. Head out to Simpson Cove and visit Grantham Point, the last operational inland lighthouse in the entire state. Or, if you're looking for a trip on the water, grab a rod and head to Lake Dora. Per Girone, "Lake Dora features the best bass fishing anywhere in the country; you will come back with a trophy-sized fish." If you prefer to simply capture the breathtaking moments, rest assured that Mount Dora will be the perfect muse. Often referred to as having an "Old Florida" feel, this town offers plenty of rare landscapes to fill your album.
If all that movement leaves you feeling famished, make it a point to satisfy your cravings with a meal at one of the many different restaurants in town. Grab a table at Mr. Cebiche for some authentic Peruvian cuisine, or experience the most popular brunch available at One Flight Up. If you're feeling a bit less adventurous, opt for some specialty soups and sandwiches at Breezeway Café or some housemade pesto at Olive Branch. No matter your mood, there is a restaurant for every taste in Mount Dora.
However, if these vast choices prove to be a bit too overwhelming, register for a Taste of Our Town Tour instead and let tourism guide Paula Tucker do the heavy lifting for you. Recipient of TripAdvisor's Certificate of Excellence Award, this guided tour makes eight stops in town and offers food, drinks and a specialized view of the hidden treasures in town.
Mount Dora is also notorious for its dedication to Christmas; every Saturday following Thanksgiving, the annual "Light Up" event illuminates the downtown area with over 2 million lights and features holiday singers and an impressive 40-foot musical tree. As if this wasn't festive enough, the celebration continues throughout the season with several parades, walks and even a scheduled snowfall.
Local resident Cathie King has long been familiar with the unique festivities of the town. "I started coming to Mount Dora about seven years ago when our close friends invited us up for Thanksgiving week, and we kept coming up every year after that until we moved here permanently," she says. Since making the jump from tourist to resident, King has had no shortage in options for enjoyment. "Besides the wondrous Christmas displays the entire town puts on for a month each year, I frequent the parks, area restaurants and fresh market during my free time."
Both mayors and residents alike find that one of the most charming features of this lakeside city is the thing that cannot be seen. Mount Dora has an eclectic, yet authentic feel that is omnipresent.
"It's everything you don't expect about what you thought you should expect in Florida; there's a vibe here that is inviting, welcoming and full of surprises," says Tillett. "We have a small-town feel, but if you look closely, there are so many surprises in store: shady oaklined streets, magnificent sunsets on Lake Dora, glimpses into the very long ago ecological past on the Dora Canal, strolls along the Palm Island boardwalk, peaceful parks to just sit and absorb, and most of all, a spirit of belongingness."
Furthermore, Tillett believes that the same level of friendliness will be felt regardless of whether you are a first-time visitor or a long-time resident.
King notices this charm, too, and it's one of the reasons she is proud to call Mount Dora home. "My favorite thing about living here is the close, homey feel of the town and surrounding towns," she says. "What is different in our town is the closeness of the residents and the fact that the entire town turns out to celebrate holidays." She recalls seeing this paradigm in action when out to dinner with family a few months back. "Our family was eating at a lakefront restaurant with our musician son, and the solo entertainer talked with us on his break," says King. "He invited [my son] Paddy to play with him for the rest of his set, and they are now friends." Turning strangers into friends is par for the course in Mount Dora.
It may seem hard to believe that so much warmth and activity could be packed into such a small town, but Mount Dora proves it can be done, and done well. Whether your first time or 10th trip, one thing is for sure: You'll come for the variety, and stay for the familiarity.
This article originally appeared in Orlando Family Magazine's September 2017 issue.