Warm Welcome
While most NBA teams have not yet allowed fans back into their arenas, the Orlando Magic have rolled out the red carpet. Local residents are thrilled to be seeing live basketball again in a safe environment.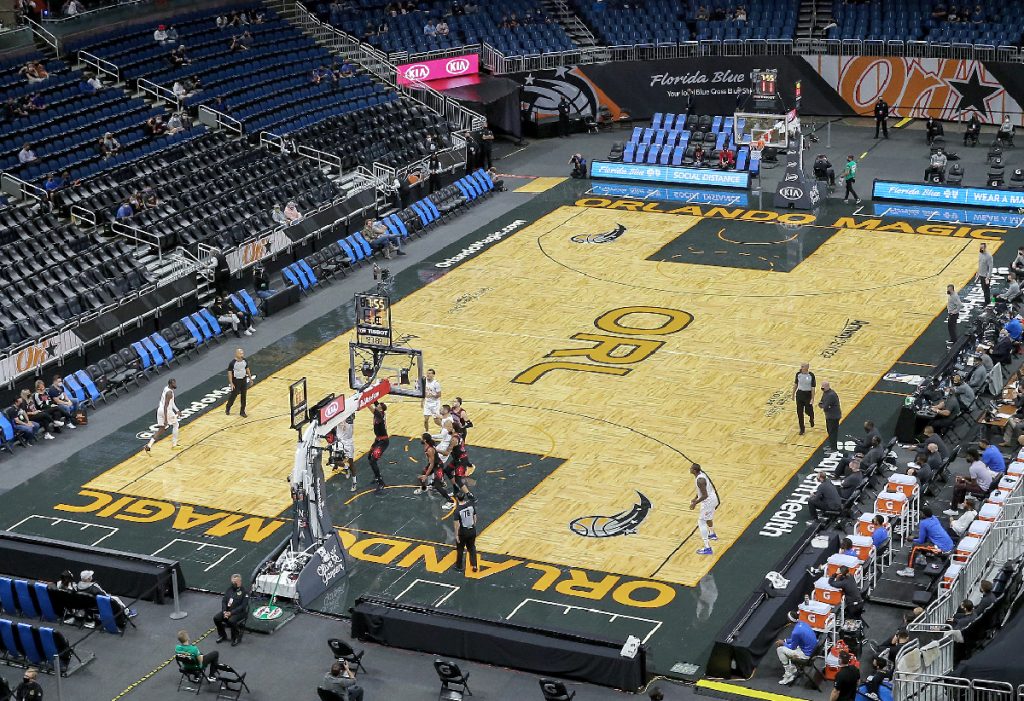 Jan. 11, 2021 will not go down as a significant date in the history of the Orlando Magic. Two-time NBA MVP Giannis Antetokounmpo and the visiting Milwaukee Bucks pinned a 121-99 loss on the home team that Monday night. Orlando hung tough for three quarters with one of the powerhouses of the Eastern Conference but fell apart down the stretch, ultimately suffering its third straight defeat.
But for at least one of the 3,248 fans in attendance, the outcome didn't even matter. Ever since the COVID-19 pandemic began, 3-year-old Rachael Schwartz had been pleading with her mother to take her back to the Amway Center to see her beloved Magic play in person. When she finally got a chance to do so, nothing was going to detract from her joy.
"My daughter and I went to the last Magic home game together before the season was cut short last year," says Lindsay Schwartz of Longwood, Rachael's mother. "She's been asking for about eight months when she was going to go back to a 'Go Magic' game, so I was happy to have an opportunity to bring her.
"The team did a really great job. They still have a lot of the concession stands open. The dancers and the mascot were still part of the experience. They were in a distanced area and it was more so on the jumbotron; they obviously weren't interacting like they normally do. But it was still engaging enough that my daughter said we had to stay for the whole game because it was so much fun."
Schwartz's husband has had season tickets in his family since the Magic debuted in 1989, so Rachael gets to see about 15 games per year and loves interacting with former forward and team ambassador Bo Outlaw, along with Stuff the Magic Dragon, the team's mascot. The couple's 1 ½-year-old daughter even comes along for some of the visits as well.
When the Magic were one of five NBA teams to allow fans into their arenas at the start of the season in late December, the family was comfortable returning because of the many safety protocols put into place.
"I would definitely say it was a great experience and it was safe," Schwartz says. "The people working are happy to see you there, the Magic are happy to see you there. While it feels a little bit different than it normally feels, it's a great way to get out and have a quality night with your kids. … We really just love doing it with our family and we're also happy to be out there supporting our local economy."
Schwartz's words would be music to the ears of Magic team executives, who have gone above and beyond to ensure a safe experience. Inspired by the success of the NBA bubble in Orlando last summer and fall—albeit without fans in attendance—the team was on board when the league gave the go-ahead for arenas to be filled at 25% capacity this season.
They first surveyed season ticket holders and other local fans to see if there was enough interest. Satisfied by the response, they consulted with the NBA, the Centers for Disease Control and Prevention and health experts from AdventHealth to devise a plan. And, unlike many of the teams across the league, they had the backing of state and local officials.
"[I]t's not an insignificant investment for us to be able to do this, but our intention is to be a league leader and to be an example for others," Magic CEO Alex Martins said in a conference call with reporters heading into the season. "Of course the reason why the majority of our teams are not going to be playing in front of fans is because their jurisdictions do not allow them to. … The state of Florida and Orange County allow for fans at sporting events; we've seen that with some of our other sports entities in town, whether it's UCF or Orlando City. So our intention is do it very safely, to do it in the best manner possible, to be an example for others to do it the right way and to keep our fans safe."
The team has implemented many new protocols, including having fans complete a symptom and exposure survey prior to arrival through the CLEAR app; making face coverings mandatory unless guests are eating or drinking; ensuring that seating is physically distanced between groups, which is made easier by the fact that the 18,846-seat Amway Center is limited to about 4,000 fans per game; and requiring those sitting within 30 feet of the court to have a negative COVID test, provided by the team. The Magic have also added 400 hand sanitizer stations throughout the building and have instituted a no-bag policy for this season to reduce contamination.
Despite these changes, Central Floridians have embraced the opportunity to see live basketball again. The NBA is now up to 11 teams that have welcomed fans back, and the Magic rank first in the league in total attendance.
"It was definitely a long, anticipated sense of normalcy," says Joe Rothfuss of Celebration, who is in his second full year as a season ticket holder and attends games with his 11-year-old daughter Shianne. "Getting back to the games, getting into our seats, cheering them on and having that experience is something we were looking forward to. We were excited to find out how the NBA and the Magic were going to pull it off. They pulled it off with the bubble and [now] they've seemed to have beaten out everybody—theme parks and everything—when it comes to safety. We enjoy going and we're having a good time with it."
Going to games is also a family affair for season ticket holder Karen Royalty of Orlando, who bonds with her 16-year-old grandson Ayden over the Magic. One of his favorite players is rookie point guard Cole Anthony, while she is usually seen in her Evan Fournier jersey supporting the player she calls "the backbone of the team."
"One of the reasons I decided to go ahead and move forward with the season tickets this year is I saw what the DeVos family was going to do as far as safety and it seemed like they had some great protocols in place," Royalty says. "With the pod seating we don't have anyone sitting around us and I feel very comfortable. I feel a lot more comfortable at the arena than I do at the grocery store.
"It's gone really well. It's kind of odd being there with so few fans. You kind of have to create your own excitement, but that's OK. I'm there to support the team and the guys who are out there playing the game. It's something I do with my grandson, and that's important to me. At the age of 16 you still need some entertainment and he loves basketball, so it gives us a commonality of something to talk about on a regular basis and a reason to get together."
Aaron Carlson of Windermere is in his 10th year as a season ticket holder and this one, of course, is unlike any other he's ever experienced. He notes how, instead of high-fiving a stranger in the seat next to him when Nik Vucevic throws down a dunk or Terrence Ross drains a 3-pointer, now he just looks around for the nearest person and nods his head.
But he has been impressed with how smooth the process has gone, whether completing the health survey or using mobile ordering for snacks and merchandise.
"Compared to other venues and things I've been to—everything from outdoor dining to theme parks—they're being very good with their protocols as far as safety," he says. "The first game I went to I got a beer or soda and in between sips I forgot to put my mask back on. It had been a minute since I actually took a drink and an usher came down and said, 'Please be sure to put your mask back on.' They're doing a good job of making sure it's safe.
"I've never felt like I had to wait in a line getting in and out of the arena so it hasn't been too crowded. Walking around the promenade in the terrace level is kind of eerie at times because you're used to it being so full. But whether it's someone who's never been to a game or someone who was a season ticket holder before and was a little cautious about coming back, I recommend it."
Don Smith of Cocoa Beach has had three season tickets for the last four years and usually attends with his wife and 75-year-old mother. Because of her age, he was considering deferring his tickets until next season until he saw how extensive the safety guidelines were. Because of his seats' proximity to the court, they are required to take a COVID test before each game, and even that has been a blessing in disguise.
"The Magic actually mailed them to us so I have a closet full of COVID tests," he says. "We have to take a test 48 hours before each game; it's a nasal swab test. We put those in a package and I set them outside of my office, and then a courier picks them up the day before the game. So they actually have somebody pick them up and then you usually have your test results the day of the game. … There have been weeks where we took three tests and it's been great. My wife and I aren't as concerned about ourselves but we want to make sure my mother is safe since she's in a high-risk age group. It definitely gives her a good sense of safety knowing she's being tested so much."
New fans have had a similar experience to season ticket holders. Orlando resident Jose Cabrera was invited to a game against the Cleveland Cavaliers by a friend and brought his 17-year-old daughter, Neyla.
"It was my first time ever at a Magic game or a basketball game in general and I enjoyed it," she says. "Everyone was spaced out so it was nice to know we were safe. I'm sure it would have been way more fun with a whole crowd there but especially with home schooling and everything, it was nice to get out. I'm not much of a basketball fan—I was into it because of my dad and his friends—but I would definitely go again. It was an amazing experience."
"It really was," her father adds. "To have the opportunity to go out and enjoy a sporting event like that and to feel safe and to know they took extra measures to keep us safe, it was really nice. It was a good change of pace for me and my family. It broke up the routine of staying at home and almost feeling like you're on house arrest."
The Magic have been hit hard by the injury bug, with star forward Aaron Gordon currently on the shelf, joining promising young players Jonathan Isaac and Markelle Fultz, who are both out for the season. If they hope to extend their playoff streak to three years in a row, they will need all the homecourt advantage they can get, and local fans are eager to give it to them. At the same time, they are looking forward to a season when health surveys and masks are no longer a part of the NBA experience.
"We need to get the vaccine in place and it will all go back to normal next season, I would hope" Royalty says. "Not just for the Magic but for mankind."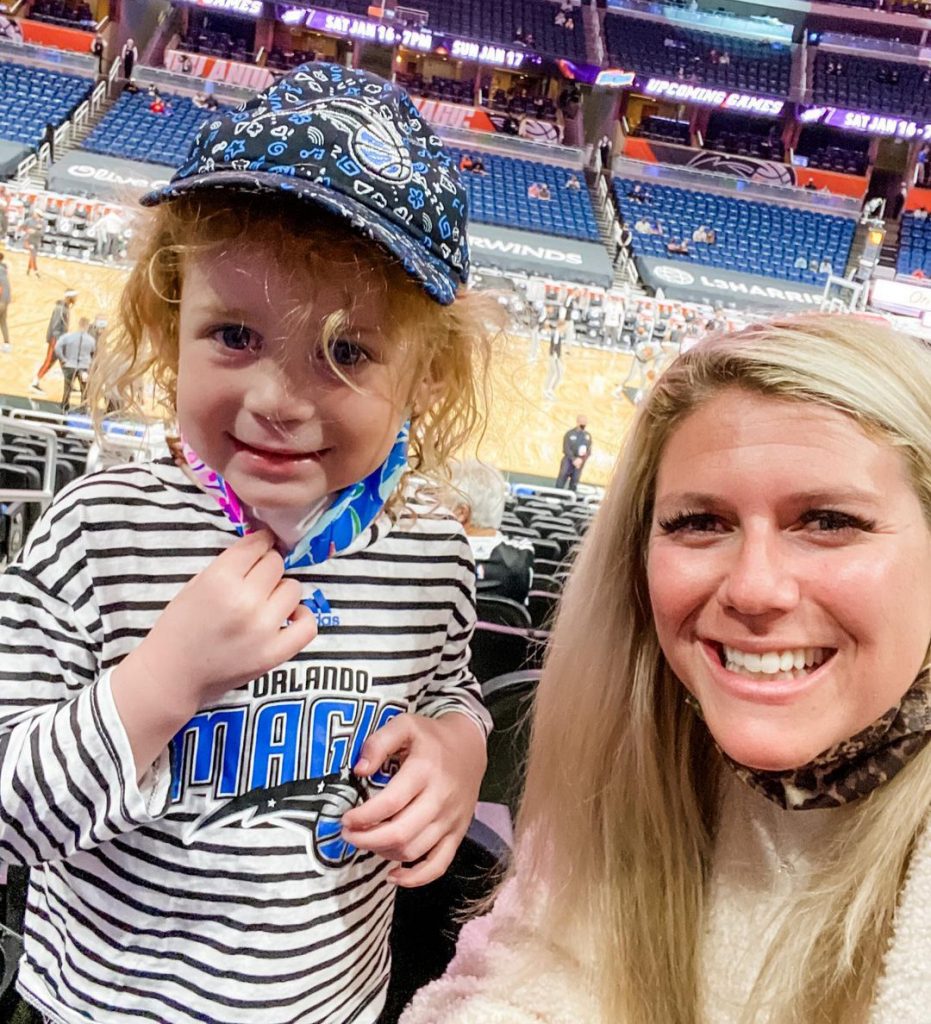 WHAT MAGIC FANS ARE SAYING
"I had a little bit of weariness as far what the atmosphere was going to be like. My family has annual passes to Disney so we are kind of used to crowds and all the policies and procedures, so that didn't really concern me too much. It was just a matter of not knowing what to expect as far as a basketball game was concerned. … Everybody was spaced out so it was like a small college game in a big arena. But it was cool and it was definitely a good game. The intensity was there more than I thought it would be toward the end and the team did a really good job."
Mike Calendrillo, Orlando
"Being season ticket holders for a few years now, a basketball season is usually about six months long and it was definitely not fun last year when they did not have games we could go to. So it definitely felt like a return to normal and the experience is actually better as far as I'm concerned. We do lose some things, some player interactions and things like that. But what you gain is there's not many people there, so it's easier to cheer for the team and they hear you, and you don't have to worry about any crowds anywhere. Obviously, I'll be happy when everybody is allowed back but it has been a great experience."
Don Smith, Cocoa Beach
"Obviously, we're not all the way back yet, but just to get a little bit of a break and go see live sports for a few hours is pretty nice. When you're cooped up in your house for so long it's nice to get out and do something that seems a little normal."
Aaron Carlson, Windermere
"We haven't been to the theme parks; we haven't taken the kids just because we don't feel fully safe with it. But this is something I've personally felt comfortable going in and out of there and confident that I'm walking out just as healthy as when I walked in."
This article originally appeared in Orlando Family Magazine's March 2021 issue.