What Lies Ahead
To find out what the new year has in store for Orlando, we spoke with local officials and experts in their fields to get a glimpse of the changes 2019 will bring.
With the beginning of another year, it's time to look forward at what's to come. To assess where we are and predict where we'll end up.
In our quest to investigate what the future holds for Central Florida, Orlando Family Magazine spoke with local officials and business leaders about what to expect in 2019. Although there are some challenges to be faced, overall, things are looking bright for the City Beautiful and its inhabitants.
Government
Last month, Orange County's former sheriff, Jerry Demings, was sworn into office as the fifth elected mayor of the county and the first African-American to hold the position. At his swearing-in ceremony, he said his goal is to make Orange County the "Experimental Prototype Community of Tomorrow," a reference to Walt Disney's original conception for Epcot.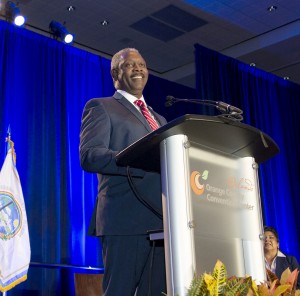 "I chose that analogy primarily because it's really forward leaning, very futuristic," he says. "And Epcot embodies the kind of community that is utopia, a community where innovation kind of intersects the environment."
As he starts his first full year in the mayor's office, Demings says he has four priorities for the county: addressing the affordable housing crisis, developing long-term solutions to regional transportation issues, supporting economic development and enhancing public safety.
The lack of affordable housing in urban areas is a widespread problem that is affecting cities across the United States. According to a survey conducted by the Regional Affordable Housing Initiative, a partnership between Orange, Seminole and Osceola counties and the city of Orlando, one in every three homes in Central Florida is cost-burdened, meaning the residents spend more than 30 percent of their income on housing.
"In order to address the affordable housing crisis, we do have to attack it from two methods," Demings says. "One is to increase wages. Two is to really stabilize the cost of housing."
Approaches he hopes to take to achieve these two directives include diversifying the local economy and incentivizing builders to create housing that is more affordable.
As for dealing with regional transportation issues, Demings says he wants to find solutions for funding scalable mass transit that will improve connectivity, reliability and access.
"I'm talking SunRail, Lynx, even well into the future with autonomous vehicles and even a Brightline, where we can better connect ourselves across Central Florida, across the I-4 corridor from Tampa to Orlando to perhaps Orlando to Miami," he says.
With economic development, Demings would like to bolster an entrepreneurial ecosystem in the county.
"We want all to have the opportunity for prosperity," he says.
And finally, on public safety, he says he wants to reduce recidivism and keep crime low. A big part of that he says will be coordinating a response to drug addiction using public-private partnerships to help people transition back into the community.
To achieve these goals, the mayor is currently seeking approval from the Board of County Commissioners for three new positions: chief technology officer, chief sustainability officer, and chief community and opportunity officer.
"As mayor of Orange County, I believe I can play a significant role in advancing these issues and preparing the county for well into the future, not just perhaps the eight years I would be mayor, but decades into the future," he says.
Public Safety
Although John Mina is Orange County's newly elected sheriff, having been sworn in at the tail end of 2018, he's no stranger to the area; having previously served as chief of the Orlando Police Department.
"The bad guys don't know jurisdiction lines," he says. "I'm familiar with the area. I'm familiar with the crime trends. The challenge for me will be getting to know this very large agency from the internal side."
Mina says one of the main concerns he'd like to address as sheriff is the opioid crisis.
"Way too many people are dying from overdoses," he says. "And I think that law enforcement has done a good job and will continue to do a good job, but more needs to be done on the prevention and intervention side."
In August, Orange County commissioners unanimously agreed to spend $11 million to beef up school security and hire 75 additional school resource officers in an effort to comply with the Marjory Stoneman Douglas High School Public Safety Act, which requires law enforcement to assign one or more officers to each school.
The sheriff's office is currently working toward hiring all of those officers and Mina says they are on track to have all the deputies needed in place by the beginning of the next school year.
Coming into office at a time when crime is historically low, Mina says he'd like to keep it that way.
"I think [people] generally feel safe in our community," he says. "But if we can continue to reduce crime and to make it even safer, that would be my hope."
Although overall crime is down, Orange County's homicide rate did increase in 2018. At the county's annual crime summit in September, officials said that in just the first six months of the year, there were 63 homicides, 23 of which occurred in unincorporated Orange County and 37 in the city of Orlando. In 2017, there was a total of 67 homicides for the entire year.
Mina says the increased rate can be attributed to the fact that 2017 had an abnormally low number of homicides.
"There's no particular pattern," he says. "No area that is experiencing homicides more than another. The previous year was just a historically low year."
When it comes to his approach to public safety, Mina says he believes in proactive policing mixed in with a lot of community engagement. He also is a proponent for the use of body-worn cameras.
"I really see the value not only for the deputies but for the citizens as well," he says. "I think it keeps us accountable and ensures we're being transparent with our community."
Economy
Orlando's local economy has remained strong throughout 2018 with low unemployment and continued growth. Although, the Congressional Budget Office projects that economic growth for the nation will slow in 2019, local leaders say Central Florida will continue to progress forward.
"There is a lot of noise out there in the broader news cycle," senior executive vice president and chief lending officer at Fairwinds Credit Union, Jim Adamczyk, says. "But it's nothing that we think will affect next year's growth in any substantial way."
In fact, the Orlando area should expect to see more job growth and wage growth.
"Everything that we're looking at going forward appears to be healthy indicators," Adamczyk says.
Adamczyk says one concern he does have for the coming year is ballooning student debt. According to the Federal Reserve, Americans owe more than $1.5 trillion in student loan debt.
"I think that is one of the things that is affecting the [young people] here in Central Florida," he says.
Orlando Economic Partnership (OEP) president and CEO, Tim Giuliani agrees that Central Florida is on track for more economic progress in the coming year. "We fully expect Orlando's growth to continue to accelerate," he says.
OEP anticipates record-breaking travel numbers at the Orlando International Airport, a sure sign of a prosperous year in tourism. Giuliani says other notable developments to watch will be the opening of Full Sail University's esports arena and continued expansion of BRIDG, a high-tech sensor-research facility in Kissimmee.
Real Estate
For the first part of the year, Orlando was in a hot residential real estate market. With a lack of inventory and no shortage of buyers, the median price of homes increased along with the number of home sales. By mid-year point, the market slowed a bit and as of November 2018, the median home price had actually dipped about 2 percent from the year's highest recorded median price, according to numbers available for the Orlando Regional Realtor Association (ORRA).
"The market is good but it's becoming a little more of a balanced market," Jeffrey Fagan, president of the ORRA, says.
Coming into 2019, the organization expects the median price of homes to continue to rise but in smaller increments than we've seen previously. "The market will be good in 2019, albeit, any growth will be slow growth and it may actually contract a little bit simply because of pricing," Fagan says.
The market has been fueled in part by historically low mortgage interest rates but experts expect interest rates to rise in 2019, which may cause the potential pool of buyers to decrease, prices to flatten or a mix of both.
According to a report from Freddie Mac, the U.S. government-sponsored mortgage-backed security seller, housing construction is still at a low and, at its current rate, not growing enough to meet demand. The reasons for this are varied including a lack of skilled tradespeople in the construction industry and the rising cost of materials and land making builders' returns on investment lower.
"At the end of the day, new construction is a little bit of a challenge right now," Fagan says.
Other housing trends to continue to watch in 2019 include younger homebuyers bucking the traditional purchase of so-called starter houses.
"So, they might put off home buying for a while," Fagan says. "But then when they buy, they buy a little bigger, a little better."
Education
In fall 2019, the University of Central Florida, in partnership with Valencia College, will open the doors to its newest campus: UCF Downtown. The campus is a part of the $1-billion, public-private Creative Village, a mixed-use, transit oriented, urban neighborhood in Downtown Orlando.
"I think it's only fitting that education will now be a key component to our Downtown," Mike Kilbride, assistant vice president for UCF, says.
Kilbride says it was important for the university to open a campus in Downtown Orlando because it will allow students access to opportunities in industries that are already concentrated in this area, while also giving businesses the ability to easily acquire highly skilled talent. UCF has had success with this location-based education model before with its Rosen College of Hospitality Management, which is located right in the thicket of Orlando's tourist attractions and hotels.
Programs that will be based in downtown when the campus opens include legal studies; health information technology and administration; and digital media and communication.
When the campus opens it will serve 7,700 UCF and Valencia students and a 15-story student housing tower will provide a home to more than 600 of those students. In addition to classrooms, there will be a library, a recreation and wellness center, and study and tutor spaces.
Because the development is on the edge of the historically African-American and low-income community of Parramore, some have raised concern that gentrification will push out residents who have lived here for a long time. But since the beginning, Kilbride says Downtown UCF leaders have been working hand-in-hand with the Parramore community to keep this from happening. Additionally, the university, in partnership with Valencia College, is working to provide pathways for every child in Parramore to obtain a college degree, among other initiatives.
To not exacerbate already existing downtown traffic and parking problems, Kilbride says that the school has been working closely with Creative Village planners. The university is also actively encouraging students and faculty to use alternative modes of transportation, with two Lymo bus stops on campus, a bike share program and direct shuttles from UCF's east campus to downtown.
Kilbride says it will be momentous when the school opens in the fall.
"We have a big vision here," he says.
This article originally appeared in Orlando Family Magazine's January 2019 issue.