From Trash to Treasure
Five Easy "Upcycled" DIY Projects
Creative do-it-yourself (DIY) "upcycling" isn't as intimidating as it sounds. Upcycling is simply transforming an old or unused item into something new, functional, and beautiful. With just a few easy steps, you can repurpose trash, like useless household items or garage sale finds, into treasure!
FUNctional Treasures: Planning a dinner party with some guests to impress? Try these three upcycles.
Serve up your creative talents by making a serving tray out of an old framed mirror. Start with paint ─ either spray paint or hand brushed. Then, measure and mark each end to finish with pretty cabinet handles.
Add a little glitz to table settings with homemade napkin rings. Cut strips of burlap and secure by wrapping a wired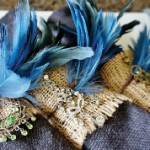 feather around the fabric. Achieve a rustic glam look with the finishing touch of a jeweled earring.
Cheers to clever party favors…turn corks into wine charms. Slice one cork into six even pieces by using a sharp serrated knife. Use a strong adhesive (like E6000) to glue varying seashells or small charms onto the front of each piece. Screw a picture frame eye hook into the top. If desired, add extra beading. Attach wine charms to the glass by using an earring hoop notion.
Household Secrets: You don't need to sacrifice style for organization. Stash your cash and loot with these DIY treasures!
Make your own jewelry organizer from an old cabinet door, drawer pulls, and knobs. First, spray paint the cabinet door in a well-ventilated space.
Once dry, use a straight edge and pencil to measure and mark the desired areas for knob and pull holders. Using markings, drill holes and then, screw in knobs and pulls. Achieve ideal function by using thin cabinet pulls to hang hook earrings or bracelets, knobs for displaying statement necklaces or headbands, and upside down cup pulls to hold stud earrings, rings, and brooches.
Are old books simply collecting dust on your shelves? With a little time and patience, a sturdy hardcover book can be upcycled into a hollowed out secret safe. To make a stealthy bookcase, remove the paper cover and protect the front and back covers with plastic wrap. Mix a medium decoupage or 50/50 glue and water solution and, then, spread on with a paint brush to seal the three edges of the book. Apply three coats, allowing each coat to dry for approximately fifteen minutes.  While the glue is drying, apply heavy pressure to the top of the book. Next, using a straight edge and pencil, mark removable area and cut out (one half inch border works well). Using a sharp knife and metal straight edge, cut out a few pages at a time, making sure to remove debris as you go, until desired depth. Apply coats of decoupage to seal the inside edges and allow it to dry.
For more ideas on turning trash into treasure, visit diyinspired.com.