Glittery Harvest Centerpiece
Add a festive focal point to your tablescape before the turkey even leaves the oven! No matter who is in charge of baking the pumpkin pie or carving the bird, the whole family can contribute to the spread by creating a holiday centerpiece. It's tradition with a shimmery new twist!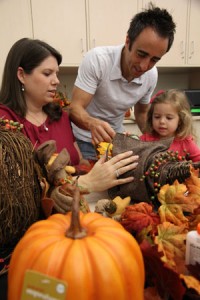 Supplies & Tools:
Twig cornucopia & pumpkin
Faux gourds & pumpkins
Autumn berry garland
Burlap garland
Sage raffia
Spray paint: gold, copper
Glitter: gold, copper
Glitter glue
Tacky glue
Wire cutters
Blue painter's tape
Waxed paper (to catch excess glitter)
Directions:
Apply painter's tape to stems, or remove stems from faux gourds and pumpkins; spray gourds and pumpkins with gold and copper paint. When dry, remove painter's tape or replace stems.
Wrap burlap garland around cornucopia and tie in a knot; trim ends. Apply glitter to the top and opening of the cornucopia by squeezing on tacky glue, then pouring glitter over the wet glue. Set aside until glue has dried; shake off excess glitter onto waxed paper, funnel back into container. Repeat as often as necessary to create a glittery crust. Further embellish the cornucopia with raffia and short lengths of berry garland, adding touches of glitter glue as desired.
Position twig pumpkin over waxed paper and squeeze tacky glue over the top and partially down the sides.  Pour glitter over wet glue. Repeat as desired.
Tie raffia around the smaller gourds and secure with glitter glue. Embellish a few berry garland branches with glitter glue. Tuck into the arrangement or wrap around pumpkin stems. Incorporate glitter glue into the cornucopia and twig pumpkin to blend the golds and coppers, to fill in bare spots and to add more sparkle as desired.
Approximate Crafting Time:
1-2 hours plus drying time
Created by Jo-Ann Fabric and Craft Stores®