Heart-Healthy Thanksgiving
Getting your family to eat heart-healthy, especially during the holiday season, takes effort! But the American Heart Association can help. Kick off the season by taking part in National Eating Healthy Day on Wednesday, November 4. Then, use AHA recipes to serve up delicious & heart-friendly Thanksgiving dishes.
Mom's Roasted Turkey with Butternut Squash and Asparagus
Serves 8 | 252 Calories | 71 mg Sodium
Ingredients 
Roasted Turkey
12 lb. fresh or frozen turkey, thawed
2 tbsps. dried, salt-free herbs, Italian blend
1 tbsp. vegetable oil
1 tsp. black pepper
1 cup fresh carrots (about 2 carrots), coarsely chopped
2-3 ribs celery, coarsely chopped
1 small onion, coarsely chopped
3 sprigs fresh thyme (or 1 tbsp. dried thyme)
2 sprigs fresh rosemary (or 1 tbsp. dried rosemary)
3 cloves garlic, crushed (or 3 tsps. jarred, chopped garlic)
Non-stick cooking spray
Butternut Squash
1 whole butternut squash, peeled, cut into 1-inch cubes
2 tsps. honey
1 tsp. ground cinnamon
1 tsp. dried thyme
1/2 tsp. black pepper
2 tsps. extra virgin olive oil
Asparagus
1 lb. fresh asparagus, bottom 2 inches removed
2 cloves garlic, minced (or 2 tsps. jarred, minced garlic)
2 tsps. extra virgin olive oil
1 tbsp. fresh lemon juice (or from jar)
1/2 tsp. black pepper
Directions
Roasted Turkey
Preheat oven to 425°F. Place turkey on cutting board and, with a pair of kitchen shears, cut away loose or hanging skin around neck cavity. Pat turkey dry with paper towels.
Loosen skin by inserting hand between meat and skin; gently pushing down. Pull wing tips up and back; tuck under turkey.
Mix together dried herbs and oil. Rub mixture on turkey breast, drumsticks, and underneath skin. Sprinkle pepper over entire turkey.
Fill cavity with carrots, onion, celery, herbs, and garlic. Tie legs together with kitchen string. Spray roasting pan and roasting rack with cooking spray; place turkey, breast side up, on rack. Bake for 30 minutes.
Reduce heat to 325°F and loosely cover turkey with foil. Cook for another 1 hour and 45 minutes. Turkey is done when internal temperature reaches a minimum of 165° F; it is possible that a total bake time of up to 3 ½ hours may be necessary.
Remove from oven; spoon juices from bottom of dish over meat. Let turkey sit for 15 minutes at room temperature covered in foil before slicing. Baste 2-3 times during this 15-minute period. Before cutting and serving, remove skin and visible fat.
Butternut Squash
In a medium mixing bowl, combine all the ingredients. Toss together well to evenly coat squash.
Pour onto baking sheet coated with spray. Bake at 350°F for 45-50 minutes, until squash is fork tender.
Asparagus
Toss asparagus, garlic, olive oil, lemon juice, and black pepper directly on a baking sheet covered in aluminum foil.
Bake at 350°F for 12-15 minutes, until asparagus is tender but still has a crisp bite.
Apple Bread Pudding
Serves 4 | 131 Calories | 154 mg Sodium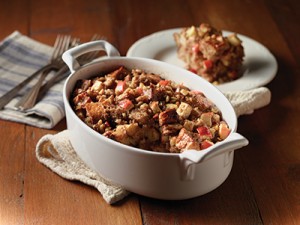 Ingredients
Cooking spray
1 whole egg + 1 egg white
1 cup skim milk
2 tbsps. brown sugar blend
1 tsp. vanilla extract
1 tsp. cinnamon
1/2 tsp. cloves or allspice
6 slices light, whole-grain or multigrain bread, cubed
3 medium apples, cored, cut into 1/2-inch cubes
*Optional: 1/2 cup of raisins, dried cranberries, fresh or dried blueberries, chopped walnuts, pecans, or almonds
Directions
Pre-heat oven to 350°F. Spray 9×9 baking dish with cooking spray.
In large bowl, whisk together egg, egg white, milk, sugar blend, vanilla, cinnamon, and cloves.
Add bread and apple cubes. Add fruit or nuts if desired; mix well. Pour mixture into baking dish; bake in for 40-45 minutes.
These recipes are brought to you by the American Heart Association's Simple Cooking with Heart Program. Turkey recipe sponsored by Walmart and apple recipe presented by SPLENDA® Brand. For more simple, quick & affordable recipes, visit Heart.org/SimpleCooking.