Fort De Soto Park – Family Troops Enjoy Campground Fun!
Located just off the shore of the Gulf of Mexico, Fort De Soto Park embodies a long military history. Yet, these days, it is better known as a family fun site thanks to its seemingly untouched, pristine beaches, an abundance of kid-friendly activities, and spacious campgrounds. The park is the largest in Pinellas County and spreads over 1,136 acres on five interconnected keys filled with native plants, including mangroves and wetlands, plus an array of wildlife such as the loggerhead sea turtles which nest on the beach, and nearly 300 species of birds.
Much of the park's natural beauty can be witnessed simply by taking a stroll along the water's edge or walking along the various trails many of which have guided tour opportunities. If your family is more adventurous, pick up a booklet at the trailhead to explore detailed information on Fort De Soto Park's vegetation and wildlife. Keep your eyes peeled for one of the many gopher tortoises that dig burrows in the soft earth and snack on the prickly pear cactus that grows throughout the park!
For the budding bird watchers in your family, a birding checklist is available for download at  
www.pinellascounty.org/park. This guide lists heavily birded areas specifically, such as the mulberry trees, and what species of birds can be found there. The campground is considered one of the best spots for bird watching in the entire park.
The park can accommodate reservations up to six months in advance. The 238-site campground is handicapped accessible and fully equipped with grills, water and electricity hook-ups, laundry facilities, showers, playgrounds, and a camp store. Bait and food concessions are available at the park's two fishing piers – Gulf and Bay –which are open from 7 am to 11 pm.
"October is one of our slower months, even though it's actually an excellent time to camp thanks to the weather and much fewer insects flying around," said Jim Wilson, Park Manager. "It does give you more ownership of the park."
Some camp sites are pet-friendly and the park offers the only dog-friendly beach in the area. This includes a grassy dog park complete with water stations. Paw Playground near Bay Pier offers areas for small and large dogs separated by a fence. Unleashed dogs can romp in the ocean with their families and make new canine friends.
Fort De Soto was named America's Top Beach in 2009 by Trip Advisor, and in 2005, "Dr. Beach" named Fort De Soto the #1 beach in the country. One trip to the sand and you'll know why. Your kids will never walk away from a family trip to Fort De Soto complaining about the lack of beautiful, whole shells – the perfect keepsake memento! Children and adults alike will love the sea life visible in the waters before the sandbar. Schools of silvery fish are not afraid to dart between swimmers' legs, and sea snails can easily find their way into your child's beach pail for study. Parents: Lifeguards are only on duty from March through September, so swim at your own risk during the off season.
Children will also love exploring the rich history of Fort De Soto, which was listed in the National Register of Historic Places in 1978. Many historic military buildings still stand and are available for both guided and self-tours. Remnants of more than thirty buildings and other military artifacts are clustered near the Gulf Pier, including the quarters used for civilian employees, soldiers' barracks, and a hospital. Battery Laidley, the primary defense for the fort, is also available for exploring and contains the last four 12-inch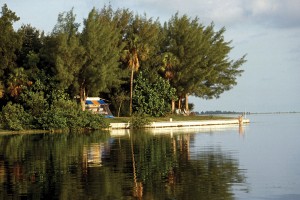 M 1890-MI mortars remaining in North America (the only others remaining in the world are located in the Philippines). Be sure to visit the free Quartermaster Museum filled with artifacts, touch-screen computers loaded with information, historic images and film clips, and exhibited dioramas and photographs.
A park entrance fee of $5 applies to those traveling via vehicle, with the exception of those in possession of a valid Disabled Parking tag. For more information on Fort De Soto Park or to reserve your campsite, visit  www.FortDeSoto.com.
Fort De Soto Park
3500 Pinellas Bayway S., Tierra Verde, FL 33715
Park Office (727) 552-1862 / Campground Office (727) 893-9185