Gold Rush: 2017 Golden Fork Awards
The 20 best dishes in Greater Orlando
What makes a meal unforgettable? We guess it depends on who you ask, but the overriding factors center around top-notch food, service and ambience. They are the keys to differentiating between a good restaurant and a great one. To be certain, there's no shortage of great restaurants in Greater Orlando, from Italian to Indian to Latin to farm-to-table, and we spent the past year dining at all of them to determine our current favorite dishes. Some are newly discovered; others are tried-and-true meals that continue to carry the torch for Greater Orlando fine dining. Collectively, they are 20 dishes that wow in every sense of the word.
Braised Creekstone Farms Beef Short Rib
Emeril's Orlando
Universal CityWalk
Not that there's anything bad on the menu at Emeril Lagasse's flagship Orlando restaurant, but this dish really brings the "Bam!" for us. With the titular braised short rib serving as the centerpiece, the experience is filled out with a cloud of whipped potatoes, stalks of fresh steamed asparagus, and a truffle demi you must taste to believe.
Other standouts: Seafood fanatics will want to give the Blackened Redfish a spin, and Emeril even has veggie lovers covered with a divine Vegetarian Pasta.
Extra bite: Don't forget about Emeril's Tchoup Chop, which delivers the tastes of the Pacific Seas by way of New Orleans.
Fried Chicken & Doughnuts
Art Smith's Homecoming Florida Kitchen
Disney Springs
Given that celebrity chef Art Smith is a Florida native and proud Southerner, it's no surprise that his signature eatery at Disney Springs taps deeply into both cultures. Our favorite is this sweet-and-savory gourmet dish, featuring two huge pieces of Smith's mouthwatering fried chicken. Paired with house-made sugar doughnuts and creamy mashed potatoes, it's a taste worth going back for.
Other standouts: It's hard to go wrong with anything here, but we also can't get enough of other main plates such as Art's Famous Fried Chicken, Shrimp & Grits, and Braised Short Ribs.
Extra bite: If you don't have time for a full meal, hit the bar for small plates and some house-made moonshine.
Pollo Di Angelo
Trevi's
Omni Orlando Resort
The food at Trevi's is so fresh that they use their own homegrown Italian herbs, and that commitment to quality is written all over this dish. A succulent chicken breast gets paired with angel hair pasta and flavored with roasted peppers, artichokes, sun-dried tomatoes, toasted pine nuts and scampi sauce. And just like all Trevi's entrées, it's available in a family-style portion that feeds four.
Other standouts: The Gamberetti, featuring baked jumbo prawns, is always worth trying, and we're also enamored of the Pesci Spada (swordfish).
Extra bite: Fans of al fresco dining will want an outdoor table, where you can eat among the in-house herb garden.
Duck Breast
K Restaurant
College Park
We love duck paired with sweetness, and this dish delivers on that combination in a big way. The Maple Leaf Farms bird is served with a pinot-noir sauce, and the combination pairs beautifully. Keep in mind, though, that Chef Kevin Fonzo reserves the right to change up the specifics when it comes to the sides.
Other standouts: If the Florida Mahi is on the menu, be sure to give it a shot, but if anything isn't worth trying on K's menu, we've yet to find it.
Extra bite: Fonzo is a legend in Orlando's culinary scene, and for good reason. The eatery's beautiful garden and extensive wine selection raise the bar even higher.
Grouper
Two Chefs Seafood Oyster Bar
Downtown Orlando
Owned and operated by two of Greater Orlando's most experienced chefs—Bernard Carmouche and Larry Sinibaldi—this restaurant is so good at seafood that even standard dishes become superstars. Take their grouper, for example. Served blackened or grilled, the fresh catch comes with mushrooms, asparagus, tomatoes and capers seasoned with lemon butter and basil.
Other standouts: As the name implies, this place is an oyster-lovers dream, whether raw or steamed. We also strongly recommend the Jambalaya.
Extra bite: It's certainly worth noting that Carmouche, an Orlando Culinary Hall of Fame member, worked with Emeril's Restaurants for more than 20 years.
Steak Frites
The Ravenous Pig
Winter Park
You can't discuss Orlando dining without giving James and Julie Petrakis' flagship eatery a seat at the table, and this tasty dish is our favorite on their farm-to-table menu. Sure, sliced steak and French fries might seem like a simple dish, but the chefs' artistry turns the porcini-marinated black Angus N.Y. strip and truffle fries into a hearty slice of heaven.
Other standouts: The Kombu Tagliatelle is a must-have for lobster lovers, and we also wholeheartedly recommend the Lamb Loin.
Extra bite: The Petrakises have won numerous "Best Chef" nominations from the James Beard Foundation, in addition to honors from Food & Wine, Saveur and Southern Living.
Spicy Chicken Louisiana Creole
Chatham's Place
Dr. Phillips
One of Greater Orlando's somewhat hidden culinary gems, Chatham's Place accentuates the fine in fine dining. Each dish is expertly prepared, but this hot option is always our first choice. First sautéed, the chicken then gets oven-roasted with Cajun spices before being topped with a Creole mustard sauce. For a la carte sides, we prefer the Spanish rice and steamed broccoli.
Other standouts: The Breast of Duck, Seared Tuna, Filet Mignon and Rack of Lamb are all strong contenders in their own right.
Extra bite: Chatham's Place has been dazzling local diners since 1988, thanks in large part to the expertise of co-owners Maurice Colindres and Chef Tony Lopez.
Braised Lamb Osso Bucco
Wolfgang Puck Grand Café
Disney Springs
The famous chef shows his mastery of Milanese cooking with this standout at the Grand Café's Dining Room. Eschewing the traditional use of veal in this dish, Puck serves juicy lamb offset by mascarpone polenta, root vegetables and fresh parmesan cheese for a complete meal that you won't soon forget.
Other standouts: The Dining Room's Crispy Pork Schnitzel is recommended for a new take on a classic, while the Florida Gulf Catch of the Day hooks us every time.
Extra bite: Between the Dining Room, Sushi Bar, main café and Express options, Puck's Orlando eatery offers flavors for every taste and price range.
Yellowfin Tuna
blu on the Avenue
Winter Park
One of ritzy Park Avenue's culinary crown jewels, blu on the Avenue prides itself on fresh, expertly prepared seafood and sushi, and this option is a perfect example. The sumac-seared yellowfin tuna pairs nicely with Forbidden black rice, five-spiced lotus root and sweet curried carrot puree for a taste that hearkens to the Far East as much as the deep sea.
Other standouts: Diners can also choose from one of 14 different gourmet sushi rolls, and those looking for something different should opt for the Grouper Schnitzel.
Extra bite: In addition to outstanding food, blu offers a wide range of classic and specialty cocktails, such as our own favorite Mellow Buffalo.
Pork Havana 38
Norman's at the Ritz-Carlton, Grande Lakes
Williamsburg
Sure, travel to Cuba is now possible for American citizens, but why go through the trouble and expense when you can get a taste of the island courtesy of one of Orlando's best chefs? The pork is stunningly presented standing on end atop rich mole and smoky plantain crema, and the black bean & sweet corn salsa and golden grits up the ante.
Other standouts: Orlando Family dining critic Michael Lit also recommends the Serrano Ham Crusted Sea Bass, and the Adobo Marinated Grilled Rack of Lamb is heavenly.
Extra bite: Chef Norman Van Aken is the only Floridian on the James Beard list of "Who's Who in American Food and Beverage." What else do you need to know?
Dine Like a Bohemian
The Boheme Restaurant
Downtown Orlando
Although it's not technically a single dish, this three-course, prix-fixe dinner is reason enough for us to visit downtown Orlando's swankiest hotel. We usually opt for the lobster bisque as the first course before moving on to the beef tenderloin au poivre before finishing with the sinfully decadent milk chocolate cheesecake, but many other options are available.
Other standouts: We've yet to find anything ordinary on chefs Laurent Holaender and Robert Walker's menu, and seasonal changes ensure you can find something new to love every time.
Extra bite: With its chic décor and upscale vibe, the Grand Bohemian is worth visiting in its own right—and while you're there, you might as well treat yourself to a fine meal.
Morimoto "Buri-Bop"
Morimoto Asia
Disney Springs
Made famous by Iron Chef America, Masaharu Morimoto saved his most impressive restaurant to date for our own Disney Springs. Served in a hot clay pot, this attention-grabber is a Korean-style yellowtail rice bowl that's finished with egg yolk, and the whole thing is freshly prepared tableside for added entertainment value.
Other standouts: Some of our other Asian fusion favorites include the Mongolian Filet Mignon, the Morimoto Spare Ribs, and the Duck Ramen.
Extra bite: Fans of architecture will find as much to love about Morimoto Asia as foodies, thanks to the Design Built Award of Merit from the American Institute of Architects.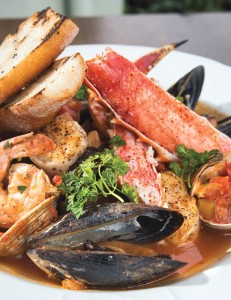 Cioppino
The Osprey Tavern
Baldwin Park
This meal might be hard for some to pronounce, but it's a pleasure for us to eat. Starting with fennel broth, Executive Chef Austin Boyd adds Key West pink shrimp, king crab, clams, mussels, scallops and tomato for an outstanding taste of the oceans. And the serving of grilled sourdough bread ensures you won't miss a drop of it.
Other standouts: Other New American meals you'll want to try include the Pan Roasted Flounder, the Veal Marsala and exceptional Cottage Pie.
Extra bite: A relatively new entry on Orlando's restaurant scene, the Osprey Tavern was founded by experienced local restaurateurs Jason and Sue Chin.
Spaghetti alle Vongole
Francesco's Ristorante
Maitland
Sometimes the simplest meals can be the most satisfying, as evidenced by our top reason to visit this outstanding Maitland eatery. Spaghetti in an extra virgin olive oil sauce that's topped with little neck clams and fresh cherry tomatoes sounds basic enough, but the magic comes through with simple, whole ingredients and the time-honored method of open-flame cooking.
Other standouts: Cooked in wood-burning ovens, Francesco's pizzas and flatbreads are as good as they get, and the Lasagna Bolognese practically melts in the mouth.
Extra bite: A native of Sicily, chef and owner Francesco Aiello studied at his home country's Instituto Alberghiero before bringing his skills to America.
Provençal Bouillabaisse
Urbain 40
Dr. Phillips
Urbain 40 hasn't been around for long, but it's already turned plenty of foodie heads with imaginative takes on classic meals, including this winner. Prince Edward Island mussels, clams, Cape Canaveral prawns and seasonal fish find perfect harmony in a robust rouille sauce, and the house-made baguette is perfect for dipping.
Other standouts: The Duck A L'Orange is another one of our regular choices, and their pasta and steak options are worth checking out, too.
Extra bite: Reminiscent of the big-band era, Urbain 40 has a hip lounge ambience that will make you thirsty for an expertly crafted cocktail.
Miso Glazed Mero
Todd English's bluezoo
Walt Disney World Resort
Cooked to perfection, this Asian-inspired dish dreamed up by celebrity chef—and restaurant namesake— Todd English has all the components of a winner. Shiitake-ginger rice pairs sublimely with the Mero (aka Hawaiian sea bass), and black garlic and sticky soy sauce ties it all together. Plus, the servers are always happy to give suggestions for the perfect complement from their wine menu.
Other standouts: It's not the sort of thing you'd expect a seafood restaurant to excel at, but the Chicken and Waffles gives a gourmet makeover to the comfort-food classic.
Extra bite: The restaurant was designed by renowned architect Jeffrey Beers, resulting in an interior that's as artistic as the dishes being served.
Route 528
RusTeak
College Park / Ocoee
Want to tour Central Florida from coast to coast without leaving your seat? This filling meal is the way to do it. Starting with grilled flat iron steak, they add kale-maple bacon garlic mashed potatoes and grilled asparagus before topping it with Cape Canaveral shrimp and creamy hollandaise. Best of all, you don't have to worry about traffic on the Beachline while dining.
Other standouts: RusTeak's Mahi Out of Control made this a tight race, and we're also known to nosh on the Syrah Braised Short Ribs.
Extra bite: Founded by Culinary Institute of America graduates Brian Buttner and Jonathan Canonaco, RusTeak lives up to its reputation at both locations.
Chairman's Reserve Delmonico
Luma on Park
Winter Park
This is one of the best reasons to visit one of Park Avenue's best restaurants, which is really saying something. Grilled to perfection, the centerpiece cut of flavorful steak is served with tri-colored cauliflower, glazed parsnips, Brussels sprouts and a caper-currant chutney. And Luma's extensive wine selection guarantees a perfect pairing with the meal.
Other standouts: We're equally partial to the Horseradish Crusted Mahi-Mahi, and the Snake River Flank Steak and Long Island Duck Confit are also exceptional.
Extra bite: Given the establishment's two-story "jewel box" wine vault, wine aficionados might actually find more to love at Luma than gourmets.
Shrimp & Saffron Fettuccine
NOVA Scratch Kitchen
Ivanhoe Village
Executive Chef Valintinus Domingo takes great care in making the fresh, tender saffron fettuccine, and the effort shines through. The shrimp and herb butter sauce mix beautifully with the pasta, as do the heirloom cherry tomatoes and oyster mushrooms. It's a great example of why this restaurant has become such a hit in a relatively short time.
Other standouts: The Pan Roasted Red Snapper is another one of our usual choices, while the Scallop and Pork Belly is a surf-and-turf delight.
Extra bite: NOVA partners with numerous local suppliers to guarantee the freshest possible ingredients, and the gorgeous lake view is tough to beat.
Char-Grilled Berkshire Pork Chop
The Chef's Table at the Edgewater
Winter Garden
The Chef's Table's three-course, prix-fixe menu changes regularly to assure the freshest seasonal ingredients, but fortunately, the Char-Grilled Berkshire Pork Chop seems to be an evergreen item. Featuring a combination of polenta, pork and candied collard greens, the dish continues to be one of the most flavorful pork chop entrées we've experienced.
Other standouts: Due to the Chef's Table's constantly evolving menu, you never know for sure what you'll find, but we've yet to be disappointed by any of it.
Extra bite: If you want to try chefs Kevin Tarter and David Lampman's succulent creations without committing to a full meal, the restaurant's Tasting Room has you covered.
This article originally appeared in Orlando Family Magazine's February 2017 issue.