New Reasons to Ride
A look at everything new and upcoming at Greater Orlando's theme parks for 2017
Looking for something to do in Greater Orlando? Thanks to the year-round presence of the world's greatest theme parks, you never need to look far. What's more, given that these modern-day marvels are constantly adding new features and improving on existing attractions, there's no fear of our backyard playgrounds becoming stale.
"It seems like every time [we're at Disney or Universal], we find something new," says Monica French, who with her husband Brian and their three kids is a frequent visitor to the area's top two parks. "If we didn't, I don't think we'd keep renewing our annual passes."
This year's improvements include more Star Wars and the debut of Pandora—The World of Avatar at Walt Disney World, new and revamped rides starring Jimmy Fallon and the Incredible Hulk at Universal Orlando, and other fresh features designed to keep visitors coming back for more. Let's strap in, make sure your limbs are inside the vehicle, and prepare to blast off to exciting new adventures.
Walt Disney World Resort
The dedicated Star Wars land at Disney's Hollywood Studios won't debut until 2019. Still, sci-fi fans will find plenty to get excited about at Disney's parks this year, as will foodies and parade aficionados.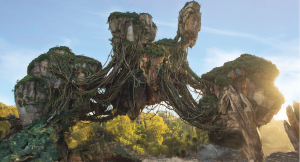 Animal Kingdom: James Cameron's first sequel to Avatar isn't due until 2018, but starting May 27, Animal Kingdom guests can visit the new Pandora—The World of Avatar area, featuring bioluminescent rainforests and floating mountains.
New food and retail options in Pandora will include the Satu'li Canteen, Pongu Pongu and Windtraders. "I think the thing I'm most excited about right now to experience would be everything in Pandora," says Bob Chapek, chairman, Disney Parks and Resorts.
Also, don't miss Animal Kingdom's new Rivers of Light nighttime show, which takes guests on a journey with a mix of water, fire, nature and light choreographed to an original musical score.
Disney's Hollywood Studios: The Force continues to be strong here, starting with the authentic replicas from Rogue One that are now on display inside Star Wars Launch Bay. Furthermore, the AWR Troopers featured in Rogue One have joined the Star Wars: A Galaxy Far, Far Away stage show.
For more Force action, the new Star Wars Guided Tour, which is available at an additional fee, treats guests to an immersive, seven-hour experience. Finally, Star Tours—The Adventures Continue will add scenes from the upcoming Star Wars: The Last Jedi.
Magic Kingdom: On May 12, Disney's flagship Orlando park will unveil its new Happily Ever After fireworks show, which will encompass more lasers, lights and projections than any of its predecessors.
Disney's Typhoon Lagoon Water Park: Miss Adventure Falls is scheduled to open this spring. In addition to being one of Disney's longest waterpark rides, the experience will tell the story of Captain Mary Oceaneer, a treasure hunter who became marooned by a rogue storm.
Disney Springs: The retail and dining destination's latest improvements include the revamped Paddlefish restaurant and Planet Hollywood Observatory.
The latter features an all-new look inside and out, as well as fresh dishes created by celebrity chef Guy Fieri. As to Paddlefish, Executive Chef Mark Boor says, "I've put my heart and soul into creating a well-balanced menu that will have something that appeals to every palate…"
Universal Orlando Resort
Between a brand-new water park, a reimagining of one of its most popular rides, and a partnership with Jimmy Fallon's Tonight Show, Universal is providing plenty of reasons to come back time and again.
Islands of Adventure: The Incredible Hulk roller coaster reopened last August after a yearlong refurbishment. Improvements include a new ride vehicle, an original score produced by Patrick Stump of Fall Out Boy, a revamped storyline, and a redesigned ride queue. Not convinced? Take recent visitors' word for it.
"It truly is incredible," says an unidentified guest on a video released by Universal Orlando's official blog. "It's really intense." A second adds, "I could ride this thing all day."
Universal Studios Florida: Scheduled to open on April 6, the new Race Through New York Starring Jimmy Fallon will take guests on a thrill ride with the host of NBC's Tonight Show. What's more, the Tonight Shop is now open and offers a wealth of related merchandise.
"Working on this project has been an incredible experience," says Stephen Moore, manager, merchandise planning for Universal Parks & Resorts. "We've worked directly with Jimmy Fallon and his creative team on the variety and design of the products."
Volcano Bay: Scheduled to open on May 25, Universal's all-new Volcano Bay water park will span 30 acres, and Universal's top creative minds have developed an original story to tie it all together.
"Whenever we create a new ride or land, an incredible story is always our starting point," says Dale Mason, vice president of Universal Creative. "And while creating an immersive, one-of-a-kind water theme park seemed like a challenge in itself, we knew amazing storytelling would be at the core of our creation."
CityWalk & Resorts: The Toothsome Chocolate Emporium and Savory Feast Kitchen opened late last year, and it's truly a chocolate lover's dream.
Additional Adventures
Universal and Disney aren't the only places in town that cater to thrill-seekers. Fun Spot America, Legoland Florida and SeaWorld Orlando are also popular destinations, and they all have something new up their sleeves for 2017.
SeaWorld Orlando: The revamped Kraken Unleashed virtual-reality roller coaster will debut this summer, and it will be the first of its kind in Florida. In addition to cosmetic changes, the ride will now have a digital overlay with uniquely designed headsets to deliver a one-of-a-kind adventure.
Also this summer, SeaWorld's new Dolphin Nursery will open, along with the Flamecraft Bar and a new, end-of-day event called Electric Ocean.
Legoland Florida: The Lego Ninjago World is now open. Inspired by the Lego Ninjago: Masters of Spinjitzu TV series, the new area's attractions include Lego Ninjago The Ride, Zane's Temple Build, Kai's Spinners, Cole's Rock Climb and Jay's Lightning Drill.
Fun Spot America: Their new, as-yet-unnamed wooden roller coaster will be the only one of its kind in the southeastern U.S. The $6 million thrill ride will feature 2,256 feet of track, a lift height of 82 feet, a 360-degree barrel roll, and a top speed of nearly 50 mph.
This article originally appeared in Orlando Family Magazine's April 2017 issue.