Over the River and through the Woods: Tips for Family Hikes
Spring is a great time to explore your region's parks and trails. But you need more than sunscreen, water, and high-energy snacks to enjoy a family hike. To maximize the fun and keep the cries of "My feet hurt…Are we there yet?" to a minimum, hiking experts offer some steps you can take before you hit the trail, as well as during your adventure trek.
Ready, Set, Let's Get Started!
Choose a trail that matches your family's hiking skill and experience. Always pace your outing to the youngest or slowest walker in your family and build-in time for breaks. If your family is new to hiking, choose a short,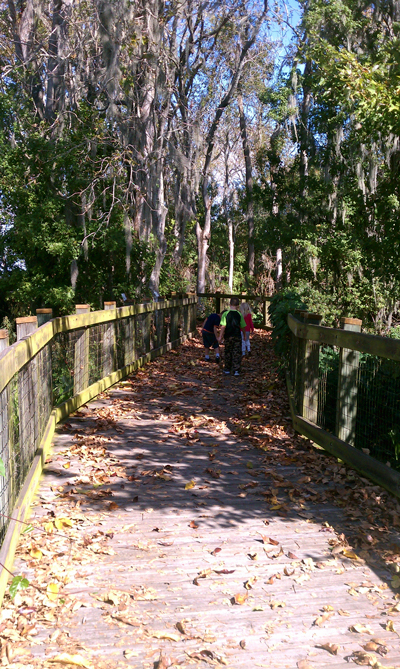 easy, circular trail. Long Branch Nature Center in Arlington, Virginia, for example, has a trail around a pond that "even toddlers can do," says Alonso Abugattas, Acting Director of Long Branch. Paved trails – like those in the rails-to-trails network – are great for families with children of different ages and abilities because they are accessible by bike, stroller and foot. Once you've built up your family's endurance, you can attempt longer and more challenging trails where your kids can scramble over ravines and boulders.
Familiarize yourself with the trail before you go. Use your local library and the Internet to gather resources about the area you'll be exploring. For example, the National Park Service offers a free, downloadable Junior Ranger Activity Book with age-appropriate activities, such as using a map, identifying trees by their bark, fruit or leaves, and interpreting trail signs. Determine the best time for your hike based on your family's routine and plan around nap-time, if necessary. A good rule of thumb is to double the estimated time you think the hike will take.
Use shady trails or hike in the morning when temperatures are cooler. Boardwalks along a beach or river are excellent places for a family excursion but, because they are often exposed to the elements, they can really heat up. Start out early so you can beat the heat and get on the trail before other hikers have had a chance to spook the wildlife. "Most animals are more active in the morning and many cold-blooded critters – reptiles, amphibians, and insects – are trying to warm up and might be sitting right out in the open," says Abugattas.
Match the destination to your children's interests. Is there a stargazer in your family? Your local nature center, arboretum, or botanical garden may offer guided walks on full moon nights, Halloween, the winter solstice, or other special evenings. Your budding paleontologist might enjoy helping park archaeologists unearth and interpret the prehistoric remains of dinosaurs, plants, and early mammals.
Take advantage of free or low-cost hands-on exhibits, theme gardens, guided hikes, and educational programs. Many state and regional parks offer family oriented programs on a range of topics – animal tracking, stream adventures, meadow rambles, and even geocaching, a modern-day treasure hunt where families use GPS units to find hidden containers.
Out on the Trail!
Roll over a log or rock and investigate what's underneath. Forget distance and destination. Stop frequently and use a magnifying glass to observe small creatures. Just remember to release any creature you corral.
Gather objects with a distinct texture or smell, such as a pine needle, a feather, a seed pod. Ask your children to close their eyes and guess what each object is using only their sense of touch or smell.
Plant a fake item along the trail and challenge your children to spot it. Choose objects that are small and easily overlooked – like a pipe cleaner animal, artificial flower or toy insect – so that your kids develop their powers of observation.
We did it!
Record your hikes in a journal. The fun and learning don't have to end when the hike does. Family members can take turns recording the sights, sounds and sensations of your outings. Even younger children who can't yet read and write can glue in trail maps, make leaf rubbings, trace natural stencils, or draw pictures.
Use a real map or Google Earth. Invite your children to recount the highs and lows of the experience. For example, "Here's where we walked over that log bridge."
Show your photos to an expert. Alonso Abugattas says that folks often ask him to identify a strange animal or plant they photographed while on a family walk.
Remember, the best family hikes have equal doses of planning, flexibility, and child-friendly adventure. Keep this in mind and your next hike will be "a walk in the park".
Trail Safety Tips
Familiarize yourself with the trail and plan your route before you leave home.
Let friends or family know where you're going and the route you'll be using.
Always carry a cell phone with a fully-charged battery.
Carry identification with your name, phone number, and any important medical information.
Stay alert, be observant of your surroundings and avoid areas where visibility is poor.
Follow your intuition about unfamiliar areas and people you meet on the trail.
Allow yourself enough time to complete your hike before dusk and never use trails after dark.
To get you started on great places to hike in Central Florida, here are a few of Orlando Family's  favorite trails.
West Side
Oakland Nature Preserve
Phone: (407) 905-0054
Location: 747 Machete Trail, Oakland, Florida 34787
Length: 2.1 miles
Type: loop & round-trip
Fees / Permits: Free, but donations are appreciated
Difficulty: easy to moderate
Restroom: At the nature center, when it is open
Open 8 AM to sunset daily. The boardwalk trail is wheelchair accessible, as is the nature center.
For more information: www.oaklandnaturepreserve.org
North Side
Blue Springs State Park
Phone: (386) 775-3663
Location: 2100 W. French Avenue,
Orange City, Florida 32763
Length: 1.3 miles
Type: round trip
Fees / Permits: state park entrance fee
Difficulty: 1 of 5 (wheelchair accessible)
Restroom: two along the hike
For more information: Blue Spring State Park www.floridastateparks.org/bluespring/
East Side
Orlando Wetlands Park
Phone: (407) 568-1706
Location: 25155 Wheeler Road, Christmas, Florida 32709
Length: 4.8 miles
Type: loop
Fees / Permits: none
Difficulty: easy to moderate
Restroom: At trailhead
For more information: www.cityoforlando.net/public_works/wetlands
If you want to see an extensive list of Central Florida Hiking Trails, visit www.floridahikes.com/hikes-for-kids/