Palate June 2017
Local food and drink we recommend trying
Top Five: Burgers
A quintet of tasty things to try this month
THREE-BITE SLIDERS
AT CHROMA MODERN BAR + KITCHEN, LAKE NONA
Chroma's French fries made this year's Best of the Best, and they pair perfectly with the eatery's sliders, which are available in Chroma Burger, Cheeseburger, Lamb Burger and Smoked Pulled Pork varieties.
BUILD ME UP
AT GRAFFITI JUNKTION, MULTIPLE LOCATIONS
Graffiti Junktion's specialty burgers are great, but we prefer to build our own. Choose from nine different bases, five types of buns, eight brands of cheese and toppings like bacon, sprouts, jalapenos, salsa, avocado or even Texas chili.
DEXTER'S FAMOUS GRILLED COLBY CHEESEBURGER
AT DEXTER'S, MULTIPLE LOCATIONS
Cheese lovers won't want to miss this winner, which pairs an 8-ounce, freshly ground burger topped with melted Colby, lettuce, tomato, onion and pickles on a grilled Kaiser roll. It's served with Idaho fries.
SAMSON BURGER
AT ETHOS VEGAN KITCHEN, WINTER PARK
Even vegans can enjoy a hearty burger thanks to Ethos. The hulking Samson starts with a huge, made-from- scratch black-bean patty before adding lettuce, tomato, red onion, pickles, sprouts, spicy mustard, ketchup and "veganaise."
FILLIN' STATION FULL SERVICE BURGER
AT JOHNNY'S FILLIN' STATION, ORLANDO
You'd better come hungry if you're planning to tackle Johnny's Fillin' Station's signature burger. It's a half-pound ground-beef patty topped with ham, mushrooms and your choice of cheese, plus lettuce, tomato and onion.
Raise a Glass: Local Craft Breweries
Libations you're sure to love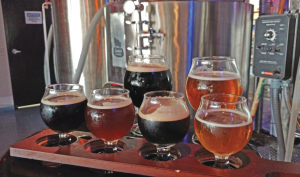 OCEAN SUN BREWING
IN LAKE TERRACE
Now that Ocean Sun's facility is open to the public, it's easier than ever to get their great brews. The Conch Cruiser, a hefeweizen, is our go-to, with the Sunny Day in Helles lager a close second, but every pour here is perfect.
TEN10 BREWERY
IN IVANHOE VILLAGE
We've yet to try a beer we didn't like at this cornerstone of Ivanhoe Village's culinary scene. Two of our current favorites include Chronically Mismanaged (red ale with coffee) and East West IPA, and all of their creations are available for growler fills.
CROOKED CAN BREWING COMPANY
IN WINTER GARDEN
For our money, this brewery inside the Plant Street Market is one of the best reasons to visit Winter Garden. From Florida-focused brews like the citrusy High Stepper to show-stoppers like McStagger, they have a flavor for all beer lovers.
This article originally appeared in Orlando Family Magazine's June 2017 issue.