Roughing It…Without The "Rough" Part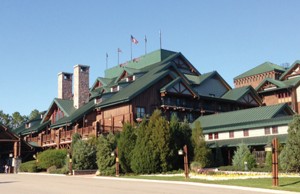 You've put your closed-toe shoes and long-sleeve shirts away, signaling the end of Florida's winter. Perhaps you would love to spend some time outdoors with your family, but roughing it isn't exactly your style… Well, have no fear, because the Central Florida area offers some amazing family-friendly getaways that do not require the purchase of a snakebite kit, hiking boots, or grungy sleeping bags.
If you are looking for a serene location with all the creature comforts of home, then Disney's Fort Wilderness Resort and Campground is the place for you! Nestled within 700 acres of natural beauty, 408 cabins and 800 campsites are available to house adventurists. Depending on your preference of wilderness lodging, a range of options are available including tents, pop-ups, full hook-up RVs, or cozy cabins. One might think you would lose the back-to-nature feeling or perhaps feel crowded, but during a recent stay, my family found the exact opposite to be true. The down-home atmosphere of this resort is unlike any other to be found on Disney property.
A positive influencer in many realms, the Walt Disney brand is known for its commitment to conservation and protection of Florida's natural resources. The Fort Wilderness Resort and Campgrounds and its sister site, The Wilderness Lodge, are no exceptions. The State of Florida has designated these resorts as "green facilities," meaning that they have adopted eco-friendly practices by reducing waste and conserving energy. Though most of the conservation practices are executed behind the scenes, guests are encouraged to utilize the onsite recycle bins and reuse towels whenever possible.
During our camping experience at Fort Wilderness Resort, my family bunked in a spacious 540-square-foot cabin equipped with a private bedroom that slept four, two flat screen TV's, full bath, and a comfortable Murphy bed (in the living room). The fully operational kitchen included a stove, microwave, and everything needed to prepare family meals. No need to worry about packing cleaning supplies because these lovely cabins come with daily housekeeping services. Just bring personal items and a sense of adventure!
Most of the resort activities involve active play or exercise. Biking, horseback riding, fishing, tennis, swimming, kickball, soccer, archery, and kayaking are offered to keep your family healthy, occupied, and happy. Joggers can also break a sweat on the three-mile trail which runs along the lake and offers a peaceful and safe place to exercise. Some sporting items carry a rental fee: rule of thumb…if your desired rental equipment is meant to go in the water or has wheels, expect a charge ─ or feel free to bring your own gear. And don't forget your fishing poles as 70,000 largemouth bass were released into the Disney lakes back in the late 1960s to stock the water for both beginners and experienced anglers alike. However, for conservation purposes, respect the catch-and-release philosophy; so don't forget your camera to truly capture your catch. Check for special daily recreational activities, such as arts and crafts, which use recyclable items as building blocks for earth-friendly projects.
But if room service (and much less dirt) is something you just can't live without, 'rough it' at Disney's Wilderness Lodge rather than at the Fort Wilderness Resort and Campgrounds. Inspired by the Old Faithful Inn and other majestic lodges of our Northwestern National Parks, the six-story lobby with its authentic detail was constructed using giant lodgepole pine logs from the Standing Dead Wood Forest, so no live trees were used. On each side of the lobby, two huge totem poles stand representing various Native American myths and legends, earmarking this décor as rich in cultural nuances. The showpiece of the lobby is the 82-foot tall, three-sided, functional stone fireplace displaying over 100 colors, which represent the two billion years that it took for the layers of rock to form in the Grand Canyon. A tradition at Yellowstone's Old Faithful Inn was to allow guests to partake in the morning flag raising ceremony. Guests of the Wilderness Lodge have the unique opportunity to enjoy that experience as well; just sign up immediately after check-in as only one family per day may participate.
Located on the edge of the lake is the Lodge's focal point: an Old Faithful inspired geyser that can shoot water from nearby Bay Lake 120 feet straight up. On a perfect spring day, guests might catch a gorgeous rainbow reflecting off the geyser's mist. Being one with nature can be accomplished in comfort, style, and ease thanks to the roughing-it options of Walt Disney World Resorts.
Experience Nature's Luxurious Side!
Disney's Fort Wilderness Resort & Campground
4510 North Fort Wilderness Trail  Lake Buena Vista, Florida 32830
(407) 824-2900
Disney's Wilderness Lodge 
901 West Timberline Drive  Lake Buena Vista, Florida 32830
(407) 824-3200