Splash Pads, A Cool, Affordable Way to Beat the Heat
Whatever they are called…splash zones, splash pads, or spray-grounds, these water facilities are sure to keep the entire family cool.
The best way to lower the temperature during Florida's hot summer season is to get wet and we're not talking about standing in the rain! Central Florida has many options for water fun, and they are often quite budget friendly. Take a look at Orlando Family's top 6 picks for free, or almost free, family fun in ankle deep water. Plan to visit all our splash pads for a cool time this summer. Park hours are subject to change. We recommend that you call the park or check the website before piling into the car, to make sure it's open and that there is no line waiting to get in. Don't forget your sunscreen!
Downey Park Splash Playground

10107 Flowers Ave. Orlando, FL (At intersection of east SR 50 and Dean Rd. (enter on Flowers Ave.))
407.254.9180
Ages: All Ages
Cost: June – August. Daily-$1/person/session.
Sessions are 10 a.m.-2 p.m. and 3 p.m.-7 p.m.
Swimming in the lake is no longer permitted.
Bet you didn't know this wealth of recreational activities even existed just off Colonial Drive? This beautiful park includes the following: splash playground, sand beach, baseball and softball complex, picnic pavilions, playgrounds, fitness area, sand volleyball, and off-leash dog park.
Capehart Park
715 Capehart Drive
Orlando, FL 32822United States Located East of Semoran, between Goldenrod and Semoran, off Lake Underhill.
407.254.9160
Hours: Hours vary. Recommend calling first.
Summer Mon.-Fri. 8 a.m. to 1 p.m., and 3p.m. to 8p.m., and Sat-Sun, 8a.m. to 8 p.m.
Cost: Free
Ages: All Ages
One of three large playgrounds that has a seasonal splash pad, a large in-ground water fountain with jets that rotate between bubbling streams to geyser sprays.
Dr. P. Phillips Community Park

8249 Buena Vista Woods Blvd.
Orlando, FL 32836 Located off Apopka-Vineland Rd.
407.254.9038
Splash Playground is now open daily.
Cost: $1/person/session
Sessions are 10a.m. to 2p.m. and 3p.m. to 7p.m.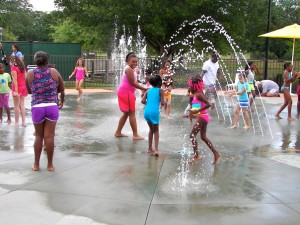 Barnett Park
4801 W Colonial DR
Orlando FL 32808 Located on West SR 50 (Colonial Dr.) adjacent to the west side of the Central FL Fairgrounds.
407.836.6248
Hours: Mon-Sun 8a.m. to 8p.m.
Cost: Free
Try out our brand new splash pad! Swimsuits are required.
City of Oviedo Splash Zone

Aquatic Facility
148 Oviedo Blvd 
Oviedo, FL 32765
407. 971.5570
Hours, through August 14, 2011
M – F: 11am – 12pm Oviedo Residents Only
12pm – 5pm, general admission
Saturday: 12pm – 5pm,
General admission 
Sunday: 12pm – 5pm
Depending on residency, fees run $4, $6, or $9.
The Splash Zone is a zero depth entry pool with play features and a big slide.
Shady Park
421 New England Ave. 
Winter Park, FL 32789  Located in historical Hannibal Square, next to the community center
407.599.3334
In addition to a "spray play" water feature, the park includes benches and a tranquil sidewalk pathway.
****Bonus Splash Pad The Magical Water Fountain:
You need to drive a little further for this splash pad, but if you are heading down to the Disney Parks…why not plan a quick cool down on the way home. This splash pad is in the middle of the Disney hubbub, at the Downtown Disney Marketplace. The Magical Water Fountain, located near Once Upon A Toy, sends water jumping up in the air for children to race after and try to catch. You never know which spout will shoot the water next. Best of all, it's completely free. If this splash pad is too crowded for your taste, there is another smaller version near The Days of Christmas.