Thanksgiving Place Card Holders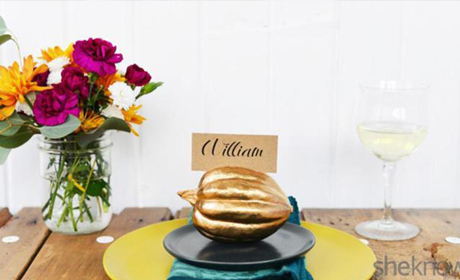 Add a touch of gourd-inspired glam to your Thanksgiving table! In just four easy (and budget-friendly) steps, you can create gorgeous gold place card holders. Gold isn't your color? Pick another metallic or bold hue to accent your festive color scheme.
Supplies
Gourds [Either natural gourds from grocery store or foam and/or plastic gourds from craft store.]
Gold metallic spray paint
Sharp knife
Place cards
Marker or pen
Directions
On a paper-lined surface in a well-ventilated space, spray gourds with an even coat of gold metallic paint. Note: Spray one side and let dry; and then flip over to spray the other side.
Let the gourds dry completely (about 30 minutes or as directed on paint can). If needed, apply an extra coat of paint.
Using a sharp knife, slice a slit into the top of a gourd to create space for place card insertion. Cut down at least 1/2 inch deep, and wedge out a small bit of gourd flesh.
Using a marker or pen, label place card holders (or print using a computer template). Insert a place card into each gourd. Position holders at each place setting and enjoy your Thanksgiving feast!